Celgene (NASDAQ:CELG) has made new all-time highs recently. The company is due to release earnings this week, and no big surprises are expected, because the company updated the outlook for the fourth quarter two weeks ago at 31st Annual JPMorgan Healthcare Conference. EPS is expected to be slightly above the given guidance, and revenue is expected to be at the upper end of guidance.
I have featured Celgene in my recent quick pick article: 3 Biotech Growth Stocks Near Highs, and decided to expand on Celgene's growth prospects.
Key points from JPMorgan Healthcare Conference
Robert J. Hugin - Chairman, Chief Executive Officer, President and Chairman of Executive Committee, has expressed his delight with the progress the company has made over the last five years, and is excited about the future prospects. These results position the company to have 3 blockbuster franchises and to accelerate growth in the next five years.
Celgene lifted guidance two times last year, and operating margins were improved and will continue to improve in the future. The company expects to have a 20% compound growth rate in sales in the next five years.
Abraxane received FDA approval for non-small cell lung cancer, and a positive Phase III data in melanoma.
Revlimid will have a first quarter where revenue will exceed $1 billion, and it continues to drive significant operating momentum. The drug is expected to get approval for the first time in China. Revlimid was also submitted for mantle cell lymphoma in the United States in the fourth quarter, and it is also being prepared for a first launch in myeloma. Revlimid is expected to be an important growth driver in the future.
Preparations are being made for global launches of Pomalyst, which is expected to be the next blockbuster in Celgene's hematology franchise. The company is working hard to push its regulatory approvals around the world. Positive news in the United States is expected next month, and approval in Europe is expected by the end of the year.
Celgene is establishing new targets for next five years: $12 billion in revenue and $13 to $14 EPS in 2017.
Valuation And Fundamentals
Celgene has a trailing PE of 27.42, adjusted PE is 21.30, and forward PE is 17.64. The company has a PEG ratio of 0.92, and a high ROE of 28.29.
EPS trends are rising in the last 90 days: from 1.30 to 1.31 for the current quarter, 1.30 to 1.36 for the next quarter, and from 5.53 to 5.62 for the next year (source: Yahoo Finance).
Five year growth record is impressive: 5-year EPS growth rate of 73.14%, and 40% growth rate in revenue. Analyst expected earnings to grow 22% in the next 5 years (source: Finviz).
Stock price had a long consolidation in the last 4.5 years. Before the consolidation, it had a tremendous run, rising 600% from 2004 to mid-2008. Valuations were too extended when growth levels were taken into account, so the 4.5 year consolidation was needed for valuations to return to balance. You can see that on the chart below: a steady rise of adjusted EPS, a long price consolidation, and a declining adjusted PE (TTM EPS is shown on the left axis and price and adjusted PE on the right axis).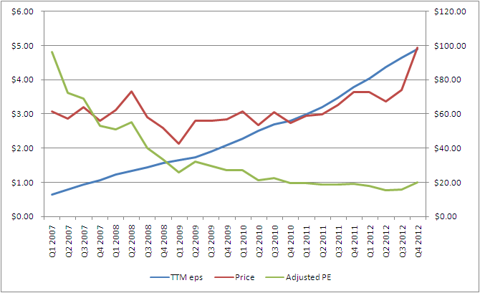 Source for data: Earnings.com, Ycharts
Price action was positive recently, with the stock price breaking out from a 4.5 year consolidation, and rising about 20% from those levels.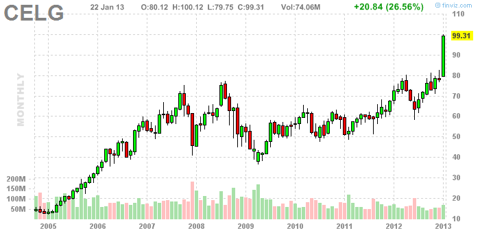 Source: Finviz
Conclusion
Celgene had very high and consistent growth in the past, and is expected to deliver above average growth in the next 5 years. The company expects to more than double the revenue to $12 billion in 2017, and EPS is expected to almost triple to $13-$14 level in five years, from current level of 4.64 in adjusted EPS. Good news, FDA approvals, overseas and domestic expansion, strong momentum of its products and a price breaking out from a long consolidation puts the company in a great position to deliver more gains to shareholders in the future.
Disclosure: I have no positions in any stocks mentioned, and no plans to initiate any positions within the next 72 hours. I wrote this article myself, and it expresses my own opinions. I am not receiving compensation for it (other than from Seeking Alpha). I have no business relationship with any company whose stock is mentioned in this article.