General Dynamics Corporation (NYSE:GD) is an aerospace and defense company selling products and services primarily to governments. The company provides a range of products from combat vehicles and weapons systems to munitions and communications gear. General Dynamics trades on the NYSE and currently has a market capitalization of $25B.
The company announced its fourth quarter and full year financial and operating results on January 23, which illustrate that the company is fairly valued at its current multiple and therefore, no value, or significant capital appreciation can be attained by investing in General Dynamics shares at this stage. Fourth quarter revenues declined 11.7 percent over the same period last year, while full year 2012 revenues declined 3.6 percent from 2011 revenues. Similarly, earnings per share for 2012 declined 5.7 percent when comparing 2012 adjusted earnings of $6.48 per share to 2011 earnings of $6.87 per share.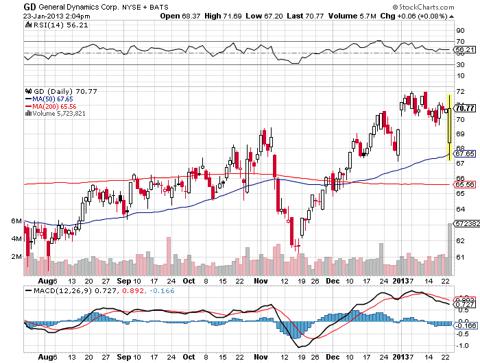 Unadjusted, the company actually reported a whopping $2.1B loss, a $6.07 loss per share in the fourth quarter and a $0.94 loss per share for the full year, due primarily to a $2B goodwill impairment charge related to its Information Systems and Technology (IS&T) group.
Advocates of the company will immediately point out that all write-downs are non-cash and therefore, should be of no concern to shareholders. Is this really the case however? Goodwill is an intangible asset that any company recognizes on its balance sheet once it makes a premium acquisition either through an all cash deal, an all share deal, or a combination of the two. The only way the goodwill asset ended up on General Dynamics' balance sheet was through the acquisition of certain businesses that are classified within its IS&T group for cash, shares, or a combination of the two in the past (be it recent or distant). So to classify this charge as non-cash is not exactly accurate, as the value written-off was translated in the past from cash, or shares to goodwill through an acquisition(s).
To further expand on the conclusion made earlier, investors need to look no further than the company's earnings growth rate and the most recent filings illustrate three continuous years that show absolutely no growth. The company's 2011 earnings per share came in at $6.87 a share, while 2012 adjusted earnings per share came in at $6.48 per share, which is actually a negative growth rate. Looking ahead into 2013, the company anticipates earnings per share of $6.60 to $6.70 a share, again a negative growth rate over 2011 earnings and a small increase over adjusted 2012 earnings. Using the current price of about $70 a share, we arrive at a 10 earnings multiple, as the table below illustrates.
| | | | |
| --- | --- | --- | --- |
| | EPS | Growth Rate | Multiple* |
| 2011 | 6.87 | | 10.19 |
| Adjusted 2012 | 6.48 | -5.7% | 10.80 |
| Estimated 2013 | 6.6 | 1.9% | 10.61 |
*Using $70 share price
Although some would suggest that a 10 multiple is cheap relative to the overall market, it is important to understand that these types of comparisons are meaningless when the market in its entirety eliminates company specific risk (and reward) through diversification and factors a positive growth rate. On the other hand, General Dynamics trades at a multiple of 10 and offers little to no growth in earnings to shareholders. Given the lack of growth accrued to shareholders and the pricey multiple relative to growth, this investor believes that the company's shares offer more risk than reward to investors and therefore, investors should remain out of General Dynamics until either its earnings multiple is more favorable, or earnings growth justifies the price currently being paid in the market.
Disclosure: I have no positions in any stocks mentioned, and no plans to initiate any positions within the next 72 hours. I wrote this article myself, and it expresses my own opinions. I am not receiving compensation for it (other than from Seeking Alpha). I have no business relationship with any company whose stock is mentioned in this article.