After the bell on Wednesday, tech giant Apple (NASDAQ:AAPL) reported its fiscal first quarter results. For those that missed my preview, here it is again. For the quarter, Apple missed slightly on revenues, but earnings per share came in above expectations. Apple shares declined in the after hours period, which might provide an opportunity for investors.
Overall Results:
The following table shows Apple's results compared against the last two fiscal first quarters. Apple slightly missed revenue expectations of $54.73 billion, and beat earnings expectations for $13.44. Had analysts taken down their revenue numbers a bit more into earnings, we probably would have had a beat on the top line as well.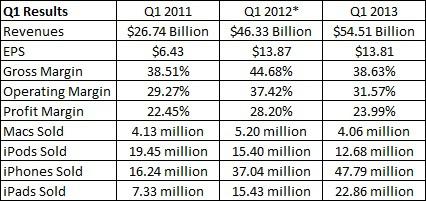 *14 week period.
A couple of quick thoughts here.
First, Mac sales were extremely disappointing. In addition to being a weak overall PC market, Apple appeared to have some supply constraints. Thus, it was not able to get its new line totally out for the holiday season. This is the primary reason why Apple missed revenue expectations.
iPhone and iPad unit sales came in fine.
Margins came in a bit ahead of expectations.
Product Breakdown:
The following table shows Apple's results by product, compared against last year's Q1 and the Q4 period which ended in September. The revenue numbers are in millions and the unit numbers are in thousands.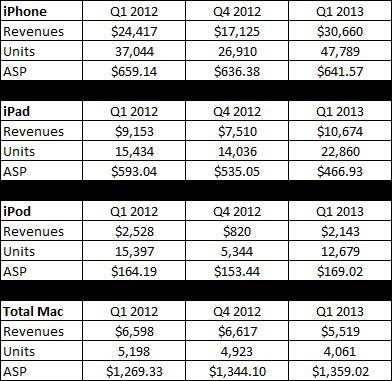 When it comes to the iPhone, it seems like there might have been some supply issues here. I say that because I would have expected the average selling price to be a little bit higher. An ASP of $645, and Apple is basically at the revenue number analysts were looking for. We heard from Verizon (NYSE:VZ) that customers were buying a fair amount of the older iPhones, potentially due to supply issues. This probably caused the ASP to be down a couple of bucks. Otherwise, the sales numbers to me looked fine, even if analysts were looking for closer to 50 million. Apple did just over 37 million in the prior year period, and that was 14 weeks. If you adjust for the extra week, unit growth was up nearly 39%. That's strong.
As for the iPad, you're talking about 59.5% growth over last year's period when you factor in the extra week. That's thanks to the introduction of the iPad mini. The average selling price came down a bit, which was expected, but I would have thought it be closer to $450. This is a good sign for now.
Like I said above, Mac sales disappointed, and it was probably due to supply constraints. We should see a strong fiscal second quarter if that was the case. The average selling price ticked up a bit, and came in just a few dollars from where I thought it would. Apple didn't provide a breakdown this quarter for desktops versus portables.
As for the iPod, the average selling price jumped a bit, which was a pleasant surprise. We knew that they would drop year over year in terms of unit sales, and they came in slightly above expectations.
One key here is that Apple's "other revenues", which I covered in great detail in my preview, were extremely strong. They came in at more than $5.5 billion, about a billion more than I thought we would see.
Balance Sheet Update:
The following table shows some key balance sheet data for Apple, at the end of the past two fiscal Q1's, and the most recent Q4. Apple's cash pile rose to an incredible $137 billion. The cash pile rose by roughly $15.86 billion in the quarter. That's slightly faster than I thought it would, but I did say it would be less than the rise in last year's Q1. It was, as that rise was $16.03 billion. Working capital and the current ratio improved slightly, and the debt (liabilities to assets) ratio weakened a bit, but is nowhere near a problem.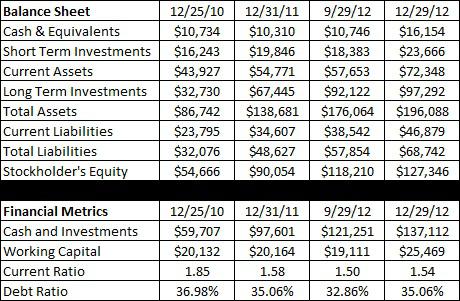 Guidance:
Apple provided the following guidance for its fiscal 2013 second quarter:
revenue between $41 billion and $43 billion
gross margin between 37.5 percent and 38.5 percent
operating expenses between $3.8 billion and $3.9 billion
other income/(expense) of $350 million
tax rate of 26%
Based on this guidance, and using the diluted share count at the end of Q1, I get a rough earnings estimate of $9.73 for Apple. Analysts were looking for $45.63 billion in revenues and $11.70 in earnings per share, but we know Apple is always conservative with its guidance.
I said in my preview that I expected guidance in a range of $38 to $44 billion, so Apple hit that, and is slightly above my midpoint. I thought earnings per share guidance would be $10 to $11, so they seem a little light there, but usually the earnings per share guidance is more conservative than the earnings per share. I would think that the $11.70 is fairly doable for Apple, and if analysts take their numbers down, a beat should be even easier.
Final Thoughts:
So why do I think Apple's fall is unjustified? Well, about a year ago, Apple reported its fiscal first quarter results. The stock was halted on a huge beat, and reopened around $475. In the after hours session tonight, Apple is trading below that level at $467. But let's consider a few important facts.
Adjusting for the extra week, revenues rose by 26.7%. Even without the extra week, they were up more than $8 billion.
Earnings per share rose 7.23% when adjusting for the 14th week.
iPhone sales were nearly 48 million, up 39% adjusted.
iPad sales were up nearly 60% adjusted.
Apple's cash pile is up $39.5 billion in the past year.
So after all of that, the stock is lower? There is obviously something wrong here. In my opinion, Apple reported a good quarter. Sure, it wasn't a great quarter, and it wasn't a huge blowout. But Apple isn't trading at $705 anymore, you shouldn't be expecting huge numbers. Apple is trading at where it was a year ago, despite numbers that are a lot better, and that provides a nice buying opportunity for investors. Should the stock stay here or go lower in the next few days, I might even buy some myself.
Disclosure: I have no positions in any stocks mentioned, but may initiate a long position in AAPL over the next 72 hours. I wrote this article myself, and it expresses my own opinions. I am not receiving compensation for it (other than from Seeking Alpha). I have no business relationship with any company whose stock is mentioned in this article.
Additional disclosure: Investors are always reminded that before making any investment, you should do your own proper due diligence on any name directly or indirectly mentioned in this article. Investors should also consider seeking advice from a broker or financial adviser before making any investment decisions. Any material in this article should be considered general information, and not relied on as a formal investment recommendation.