The 1986 movie The Color of Money is one of my favorite movies of the 1980s that stars Paul Newman and Tom Cruise. In the movie, Paul Newman is a successful businessman and pool player that notices the talents of the young Tom Cruise. These remarkable talents lead Paul Newman to front money (or one could interpret invest) in Tom Cruise, which later would pay off. In the investment world, I believe investors are always looking to seek the talents of stocks that are solid investments and keep painting one's pocketbook green.
When it comes to investing, I enjoy seeking a stock that I can hustle (or constantly ride higher). Money and information are two important components (of the many) to a front or investment. One may be thinking "why don't you front me some money then," but I would rather provide investors with the other component and that is information and let investors make their decision. On September 19, 2012, I presented investors with a stock that was constantly moving higher and felt investors should take a look at. That stock was Sherwin-Williams (NYSE:SHW) and since my recommendation at $148.67 Sherwin-Williams is now 10.3% higher at $164.02
While a 10.3% gain is certainly nothing to brag about, but Sherwin-Williams is still the top dog amongst competitors. In actuality, Sherwin-Williams and its competitors have all been moving higher on improving housing and industrial sector related data.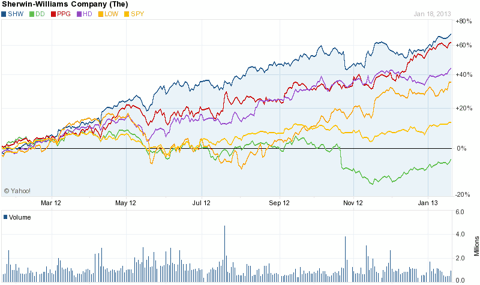 When considering a stock that has been constantly increasing for a long period of time, investors may wonder when the run will be over so one does not get hustled. Taking a look back the rise in shares of Sherwin-Williams started in mid-September 2011 when the shares were around the $70 price level. Since then, according to the National Association of Home Builders, housing starts and building permits both showed an increase from 2011 to 2012. Besides strength in new housing, the current home remodeling index is up since Q3 2011. When looking forward for 2013 the National Association of Home Builders is showing increasing numbers for housing activity in single, multi-family and new/existing home sales.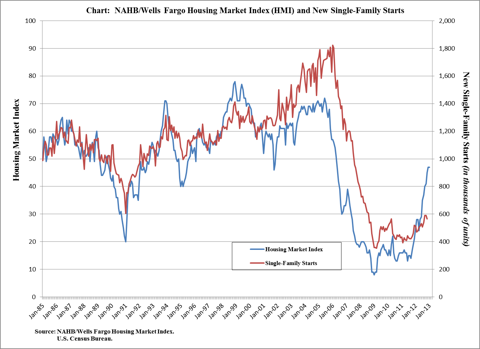 Bullish housing data is a definite plus for Sherwin-Williams as the company operates over 3,000 Sherwin-Williams across the United States that cater to the do-it-yourself homeowner and professional contractors. The Sherwin-Williams paint stores only sell paint/paint related products and their small size gives them a competitive advantage to big-box retailers Home Depot (NYSE:HD) and Lowe's (NYSE:LOW) as Sherwin-Williams only specializes in paint and paint products. By only specializing in paint and paint related products Sherwin-Williams can easily control supply and inventory, rather than be diversified in many areas of housing. This competitive advantage also helps Sherwin-Williams maintain favorable sales per square feet as Sherwin-Williams paint stores group has showed an increase in sales in the last three quarterly earnings.
Raw material prices can always be a concern for paint producers and distributors and Sherwin-Williams is leveraged in other areas of paint sales besides the residential housing market. Sherwin-Williams has stakes in the auto, marine and architectural markets that help balance out the 55% of revenue that Sherwin-Williams receives from its paint stores. During the last time I wrote about Sherwin-Williams I reminded investors that despite the increase in raw materials, Sherwin-Williams has been successful at passing these costs along to consumers. Recently, one of Sherwin-Williams' competitors, PPG Industries (PPG), is expecting price decreases for (TIO2) to be heading lower in 2013. With (TIO2) prices tapering off (for now) I would continue to expect Sherwin-Williams and others to continue to find alternative ways to lessen their consumption of (TIO2) through the use of chlorine and sulfate based formulation. Propylene and Ethane are other raw material costs that have been declining in price and are major input cost for Sherwin-Williams. Rising raw material costs can be beneficial for Sherwin-Williams and others since Sherwin-Williams has an advantage of passing these costs to consumers, which can lead to more revenue. In my opinion even though raw material prices heading lower may seem like a bearish sign, I believe that Sherwin-Williams management team will seek to take advantage of lower raw material prices that should keep consumer paint prices stable while delivering strong margins.
Looking forward Sherwin-Williams will be reporting Q4 earnings on January 31, 2013, for the fiscal quarter ending December 2012. Q4 is typically not the strongest quarter for Sherwin-Williams as consumer and industrial sales tend to slow down in the winter months, but Sherwin-Williams is expecting to earn $1.16 per share with an estimate range of $1.07-$1.28 per share. This estimate is higher than the same quarter last year and Sherwin-Williams generally comes in line or beats estimates. On Sherwin-Williams last earnings report the company has shown strong sales in the paint stores group throughout 2012. I will be looking for Sherwin-Williams upcoming earnings report to continue to show bullish strength in the paint store segment as the housing market shows favorable conditions. When looking outside the United States Sherwin-Williams 2Q and 3Q 2012 earnings both showed sub-par sales numbers and unfavorable currency translation rate changes helped contributed to lower net sales.
On November 12, 2012 Sherwin-Williams agreed to buy Consorico Comex SA for 2.34 billion. Even though Sherwin-Williams paid a premium for the company, Comex will help expand Sherwin-Williams' presence outside the United States, especially Latin America where there is room for more paint manufacturing plants. According to management the Comex deal could add a dollar to earnings per share in three years. There are some near-term challenges and synergies to the Comex deal, but I believe that this deal will strengthen Sherwin-Williams' global presence and expand market share outside the United States.
With the stellar run Sherwin-Williams has had for a while, investors may think about waiting and wonder if Sherwin-Williams is looking to pricey. Even though Sherwin-Williams has a higher p/e ratio of 29 when compared to its peers - this premium is still worth paying for as long as the company can still deliver positive results. With earnings coming near and Sherwin-Williams at an all-time high I want to be cautiously optimistic and take advantage of pullbacks on a fundamentally solid company.
Disclosure: I have no positions in any stocks mentioned, and no plans to initiate any positions within the next 72 hours. I wrote this article myself, and it expresses my own opinions. I am not receiving compensation for it (other than from Seeking Alpha). I have no business relationship with any company whose stock is mentioned in this article.