Research in Motion Ltd. (RIMM) shares were trading for around $8 in October, but have since more than doubled and now trade over $17. This major run in the stock seems to be fueled by short-covering, lots of hope for the release of the Blackberry 10, news that the company might consider licensing its latest operating system to a hardware maker, and a recent upgrade from Scotia Bank which was summarized in a Barron's.com article. (I love it when analysts upgrade a stock after it has nearly tripled off of recent lows.) The article states:
"With the company set to unveil BB10, its effort to reinvigorate the BlackBerry, at an event in New York on January 30th, the stock got one new upgrade today, from Scotia Capital's Gus Papageorgiou, who raised his rating to Sector Outperform from Sector Perform, with a $23 price target, up from $18.60 previously."
At this point, the rally and optimism seems excessive and the stock now could be poised for a major pullback once the Blackberry 10 or "BB10" phone and operating system is released. By looking at the chart of this stock, you can see it is extended well beyond key support levels and it is therefore very overbought. Investors buying at these levels could be setting themselves up for disappointment and shareholders who don't take advantage of this rally might be missing out on a great opportunity to sell before a potentially significant drop.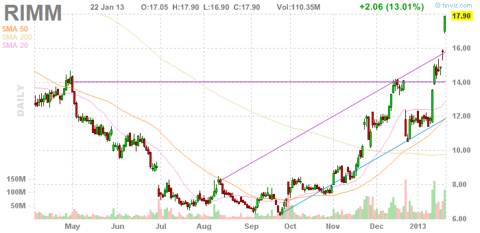 This major rally might be short-lived and fizzle for a few reasons. First of all, analysts expect this company to post losses for 2013 and 2014. Consensus estimates for 2013 are for a loss of $1.18 per share, and another loss of 54 cents for 2014. With losses expected for the next couple of years, it is hard to see significant further upside in the stock, especially after more than doubling in just the past few months.
The anticipation and runup in the stock price over Blackberry 10 is what investors should be concerned with now. The old market adage of "buy the rumor and sell the news" seems worth considering. This is when we see investors bid up a stock in anticipation of good news or an event, but then see the stock drop, sometimes significantly, right after the news or the event investors have been anticipating takes place. Therefore, it would not be surprising to see RIM shares fall when BB10 is released. Other smart phone makers have experienced this as well. Remember when Apple (NASDAQ:AAPL) shares surged in advance of the iPhone 5 release, only to watch the stock drop shortly thereafter? This looks like a great time to take a cue from past pre-launch runs in smart phone stocks and sell into this rally before it potentially fades out.
Here are some key points for RIMM:
Current share price: $17.28
The 52 week range is $6.22 to $17.34
Earnings estimates for 2013: a loss of $1.18 per share
Earnings estimates for 2014: a loss of 54 cents per share
Annual dividend: none
Data is sourced from Yahoo Finance. No guarantees or representations
are made. Hawkinvest is not a registered investment advisor and does
not provide specific investment advice. The information is for
informational purposes only. You should always consult a financial
advisor.
Disclosure: I have no positions in any stocks mentioned, and no plans to initiate any positions within the next 72 hours. I wrote this article myself, and it expresses my own opinions. I am not receiving compensation for it (other than from Seeking Alpha). I have no business relationship with any company whose stock is mentioned in this article.