General Motors Company (NYSE:GM) designs, manufactures, and markets cars worldwide. GM, a leader in truck models, is expected to become more competitive in all segments after its cost base is significantly lowered. GM closed at $28.63 with 2.22% loss on January 22, 2013 with a volume of 18.54M, which was 58.06% more than the 30 day average volume of 11.73M. GM had been on a bullish run in the past 6 months, and GM's bullish factors will be identified in the following.
Bullish Factors
Analysts' Calls, Earnings, Key Stats, and Valuation
On December 24, 2012, Goldman Sachs reinstates coverage on GM with a buy rating and $35 price target. The firm expected 17% EBITA growth in 2013 driven primarily by the convergence of North American margins towards those at Ford and a secular improvement in Brazilian profitability. As reported, both these will be driven by major product refreshes into 2013, volume improvements and a benign input cost environment, according to the firm. On January 8, 2013, Standpoint Research downgraded GM from hold to accumulate.
Analysts, on average, are expecting an EPS of $0.51 with revenue of $38.74 for the current quarter ending in December, 2012. Analysts are expecting an EPS of $3.27 with revenue of $151.49B for fiscal 2012. For 2013, analysts are projecting an EPS of $3.83 with revenue of $156.94B, which is 3.60% higher than 2012.
GM has an enterprise value of $30.58B with a market cap of $44.84B. GM has a total cash of $31.92B with a total debt of $16.65B. GM has a book value of $19.97 per share. GM generates an operating cash flow of $11.27B with a levered free cash flow of -2.06B. GM's operating margin of 3.2%, ttm, and net margin of 2.9%, ttm, are lower than the industry averages of 4.3% and 5.4%, ttm, respectively. GM also generates lower ROE of 13.5, comparing to the industry average of 14.9. GM's P/E of 11.0 is higher than the industry average of 9.2. However, GM's forward P/E is only 5.5, which is lower than S&P 500's average of 13.3.
Technical Analysis
The MACD (12, 26, 9) had turned to show a bearish trend on January 16, 2013 and the MACD difference continued to diverge. The momentum indicator, RSI (14), is decreasing to 51.45 and moving toward middle-line. GM is currently trading above 50-day MA of $26.77 and 200-day MA of $23.38. The next resistance is $30.35, the R1 pivot point, followed by $31.88, the R2 pivot point, as seen from the chart below.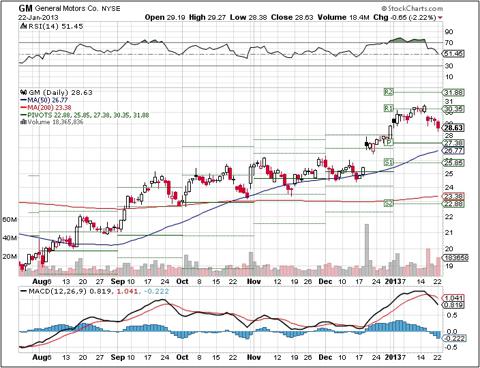 Source: StockCharts.com
Options Strategy
In the short-term, there is a high probability that GM may be due for some consolidations. For long-term bullish investors, a credit put spread of $21/$23 can be reviewed when GM pulls back near $25/$26 price range.
Note: All prices are quoted from the closing of January 22, 2013 and all calculations are before fees and expenses. Investors and traders are recommended to do their own due diligence and research before making any trading/investing decisions.
Disclosure: I have no positions in any stocks mentioned, and no plans to initiate any positions within the next 72 hours. I wrote this article myself, and it expresses my own opinions. I am not receiving compensation for it (other than from Seeking Alpha). I have no business relationship with any company whose stock is mentioned in this article.