After Arena (NASDAQ:ARNA) announced that getting the European approval for its anti-obesity drug Belviq hit a few more hurdles, the equity took a hit and promptly dropped from a trading price above $10 per share to a price in the $8's. While seeing a haircut like that is not a joyride for ARNA longs, the next natural question is where the bottom is.
The answer to that is never simple and never cut and dry. There is however a pattern that has developed over the past six months or so that could offer clues. In addition we need to consider the likely news flow and those impacts as well.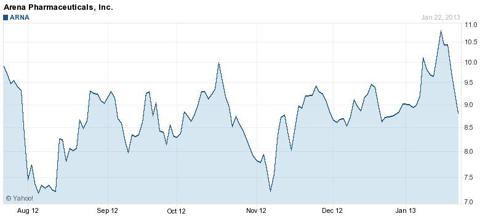 The good news for longs is that there is a decent support level for Arena at $8.60. The equity seems to have applied the brakes on the descent and settled just above $8.60. The next real support level below is at about $8.15. Thus, from a pure technical standpoint there is room for the dip toward $8 if $8.60 breaks. However, if $8.60 can hold, the equity will likely work its way back up toward and above $9.00.
What we see with Arena is successive lows that are higher and highs that are higher. In many ways it is like a three-steps-forward and two-steps-back process.
In looking at the chart over the last 6 months we see that there are both major and minor corrections down. The last major correction took the equity to about $7.40 while the last minor correction took the stock to about $8.50. What we also see is a pattern of one major correction followed by two minor corrections. Is Arena due for a major correction? That is the key question savvy investors are seeking.
In my opinion a minor correction has the bottom at $8.60 and a major correction somewhere around $8. Playing this latest correction down can be a bit of a cat and mouse game. Personally, if I were looking to buy into ARNA, I would watch the volume closely and use that as an indicator of a bottom. If the equity picks up steam from here on an upward move then we have a minor correction. If not, then we need to consider the lower support level.
Setting aside support, resistance, and the chart, we need to next consider the possible news flow. There are several compelling events that can transpire in the not too distant future:
Arena should be announcing a quarterly call soon.
Arena is in the DEA comment and response period for its drug Belviq. Upon conclusion of that period it is possible that a U.S. launch of Belviq will finally arrive. The earliest final DEA scheduling will be announced on March 4th.
Arena is scheduled to receive a $65 million milestone payment from distribution partner Eisai upon final DEA scheduling.
These are positive catalysts that can and likely will help to mitigate downside risk. At this point the Europe news has been disseminated and digested. The next big event is the U.S. launch.
One remaining factor to consider is the expectations of the street. They are pretty high. This happens when investors begin to assign words like "blockbuster" and "skyrocket" to Arena. Arena needs to find a creative way to manage expectations. At this point even a successful launch may fall short of "blockbuster" status. The exuberance of the street and investors can sometimes be an enemy.
Summary
In my opinion the bottom may appear to be in but there is risk that this equity could test $8 again. The determination will be if the equity can move up on decent volume. The U.S. launch and expectations are the next big drivers. Stay tuned and watch this closely. There is big money betting on both success and failure.
Disclosure: I am long ARNA. I wrote this article myself, and it expresses my own opinions. I am not receiving compensation for it (other than from Seeking Alpha). I have no business relationship with any company whose stock is mentioned in this article.