After the bell on Wednesday, streaming movie giant Netflix (NASDAQ:NFLX) reported its fiscal fourth quarter and full year results. The company posted a great quarter and delivered very good guidance, sending shares sharply higher in the extended hour period. Today, I'll cover the great news, but also point out a few issues that still remain.
Fourth Quarter Results:
Overall, Netflix came in at $945 million in revenues, beating analyst expectations by about $11 million. The company produced a $0.13 profit, compared to an expected loss of $0.13. The following table shows how Netflix compared to its own guidance for the quarter.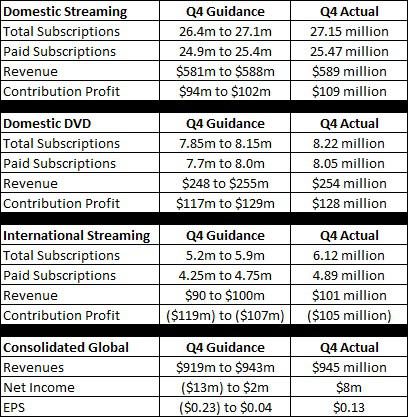 In terms of domestic streaming, Netflix did a really good job in Q4. They came in well above of their guidance. The company added 5.48 million subscribers during 2012. That's good growth, but they originally thought that they could add 7 million.
In terms of domestic DVDs, the company did not lose as many subscribers as they thought. However, I would have expected a little more out of the revenue and contribution profit numbers, given the high subs number. While Netflix held a fair amount of DVD subs, this number will continue to fall. I think they held some this quarter because the Redbox Instant partnership between Coinstar (NASDAQ:CSTR) and Verizon (NYSE:VZ) is running a bit late. It was supposed to have started during Q4, but didn't. That will help Netflix for now.
In terms of international streaming, subscriber numbers were great. Like domestic DVD, I would have liked to see a bit more revenue and a smaller loss given the higher subs number.
Margin Analysis:
The following table shows Netflix's Q4 margins over the past few years, and I can use them to further break down Netflix's quarter.

*Revised 4th quarter numbers after company agreed to a legal settlement. Original operating margin was 8.09% and net profit margin was 4.65%.
Netflix revenues were up almost 8% over the year ago period. However, the cost of revenues was up 21%. Netflix also decided to stop providing a breakdown of the cost of revenues, in terms of fulfillment and subscription revenues. They seem to change what numbers they give each quarter. Overall, gross margins declined further, and will keep doing so. More on that later.
Netflix was able to do a bit better on the operating side. Marketing expenses rose just 2.7%, and technology costs were up 1.7%. General expenses dropped by about 30%, but in last year's period, Netflix had the $9 million legal expense. Operating margins fell roughly 500 basis points from last year's period.
Netflix saw a slight rise in interest expenses, but "other income" swung from a small loss to a small gain. The company's tax rate jumped from 38.03% to 47.01%. This is probably due to more profits coming from the US, which means a higher overall tax rate.
Overall, net income plunged more than 77% for the period. Earnings per share came in at $0.13, compared to $0.64 in the prior year period. The diluted share count has also risen by nearly 4 million shares.
Margin trends:
Overall, margins are going the wrong way as Netflix moves to a streaming only business. DVD margins are much higher, but Netflix doesn't care. The following table shows Netflix margins over the past eight quarters.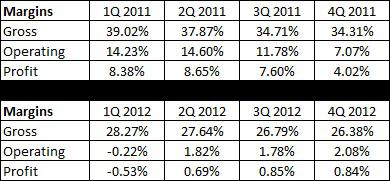 Now I put together another margin table to show the difference between streaming and DVD. For this argument, I'm showing you only the profitable US segment, because the international losses don't apply just yet. For each segment of the business, I've provided the revenue, contribution profit "CP", and contribution margin "CM" for each quarter. I also combined the two for totals in each category. The last breakdown shows the percentage of the company's US contribution margin from each segment, as well as Netflix's overall gross margins for the period, which does include the international side of the business.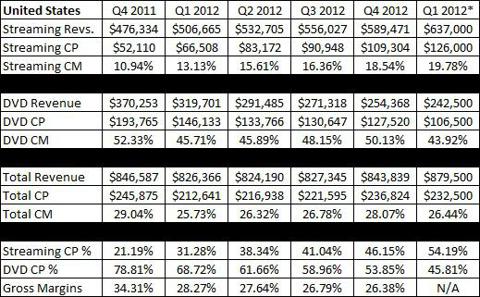 *Using midpoint of guidance range.
A couple of very important items to note here. DVD margins are still expected to be more than twice that of domestic streaming. Additionally, Netflix is forecasting a huge drop in DVD margins as the postage hike from the post office goes into effect. Imagine what this could do to overall gross margins.
Balance Sheet Update:
The following table shows some key financial metrics for Netflix over the past 8 quarters. Working capital is in thousands.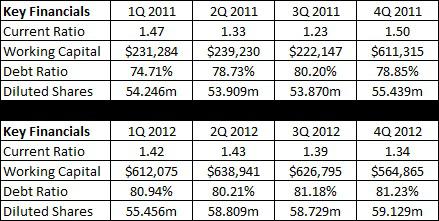 Netflix did say in its investor letter that they expect to refinance their existing debt as well as issue new debt. Netflix is looking for more of a cushion as well as getting more cash to acquire content. This was a bit of a surprise, and may have gone unnoticed by many.
Guidance:
The following table shows Netflix's Q1 guidance, as compared to their Q4 results.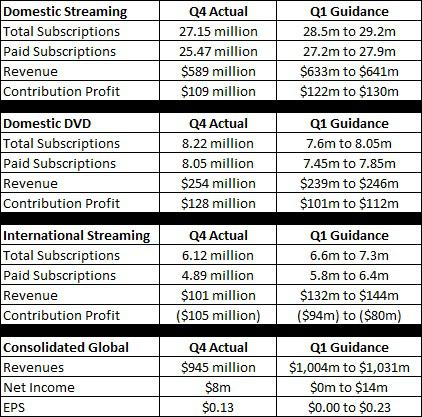 Overall, Netflix is forecasting a huge quarter. Analysts were looking for $969 million in revenues and a loss of $0.07.
Possible Red Flags:
As someone who has been bearish on Netflix over the past year plus, I must take some time to discuss the potential negatives with this report. There are a few:
Margins continue to decline. Netflix had a profit of $4.16 in 2011 and that was down to just $0.29 in 2012. Even if the international business turns around, it could be several years before they get back to 2011 levels.
A possible debt raise is coming. With a debt (liabilities to assets) ratio above 80% already, this company doesn't have a ton of financial flexibility.
Netflix believes that they are going to revolutionize the TV industry by releasing their original content all at once. While I think the move is positive, I don't think they should be saying they are going to change the industry.
I hope that their Q1 forecast wasn't too high. They set a high bar last year around this time and weren't able to meet it in the end. We saw the stock rally above $130, only to see it fall to nearly $50 when they didn't deliver.
If Netflix doesn't expand internationally until the second half of 2013 or 2014, subscriber growth there will moderate.
The company spent nearly a full page of the investor letter showing how they have more content than everyone else with a huge circle graph. Everyone knows they have more content. Netflix sometimes throws in huge pictures, charts or graphs to make themselves look impressive. It just makes them look arrogant and out of touch.
Netflix needs to remember they just reported a 93% drop in earnings per share. They seem to forget that it was their own decision to kill profitability.
Some of these may be minor issues to some, but I have to be fair to all sides here. If I see a potential negative, I must point it out. While this was a great report and guidance was very strong, there still are a couple of red flags with Netflix.
Final Thoughts:
Netflix shares closed Wednesday at $103.26, a rise of almost 100% since the 52-week low at $52.81. In the after-hours session, the stock rose more than 35%, last trading at $139.60. Netflix will still be trading at a sizable premium however, as earnings in 2013 probably will be somewhere in the range of $0.50 to $1.00, and that all depends on how much they decide to spend internationally.
Netflix reported a great quarter and gave excellent guidance. The company did a great job in Q4 and if they hit Q1 guidance, they could do over $1 billion in quarterly revenues. Had they not killed off the DVD segment, they would have been there already.
Short sellers got burned by this announcement, but you can figure that they will likely come back at Netflix again. If Netflix is forced to raise a lot of money, it could be a huge red flag. Content is not cheap, and margins are coming down a lot. Netflix is not very profitable, and eventually, they might need those profits if they want to grow the business. This was a great report, but they'll have to prove themselves again next time around.
Disclosure: I have no positions in any stocks mentioned, and no plans to initiate any positions within the next 72 hours. I wrote this article myself, and it expresses my own opinions. I am not receiving compensation for it (other than from Seeking Alpha). I have no business relationship with any company whose stock is mentioned in this article.
Additional disclosure: Investors are always reminded that before making any investment, you should do your own proper due diligence on any name directly or indirectly mentioned in this article. Investors should also consider seeking advice from a broker or financial adviser before making any investment decisions. Any material in this article should be considered general information, and not relied on as a formal investment recommendation.