Netflix (NASDAQ:NFLX) is one of the more controversial companies around, and its stock has reflected this sentiment by experiencing huge amounts of volatility. This volatility has continued with Netflix jumping more than 35% after-hours after releasing earnings. Ever since high profile investor Carl Icahn has taken a position in the stock, it has rallied from his average purchase price of $58 to $140, a gain of 141%.
Questions still remain, however, as to whether Netflix will be able to return to its historic levels of growth and profitability or if the company is doomed to continue earning the low margins it has suffered from over the last year.
Results have been muddied of late due to the separation of the streaming and DVD businesses, which caused a vast majority of customers to quickly drop down to one service, as shown below.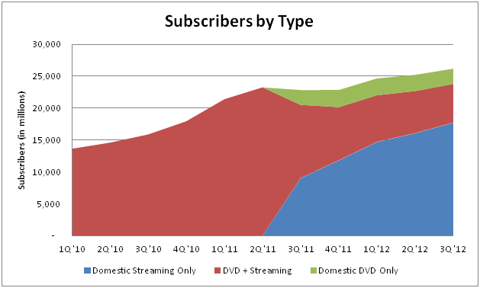 These results are broken down further in the following chart, which shows each segment's contribution to overall growth (the net change in segment subscribers, quarter over quarter, divided by total firm subscribers). The results during the second half of 2011 were substantially impaired by declines in DVD + Streaming customers, leading to negative subscriber growth during the period. Domestic DVD only customers have remained largely stable since then with the streaming only customers driving all of the firm's growth in the last year.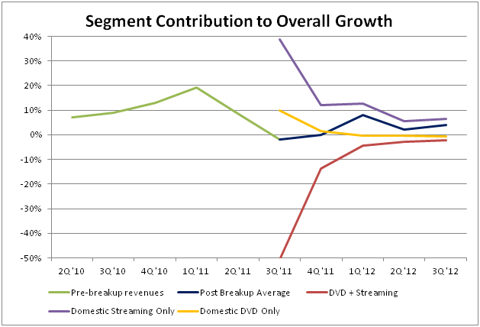 Streaming growth will be the most important factor in Netflix's future growth, although managing DVD customer declines will be just as important for near term profitability. The most recent quarterly report saw impressive results for both of these segments, with both international and domestic streaming customer growth above last quarter's projections and DVD customer losses below expectations. The domestic streaming segment was particularly strong with year over year growth of 26%, up from 16% last quarter. This last quarter's earnings also beat expectations, due to these factors.
Over the last year results have been benefited by marketing expense declines; domestic streaming marketing expenses have declined from a high of 16.6% of revenue one year ago to just 10.1% today, and have been the cause of most of the segment's contribution margin expansion over the last year (as shown below). A similar trend has been occurring internationally, with marketing expenses remaining fairly constant over the last 4 quarters, which has shrunk this value from more than 100% of revenue to "just" 54% today.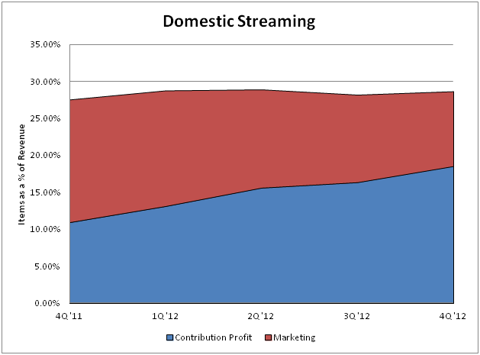 Management's near-term goal is to expand Netflix's margin 100 basis points each quarter, which seems achievable through lower international losses alone. Over the medium and longer term there are serious questions as to the firm's ability to maintain above-average profits.
The biggest risk is that growth in content costs will take the majority of Netflix's economic profits. Amortization of content in the streaming segment has grown from 55.7% to 67.2% of revenue over the last year. These costs show no signs of declining in the future as content acquisition costs have remained above amortization levels, driving this expense higher each quarter and continuing to grow faster than streaming revenues (as shown below).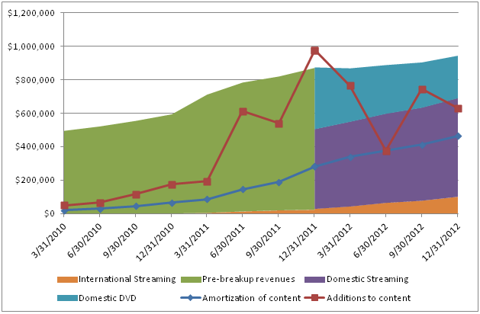 The only way Netflix can succeed over the long term is if they gain sufficient scale in purchasing power over content providers that the company is able to reduce this important aspect of its cost structure and increase its operating margin. The inroads Netflix has made internationally and the accelerated growth domestically puts them on a path toward this goal, but so far Netflix represents a minor part of the revenue of larger studios. In essence, this latest earnings report shows that Netflix delivers a fair amount of value to its customers; it doesn't yet prove that Netflix shareholders will benefit from this.
At a price of roughly $140 I wouldn't consider purchasing Netflix. This values the company at just under $8 billion, a multiple of over 30 times its peak earnings of $238 million (3Q 2011). If the company is able to move to breakeven in international operations tomorrow it would earn closer to $300 million, but international operations will take years to get to this level and will add a considerable amount of risk to short and medium term results. Although I believe Carl Icahn's purchase was a smart move, I would steer fundamental investors away from Netflix as its current price doesn't reflect its risks. The recent earnings report shows that Netflix is moving in the right direction; it doesn't say that it will ever get there.
Disclosure: I have no positions in any stocks mentioned, and no plans to initiate any positions within the next 72 hours. I wrote this article myself, and it expresses my own opinions. I am not receiving compensation for it (other than from Seeking Alpha). I have no business relationship with any company whose stock is mentioned in this article.