For owners of Apple-related stocks, the last two weeks have been torture. First shares were purged following the Nikkei Newswire reporting on iPhone component order reductions and Reuters reporting Sharp had halted iPad production. Last night shares sold off in sympathy with Apple's dismal outlook. However, we could not be more excited about these developments. We were given the opportunity to buy shares of Nam Tai (NTE) at prices we never expected to be possible. Despite potential near-term inventory adjustments with Apple, we believe shares of Nam Tai can triple this year. Shares trade at 4x and 2.5x our 2013 and 2014 EPS estimates (ex-cash), respectively - using what we believe are conservative estimates. Nam Tai has multiple catalysts and it represents a top-pick for 2013.
In the pages that follow, we provide background on Nam Tai, detail our thesis, and explain the opportunity.
Background
Nam Tai is a NYSE-listed contract manufacturer, like Flextronics (NASDAQ:FLEX), Jabil Circuit (NYSE:JBL), etc., founded in 1975. We wrote on Nam Tai last August and provided significant background there.
We like the stock for the following reasons:
1. Massive Apple (NASDAQ:AAPL) Ramp - iPad started June 2012, iPhone September 2012, and we expect additional programs in 2013, resulting in huge y/y comps in 2013 even if Apple's growth is modest (we like the long NTE, short AAPL pair-trade).
2. Excellent balance sheet - $3.50 cash, no debt.
3. Significant insider ownership - Chairman M.K. Koo and Board Member (since 2000) and Forbes 400 billionaire Peter Kellogg own 25% of the company.
4. Excellent dividend history - Nam Tai has consistently paid sizable dividends (see below), and currently yields almost 5%.
5. Clean corporate governance - We believe investors who dismiss because it is Chinese are making a mistake. The company is not the result of a reverse merger. It has a well-respected U.S. billionaire on its Board and as its largest shareholder. Also, there are no Chinese frauds we're aware of that have Nam Tai's dividend history.
6. Under-owned by US institutions despite reasonable market cap and average daily trading volume.
7. No sell-side coverage... yet.
8. Management elected to forego cash bonuses in the September quarter and received options instead.
9. Based on management commentary, and some detective work on our part, we believe prior to year-end 2013 (i.e. in Q3 or Q4) quarterly revenue is likely to approach $900 million, which would result in EPS of ~$1.20 by our estimate.
10. The company "owns" a piece of real estate that could account for significant value.
We detail many of these points below.
Massive Apple Ramp
On Tuesday, Barron's writer Tiernan Ray discussed Pac Crest analyst John Vinh's initiation of InvenSense (NYSE:INVN).
Vinh thinks that while Apple is "an attractive stable revenue base for component suppliers, despite a slowdown in iPhone sales, "the key is to look to suppliers who are gaining share and may increase their content in Apple's "platforms." (our emphasis added)
We completely agree with this, but prefer NTE at 4x EPS to INVN at 20x.
In 2010, Nam Tai spent $4.6 million on capex. In Nam Tai's 2010 20-F annual report filed in March 2011, it indicated plans to spend $56 million on capex, to support a capacity for its new strategic markets of smartphone and tablet displays. Nam Tai had enjoyed 30+ year relationships with Hitachi, Sharp, Sony (NYSE:SNE) and other leading multinationals, and although Nam Tai didn't mention Apple by name (nor has it), it appeared that through its Japanese partners, it had something exciting in the works. Of course, with no sell-side coverage, PR, or revenue to show for it, the stock languished.
In Nam Tai's Q3 2011 earnings report, the company noted, "The Company is actively engaged in negotiations with customers who forecast demand with potential to more than double the Company's 2012 sales revenue from 2011 revenue levels." When it reported Q4 2011 results in February, it backed off this comment, suggesting "approximately double" as the tablet and smartphone programs had both been pushed back several months.
Amazingly, in the risk factors from Nam Tai's 2011 20-F filed in March 2012, management noted "We expect that our production capacity will be fully utilized by the end of 2012 at our principal manufacturing facilities in Shenzhen. Similarly, we expect that our existing Wuxi facilities will reach full capacity by 2013." We can't recall many examples of a company noting its expectations of supply constraints 8 quarters in advance. In our view, Nam Tai, a company that spent only $4 million in capex in 2010, clearly has significant visibility into its customers' roadmaps. In addition, it guided for an additional $56 million of capex (2011 was actually $20 million above guidance).
In fact, other than well-reported manufacturing glitches, it appears that 2012 has played out exactly as management has guided.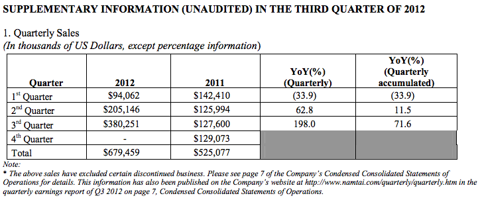 Source: Nam Tai Q3 quarterly report
Nam Tai's quarterly revenue has grown from $94 million in Q1, to $205 million in Q2, to $380 million in Q3, to our estimate of at least $450 million in Q4 (we provide a detailed model below). Notably Q1 had no Apple business, Q2 had one month of iPad, Q3 had three months of iPad and a partial month of iPhone, and Q4 should have both.
However, based on management commentary, we'd expect the story to get much better from here. In its prepared remarks from Q3 management noted:
"We are benefiting from the new projects that are starting to ship at a higher rate now and should continue for the rest of the calendar year of 2012 and additional new projects in the pipeline should be the starting to contribute soon."
In addition, in the company's Q3 press release, it states:
"The Company's management anticipates its customer orders would grow steadily and the existing production capacity would be expected to reach full capacity before the end of 2013, if the increases in demand for the existing production of LCMs for smartphones and tablets as well as the other new LCM product business continue to hold." (our emphasis added).
In other words, Nam Tai management, a management that correctly guided to 100% y/y revenue growth in 2012, despite manufacturing delays - a management that based on capex dating back to early 2011, appears to have significant visibility on its customers' long-term product and production roadmaps, expect capacity to be full prior to the end of 2013. In our view, any Q1 supply chain adjustments are short term in nature and irrelevant to production schedules out two or three quarters - especially if NTE is ramping new programs (we believe iPad mini).
The question that was neither asked nor answered on the Q3 conference call is: how much is full capacity?
Fortunately, Nam Tai itself has provided the answer. Approximately $900 million. On its newly launched corporate website - the launch was publicly disseminated in a press release - Nam Tai shows and describes its manufacturing facilities and included monthly dollar capacity.
Shenzhen Facility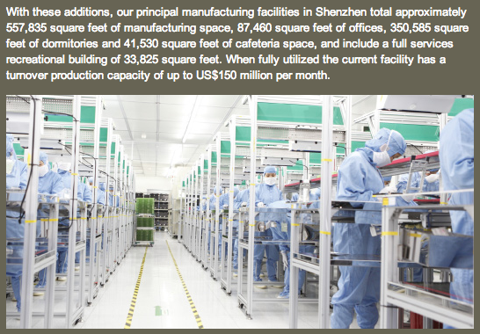 Source: Nam Tai Corporate Website
Wuxi Facility
Source: Nam Tai Corporate Website
This is also detailed around the 4:45 mark of its corporate video on its website where it states monthly turnover of up to $300 million per month.
Our Model for Nam Tai
With no sell-side coverage, there is of course no model, and no one telling the Street about the potential for a $900 million quarter. To be clear, our thesis is not predicated on a bullish view of Apple. In fact, our model assumes Apple misses badly, and we are taking a 20% discount to Nam Tai management "guidance." Even with that haircut, the numbers are compelling and we expect Nam Tai shares to go much higher.
Our detailed model is below: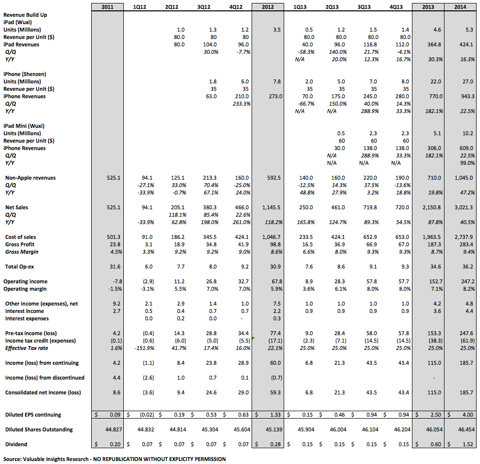 There are several points to this model worth elaboration. While management has indicated it may be full before the end of 2013, we are discounting that by 20%. We are also assuming a very dramatic decline in Q1 revenue. We are assuming that business partially recovers in Q2 and iPad mini begins to ramp, although we have no confirmation it has won iPad mini (via Sharp). Much of the y/y growth in 2013 and 2014 is simply the timing of program ramps which were just partial in 2012 and 2013. In addition, the non-Apple business, which is handsets/tablets for other OEMs (possibly Sony, a long-time partner) and many automotive companies should grow significantly. In Q3, non-Apple revenue grew 67% y/y by our estimates - we believe based on dashboard displays, although management gave no color on the Q3 call. In sum, we arrive at $2.50 for 2013 and $4.00 for 2014, even though in 2014, we still assume capacity is only 85% utilized (not including the additional capacity arriving in Wuxi in August 2014). In our view, as long as the relationship with Apple is intact, Q1 guidance is noise.
We also expect a significant increase in the company's dividend which historically is set for the following year on the Q3 earnings call.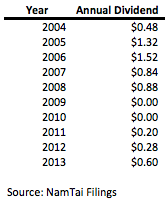 Nam Tai has a history of generous payouts and it would not be out of character to increase the dividend significantly.
Thoughts on coverage and ownership
We expect Nam Tai to get sell-side coverage in the months ahead. It only hired an outside Investor Relations firm last July. The EMS sector is well followed (see below) and is widely owned by leading institutional investors including Fidelity and Franklin.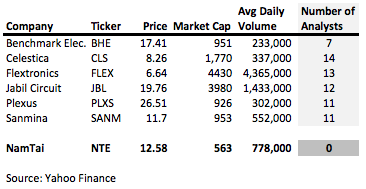 Based on market cap and trading volume, there is no reason for the sell-side not to cover Nam Tai. In fact, on an average daily dollars traded basis, it trails on Flextronics and Jabil.
Interestingly, Nam Tai's two largest institutional shareholders are Kahn Brothers and Royce Associates, both deep value funds. Kahn Brothers' founder, 107 year-old Irving Kahn was a teaching assistant for Ben Graham, and a colleague of Warren Buffett. The large institutions that make up the holders list of the companies listed about are largely missing from Nam Tai's shareholder list. We're very comfortable investing alongside Kahn Brothers and Royce - and perhaps like us, they see even more to the story than we've listed so far.
An Additional Valuable Asset
In 2015, Nam Tai will be shifting its Shenzhen production from its current location to a facility 30 miles north that will double its capacity. Notably, the current location is in downtown Shenzhen, one of the fastest growing cities in the world, six miles from the airport. If you're not aware of the growth of Shenzhen, it's worth reviewing. It is 30 miles from Hong Kong, with whom it has close ties, has three buildings over 1,000 feet tall and has the second tallest building in the world, the 2,000 foot Pingan International Finance Center under construction.
The 12 acres (over 500,000 square feet) where Nam Tai's facilities currently sit have been rezoned high-end commercial. According to Nam Tai's December 17th press release, it will hold this as a "significant valuable asset for the time being." Management has not elaborated on its plans, nor do we have details on the specifics of the rezoning, but we dug into the Shenzhen real estate market. We have not seen an asset trade for less than $200 per buildable foot, with most going for several times that amount. If 20% of the 500,000 square feet were built up (the remainder for roads, public space, sidewalk, etc.) 20 to 40 floors, that would be 2 to 4 million buildable feet. At $100 per buildable foot, that would be $200-$400 million. We remind you, Nam Tai's enterprise value is only $400 million. Conceivably, it could be $500 per buildable foot or more - do the math, the numbers get pretty interesting to say the least.
Without details on the zoning, it is difficult to peg the precise value. What we do know is that management tends to be very restrained in its descriptions, so stating it is a "significant valuable" asset is something we take seriously. And again, we encourage you to review the real estate prices in Shenzhen for empty land - they are astronomical.
Mea Culpa
There may be some readers who question this call based on our article prior to Q3 earnings. Clearly we got that wrong. However, if you review the article and Nam Tai's Q3 results, we believe it's clear that our instincts were right. Specifically, we were cautious about iPad and the pace of the iPhone ramp. We were in fact correct. What we missed, and had no way of knowing, was that the non-Apple business would grow 70% or $90 million sequentially. Had it remained flat as we had anticipated, our caution would have been well warranted. In addition, management had sounded cautious about gross margins due to Apple, yet they remained intact.
So, we own up to our mistake, however we think the depth of this analysis stands on its own.
Valuation
With shares trading under 4x our 2013 EPS estimate ex-cash, an estimate that discounts the company's own expectations, and just over 2x 2014 EPS, with a 4.7% dividend yield, we think shares are incredibly cheap - especially with revenue and EPS growing near triple digits.
Based on the comp sheet below, shares should trade between $17 and $35, without even taking into consideration the value of the real estate asset.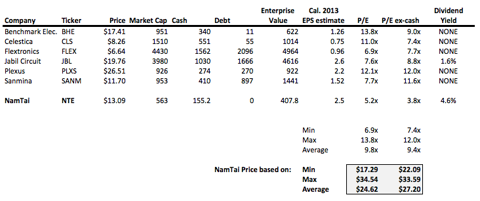 Given Nam Tai's margins and growth exceed any of these comps, we would argue for the high-end of the range. Looking out 12 months, and applying our 2014 $4.00 EPS estimate, our target using the average is $40, or a triple from today. Of course, if management is correct and facilities are fully utilized, our numbers will prove too low.
Final Thoughts
We think Nam Tai is an extremely exciting story. The potential for huge sequential growth, analyst coverage, information regarding the value of its real estate, and new program announcements can all serve as catalysts to take shares significantly higher. Still, we always keep in mind Warren Buffett's first rule, "don't lose money." What is our downside case? In our view, if nothing goes right and normalized revenue is $250 million per quarter (we have a hard time getting to a number this low), then annually EPS would be about $0.75 by our estimates. With $3.50 per share of cash, applying $2 per share in value for real estate and an 8x multiple on EPS, we arrive at just over $11.50. Of course, that would come with a dividend in excess of 5%. So we come up with 10% downside versus a triple or more.
We believe Nam Tai makes an interesting pair trade with Apple as we expect it to significantly outgrow Apple. It could also be paired again Cirrus (NASDAQ:CRUS) or others that have already significantly penetrated Apple.
Disclosure: I am long NTE. I wrote this article myself, and it expresses my own opinions. I am not receiving compensation for it (other than from Seeking Alpha). I have no business relationship with any company whose stock is mentioned in this article.
Additional disclosure: We conduct thorough research on our ideas, but our views are our own. Please do your own research. In addition to a long position on NTE we are short Apple.