Overview
Build-A-Bear Workshop, Inc. (NYSE:BBW) is a specialty retailer that sells customized plush animals and related accessories and products in the United States, Canada, and several countries throughout the rest of the world. The company describes itself as being an "experience" for the shopper, offering patrons the opportunity to design a fully custom plush animal from top to bottom and watch as it takes shape. This, the company believes, offers BBW a competitive advantage over simply picking out a "standard" plush animal from another retailer and therefore, will get customers to pay a premium for a BBW product instead. The St. Louis, Missouri based company has about 1,000 employees and posts annual revenues of around $400 million per year.
The stock has had a rough time in recent years, declining from a high of over $10 per share just three years ago to just above $4 per share at the time of this writing. With a book value of $6.96, the shares look cheap, but are they? This article will take an in-depth look at BBW's business and the current fair value of the shares in an attempt to decide whether BBW is worthy of your capital at this point.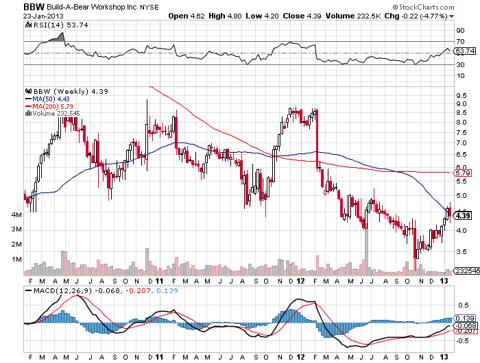 Operating Metrics
We'll start off by taking a look at some relevant operating metrics and begin to lay out the case for why I think BBW is a short, even at its already depressed levels. Please note all of these graphs are my creation solely for the purpose of this article. In addition, all data points for these graphs were (painstakingly) lifted from BBW's Qs and Ks from the SEC website, going back to the beginning of 2005. The graphs are scaled in thousands, unless otherwise noted.
First, we take a look at store count. As a retailer, this is the most basic function of presence by the company.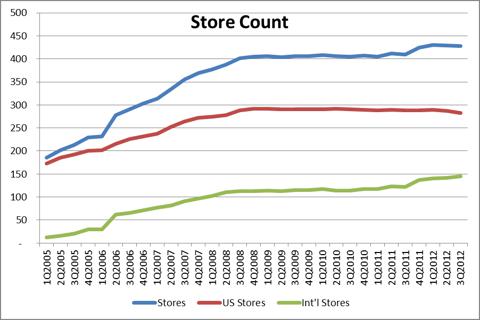 The blue line is total stores, the red is US stores and the green line is the rest of the world. What we see is that beginning about five years ago, US store count has stagnated and even declined. However, international store count has risen substantially in the same time period, from about 100 stores in 2008 to about 150 now. The growth in international stores has buoyed the overall store count for many years but the accelerating pace with which US stores are closing is too much for international store growth to counter. This is always a sign of distress for a retailer as it means either the business model is broken or oversaturation persists. I happen to believe it is both in BBW's case.
Next, let's take a look at BBW's trailing twelve months revenue and net income.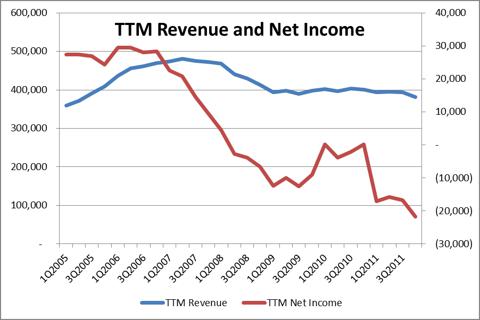 This shows us that in the middle part of the last decade, BBW was still growing store count and revenues were rising rapidly. However, as we see in 2007 and beyond, sales stagnated and then declined. Even worse is the unrelenting decline in net income over the same period. As you can see, barring a brief period of profitability in 2010, net income has been in steady decline since the end of 2006. The worst part is that this decline is showing absolutely no signs of slowing and there is only so long a company can endure losing money the way BBW is.
As with most consumer discretionary companies, BBW's business is highly cyclical. Looking at aggregate quarterly revenue versus net income for the consolidated company, we see the same ugly trend as before.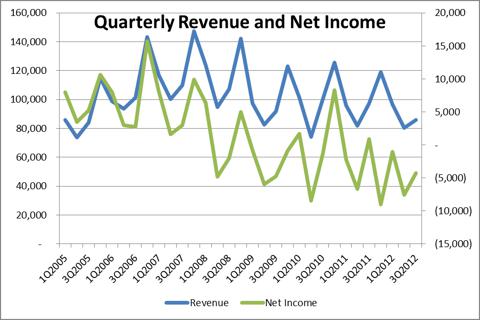 Revenue has declined overall since the end of 2007, but the much worse decline has been in net income. The extreme cyclicality of BBW's business is evident in this and other quarterly data charts. We see large spikes in the fourth quarters of each year. The absolute numbers aren't as important in this chart as the trend is. Revenue and net income are in decline but net income is falling much more quickly, which should be troubling for longs.
Quarterly revenue and net income per store shows a similar fate for BBW longs, but the decline is actually more pronounced due to a rising store count but declining revenue and profits.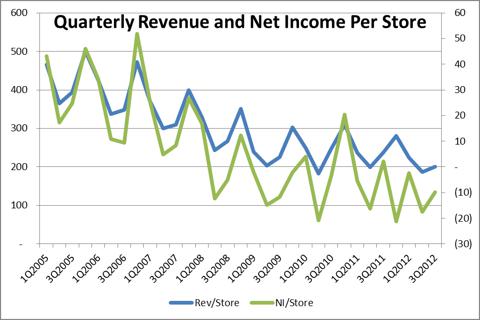 You can see from this chart that the average store is losing roughly $10,000 per quarter on an after-tax basis. This is on revenue of about $300K per quarter, down from a profit of about $35,000 per quarter per store and revenue of almost $500K. These numbers are sobering and show the complete lack of growth and what I believe to be evidence that the business model is irreparably damaged.
Isolating just the US stores, which are primarily company-owned stores, a look at revenue and EBITDA is also instructive. BBW doesn't break out net income by region, so EBITDA is the closest we can come. However, the results show the same pronounced lack of profitability as before.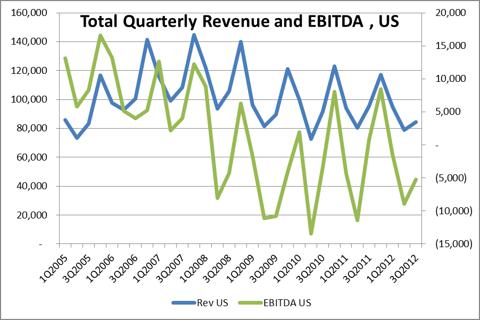 You'll notice the declines in revenue and EBITDA aren't as prominent as the per-store numbers, again reflecting that increasing store count was masking a larger issue in revenue growth for BBW. The topline has been shielded for years by a growing store base, a trend that has come to an end.
However, we can remove that cover and see what US stores were doing in this time period in terms of quarterly revenue and EBITDA and the results aren't pretty.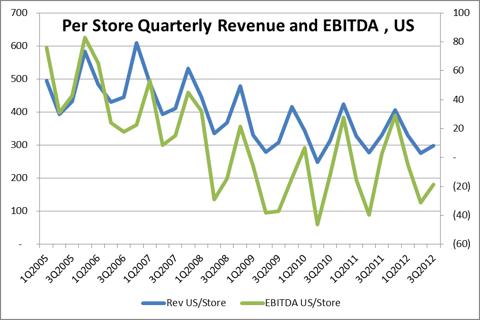 We can see that US stores, on average, were producing something like -$26,000 each in EBITDA for the last 12 months. This is coupled with staggering drops in revenue from over $500K per store per quarter to just over $300K today. As we have seen, the consolidated topline is masking larger issues at the store level for BBW and these ugly charts bear this out.
Taking a look at international stores only, which are franchises, the total revenue and EBITDA trend is actually flat since 2006. This is in stark contrast to the US numbers, which are in an almost waterfall decline. Things are looking rosy so far for the international business, but keep in mind the relative size of the international business isn't large enough to carry the US business. And as we'll see shortly, things aren't quite as good as this graph would suggest.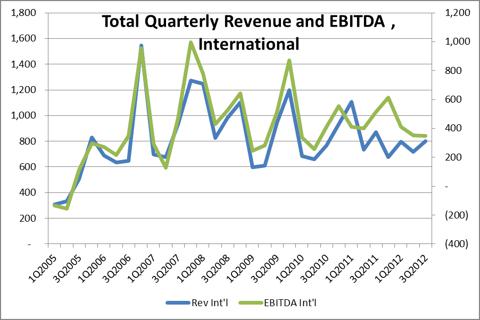 This brings us to the per store numbers for the international business.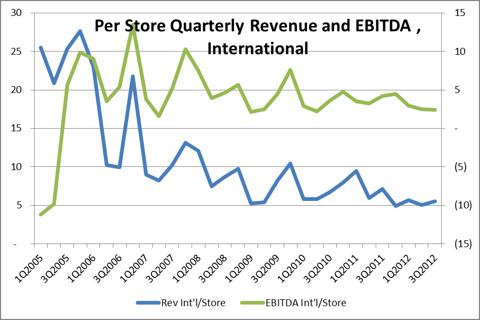 What we see in comparing the two charts is that once again, the topline number is masking per-store growth issues and declining revenues and profits. Remember, BBW has been aggressively growing international store franchise counts for several years but as we can see from this chart, the international stores aren't really faring much better than their US counterparts. Revenue growth is flat to down but EBITDA, while still positive, is getting hammered.
To further illustrate BBW management's inability to convert revenue to profit, some depictions of return on sales in various capacities paint an unpleasant picture for shareholders.
First, this graph shows total quarterly return on sales for the consolidated company.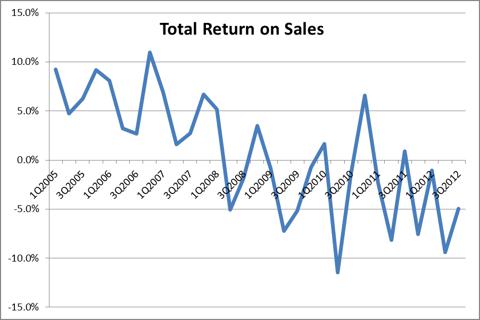 We see that BBW has continuously struggled with turning revenue into profits and this trend is showing no signs of letting up. This would suggest that BBW should not only stagnate store count, as it has, but also reduce store count because BBW's footprint in the marketplace is obviously too large for the market it serves. Onerous fixed costs are killing this business as we have seen a few different ways. Barring the fourth quarter, holiday shopping induced spikes in revenue and EBITDA, return on sales is negative year round.
However, as we'll see in this next chart, it isn't all bad on this front for BBW. The consolidated net profit percentage is terrible but if we separate out the International stores from the US stores, we see that there are some bright spots. This graph shows EBITDA margin on sales revenue as a percentage. Remember that we don't have access to net income per region, so we substitute EBITDA as a proxy.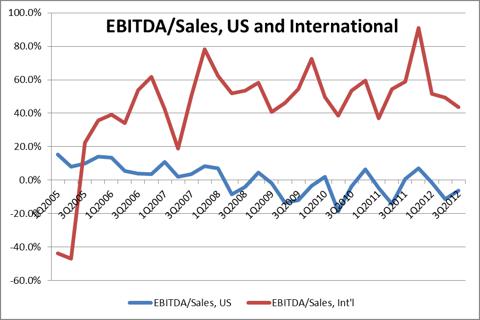 The US number is terrible and has been for a long time now, only spiking above the zero line in the holiday-driven fourth quarter of each year. However, the international stores have shown sustained positive EBITDA margin for the last seven years because BBW receives franchise royalties from these stores and doesn't operate them as owners. This is a bright spot for BBW and I hope management is in the process of trying to figure out how to make the US model look more like the international model. This is more evidence that BBW's retail footprint is way too large to support the amount of sales that the company can get. Proof is seen in that the only time the US stores actually produce positive EBITDA margin is the fourth quarter when demand spikes. The rest of the year, the stores are money-losers.
Just in case you were wondering if the cyclicality of BBW's business might be the cause of the revenue and profit decline, it isn't. The trend for all quarters is down from their relative highs and the net income lines look pretty similar too. The first quarter actually looks the strongest for profitability right now as BBW nearly broke even last year. The fourth quarter, where BBW should make its money, was a huge loser last year, posting a loss of nearly $9 million. The lesson is that cyclicality is a problem for BBW, but it isn't the problem. BBW has massive issues regardless of the time of year and that not even the Christmas quarter can salvage its results anymore.
Given what I've shown here, would this be a company you would expect to be engaging in share repurchases? I didn't think so, but that is exactly what BBW has been doing. You can see in this chart of the number of shares outstanding that BBW has been decreasing the float substantially since 2010, buying back over three million shares, net of new issuances.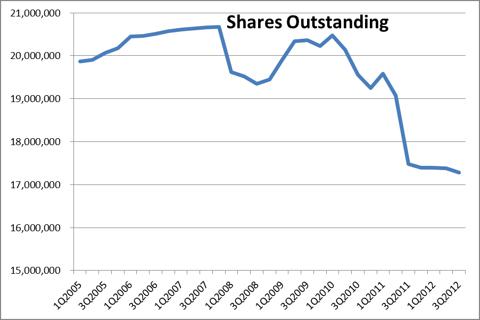 Normally, I would applaud such an effort, but for a company that is losing money like BBW and has such dour prospects, I would implore management to save what precious cash the company has in order to keep the lights on. However, BBW has spent $42 million buying back shares during its current $50 million repurchase authorization, only to see shares subsequently plunge more than 50% to the $4 range shares trade in today.
Not only was this a horrible investment of the company's money as management has paid dimes for nickels, but reduced share counts mean that any losses that are racked up are now magnified when converted to earnings per share. This serves only to exacerbate the already dismal performance of the company's shares by making EPS even lower than it already would have been because net losses are spread over fewer outstanding shares. The result is the loss per share is greater than it otherwise would have been. This is another unfortunate byproduct of BBW management wasting shareholder money on a disaster of a buyback program.
Strategy
Build-A-Bear management has recognized that they are in a lot of trouble and have decided to try and do something about it with their new strategic initiative. To quote management in the most recent 10-Q, the company has "reinvented store design, (engaged in) aggressive repositioning of our portfolio of stores, including closures and remodels that will reduce square footage, and a rebalancing of our marketing to include higher levels of brand advertising." In essence, the company is redesigning its stores and closing the lowest performing stores while attempting to make its advertising efforts more effective. Management doesn't lay out exactly what they mean here, so I'll leave the advertising part alone. However, reducing store count is great to see because BBW sorely needs it. I won't rehash my data from above but BBW's footprint is far too large and could stand to lose maybe a third of its stores or more.
The store redesign is in its infancy and it is far too early to tell if this expenditure will prove to be accretive or not. Again, details are illusive but the idea seems to be to improve the experience the customer has when she walks into a Build-A-Bear store to buy a $50 teddy bear. If management can pull this off, I am all for it because clearly something in the stores is making customers go elsewhere for their plush toy needs (if there is such a thing) and I love that management recognizes they have a problem and are actively engaged in attempting to remedy it.
One area where I'd like to see management conduct some research is in selling its company-owned stores in the US to franchises instead of shutting them down. The international model is profitable because BBW is simply a franchise partner and not an owner-operator. The company could look at changing the way it does business in the US to more closely match the international business. Of course, revenues would fall off a cliff if all stores were converted to franchises in an extreme scenario, but BBW would probably produce positive EBITDA again and the operating losses of the stores would no longer be directly rolled into the consolidated company's earnings. Even if management is adamant about not franchising the US business in its entirety, I would urge the Board of Directors to at least consider that a partial franchising of the US business could mean some much needed cash flow from the sales and some positive margin for once.
Risk Factors
Risk factors for BBW are many, unfortunately. The glaringly obvious risk of 100% exposure to cyclical consumer discretionary spending is a huge headwind for BBW. In addition, the store model seems to become less and less relevant as each quarter passes, resulting in larger and larger drops in revenue and profit. I like that management is addressing the broken store model but it remains to be seen if their efforts will bear any fruit.
In addition, assuming the company does actually start to make money again, it will not have the tax shelter benefit of accumulated net losses like a lot of down-and-out companies possess after years of poor operating results. In essence, with net operating losses saved up on the balance sheet as negative retained earnings, a company can use the NOLs as a tax shelter against future earnings until retained earnings is positive again. Since BBW still has positive retained earnings, no such shelter exists.
There is also the matter of the ~$2 million contingency that is the result of a United Kingdom taxing authority audit that is being appealed by BBW but will most likely result in some type of payment, the amount of which is unknown. Increased taxes are the last thing a sinking ship like BBW needs but increased taxes is what it has. Considering the market value of the company is just north of $70 million, $2 million in additional expenditures is quite a large amount. This is further exacerbated by the fact that BBW is hopelessly unprofitable and no one is sure when it might actually generate $2 million in earnings, if ever again, so whatever ends up being paid will have to come out of existing cash.
Competition
Build-A-Bear thankfully doesn't have any real competition to speak of in the space it operates. However, I think there is a reason for that. There are countless places a customer can go to buy any number of varieties of plush animal toys. While no mass-scale retailer is replicating BBW's "experience," there are plenty of places that sell the same types of toys. This is a problem for BBW as parents on a budget are likely to eschew the ~$50 Build-A-Bear toy in favor of a cheaper alternative they can buy at Target (NYSE:TGT), Wal-Mart (NYSE:WMT), Amazon (NASDAQ:AMZN) or almost anywhere else. I believe this is a trend we are seeing with BBW in that customers do not want to pay enormous sums of money for a plush toy, even if the "experience" is a good one. I believe the evidence I've submitted here supports this assumption.
Valuation
We will now take a look at assigning a value to BBW shares, given the information introduced about its prospects. I will use the Abnormal Earnings model in which shareholders' equity is "taxed" at the discount rate in order to ensure that management is earning an appropriate return from the company's equity. In essence, if the abnormal earnings number is positive, it means management is creating economic value. If the number is negative, it is a red flag that management isn't able to produce enough net income to create economic value and investors should avoid the shares.
As with any DCF-type analysis, there are some assumptions that must be made: 1) 2012 and 2013 EPS as well as the five-year growth rates are all Yahoo! Finance analyst compilations 2) discount rate is 11% (my number) 3) assumed long-term growth rate is 3% (also my number). You may dispute the efficacy of some or all of my assumptions but any DCF-type analysis is subject to conjecture.
| | | | | | | | |
| --- | --- | --- | --- | --- | --- | --- | --- |
| | 2012 | 2013 | 2014 | 2015 | 2016 | 2017 | 2018 |
| Earnings Forecast | | | | | | | |
| Reported earnings per share | -$0.47 | | -$0.15 | -$0.14 | -$0.14 | -$0.13 | -$0.12 |
| x(1+Forecasted earnings growth) | | 68.09% | 5.00% | 5.00% | 5.00% | 5.00% | 5.00% |
| =Forecasted earnings per share | | -$0.15 | -$0.14 | -$0.14 | -$0.13 | -$0.12 | -$0.12 |
| | | | | | | | |
| Equity Book Value Forecasts | | | | | | | |
| Equity book value at beginning of year | | $7.33 | $7.18 | $7.04 | $6.90 | $6.77 | $6.65 |
| Earnings per share | | -$0.15 | -$0.14 | -$0.14 | -$0.13 | -$0.12 | -$0.12 |
| -Dividends per share | $0.00 | $0.00 | $0.00 | $0.00 | $0.00 | $0.00 | $0.00 |
| =Equity book value at end of year | $7.33 | $7.18 | $7.04 | $6.90 | $6.77 | $6.65 | $6.54 |
| | | | | | | | |
| Abnormal earnings | | | | | | | |
| Equity book value at begin of year | | $7.33 | $7.18 | $7.04 | $6.90 | $6.77 | $6.65 |
| x Equity cost of capital | 11.00% | 11.00% | 11.00% | 11.00% | 11.00% | 11.00% | 11.00% |
| =Normal earnings | | $0.81 | $0.79 | $0.77 | $0.76 | $0.75 | $0.73 |
| | | | | | | | |
| Forecasted EPS | | -$0.15 | -$0.14 | -$0.14 | -$0.13 | -$0.12 | -$0.12 |
| -Normal earnings | | $0.81 | $0.79 | $0.77 | $0.76 | $0.75 | $0.73 |
| =Abnormal earnings | | -$0.96 | -$0.93 | -$0.91 | -$0.89 | -$0.87 | -$0.85 |
| | | | | | | | |
| Valuation | | | | | | | |
| Future abnormal earnings | | -$0.96 | -$0.93 | -$0.91 | -$0.89 | -$0.87 | -$0.85 |
| x discount factor (11%) | | 0.901 | 0.812 | 0.731 | 0.659 | 0.593 | 0.535 |
| =Abnormal earnings disc to present | | -$0.86 | -$0.76 | -$0.67 | -$0.58 | -$0.51 | -$0.45 |
| | | | | | | | |
| Abnormal earnings in year +6 | | | | | | | -$0.85 |
| Assumed long-term growth rate | | | | | | | 3.00% |
| Value of terminal year | | | | | | | -$10.60 |
| | | | | | | | |
| Estimated share price | | | | | | | |
| Sum of discounted AE over horizon | | -$3.38 | | | | | |
| +PV of terminal year AE | | -$5.67 | | | | | |
| =PV of all AE | | -$9.05 | | | | | |
| +Current equity book value | | $7.33 | | | | | |
| =Estimated current share price | | -$1.72 | | | | | |
What we see here is that this firm essentially possesses no economic value whatsoever. This is the worst possible scenario for longs as the company's earnings power has been depleted so severely and prospects are so grim that there is no price where BBW shares are a good buy. The sad reality for BBW is that the company has a broken business model that is hopelessly unprofitable and huge structural fixed costs that don't allow the company to be nimble. The numbers are reflected in my model, showing that BBW can't be expected to create economic value, probably indefinitely.
Another frightening thing for shareholders is that the earnings estimates I'm using have come way off their levels of just three months ago. For instance, 2013 estimated earnings three months ago was 0.22 per share. Now, analysts are forecasting a loss of 0.15 per share for 2013. Likewise, 2012 earnings were forecast 90 days ago to be 0.08 per share; the estimate now is for a loss of 0.47. This is ugly and the problem with earnings estimates that are dropping like stones is that no one knows where the bottom is, and that causes people to hit the sell button. Seeing these numbers should terrify current BBW shareholders as I'm afraid this company won't last many more years in its current form. If you are long, you were given a gift bounce recently from the $3.30 level to the current price of $4.39. I suggest you take the money you can get now and run before this company destroys more shareholder value.
Just in case you were wondering if BBW is perhaps producing enough cash to keep the doors open even though GAAP earnings are negative, here is your answer.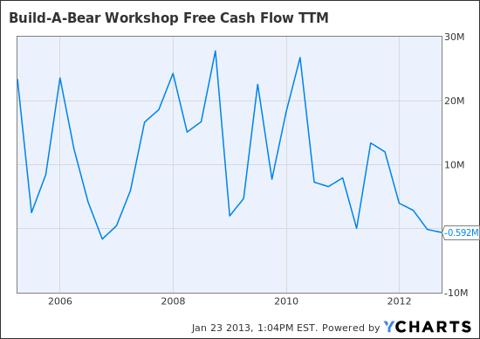 The company was producing positive trailing twelve-month cash flow up until this most recent quarter. Obviously, one data point is not a trend but the clear trend in this chart is that cash generation has been suffering mightily over the past few years and the days of BBW generating $20 million of FCF annually are gone. Assuming cash flow takes the same trend as all of BBW's other metrics, we should see the company start to burn through cash much more quickly than it is now. This makes the huge buyback program even more flabbergasting. Management has used up $42 million buying back shares at double the current price (or more) and that is money they could have used to keep the doors open for business and restructure to salvage the business. The point is, BBW is still cash flow neutral but we don't know how long that will last; given the company's prospects, I'm betting it won't be long at all.
Lastly, if you still want to be long BBW, take a look at this chart of book value per share.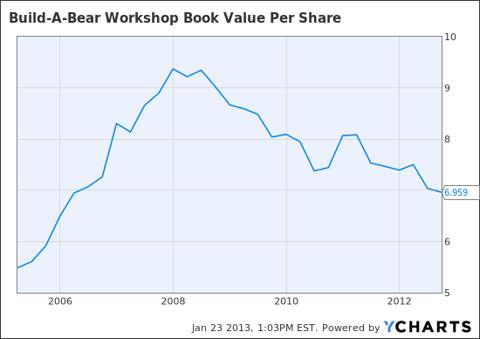 What we see here is that BBW's shareholders have suffered tremendously over the past five years with the book value of the equity dropping by about 25% to the current level of $6.96. The morale of this story is that any firm that is losing book value at this pace doesn't have long to live. Management has to find a way to turn things around and stop destroying the value of the company or it won't be long before this number goes to zero and shareholders are left with nothing.
Conclusion
I have shown many reasons why I think Build-A-Bear is going lower. The company has a broken business model with a turnaround plan in its infancy. The restructuring may prove successful and I hope it is, but I just don't see it happening. The biggest problem is that turnarounds take time and time is something BBW doesn't have due to deteriorating fundamentals at a consolidated level but more strikingly at the store level. Users have proven to be increasingly unwilling in the past few years to shell out large sums of money for custom plush toys when it is functionally the same as a "generic" bear from Target that is half the price.
I believe management should consider making the business solely a franchising operation in order to save the company from bankruptcy. With $1.3 million in TTM revenue per store on average in the US, the company should be able to get maybe $300K per store, offering up a potential windfall of about $90 million over the next several years. As a result, the stores would be run by individuals who could take the time to turn the stores around individually and tailor the stores to the markets they serve. In addition, BBW would have ample cash to ride out the downturn the business has faced and come out the other side as a franchising operation first and a store operator second. Management, however, has played its hand and has decided instead to attempt a remodel of the store concept that is currently in place. I believe this is misguided and throwing what little cash BBW still has after a hopeless endeavor.
Disclosure: I have no positions in any stocks mentioned, and no plans to initiate any positions within the next 72 hours. I wrote this article myself, and it expresses my own opinions. I am not receiving compensation for it (other than from Seeking Alpha). I have no business relationship with any company whose stock is mentioned in this article.