Any prospect of a U.S. economic recovery in late 2009/early 2010 is clearly contingent on a stabilization of the housing market; indeed, alongside the scale of the meltdown in China, it is the key factor for global investors. Although median prices nationally have already retraced to early 2004 levels, perspective Japanese residential real estate fell an astonishing 75% in nominal terms over 15 years from the peak in 1990, and retraced back to 1984 levels.
A remotely similar outcome in the U.S. would be devastating, given the level of consumer leverage. The latest S&P/Case-Shiller Home Price Indices for October 2008 show continued declines in the value of existing single family homes with 14 of 20 metropolitan areas now reporting declines in excess of 10% yoy. Having peaked nationally at $230k, median house prices are now down to just over $185k, compared to $140k at the beginning of the decade before the bubble began to inflate. Both composite indices and 14 of the 20 metro areas are reporting new record rates of decline. As of October 2008, the 10-City Composite is down 25.0% from its mid-2006 peak, and the 20-City Composite is down 23.4%. Even previously resilient urban markets like Boston and New York are now falling fast, reflecting stress in their key financial sectors.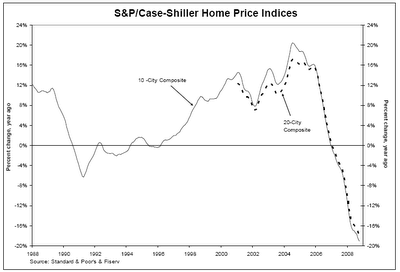 It's not quite all bad news, however. Fixed-rate mortgage rates are falling steadily and now down to 5.2%, which has sparked a refinancing boom; pent-up demand from strong household formation should help mop up remaining excess inventory, given the collapse in new construction. The slump in gas prices will make the hard-hit 'exburbs' with their long commuting distances, particularly in the Southwest, viable again for buyers.
These factors make it likely that although U.S. housing is facing a multi-year correction that will take the median price back another 20-25% over the next several years, it is quite possible we get a short-lived 'bungee jump' move in U.S. housing later in 2009, assuming further aggressive support measures from the incoming Obama administration.
Aside from still historically high valuation levels, weak real income growth and rising unemployment, demographic factors become increasingly bearish for supply beyond 2010 as baby boomers begin to downsize their living space in large numbers.
This underpins my view that we face an erratic and weak 'washboard' recovery in the U.S. and a secular bear market in equities that began in 2000 stretching to about the 2012 horizon, despite now reasonable normalized valuations. Near term however, as discussed in recent posts, there is scope for a strong bear market rally over the next several weeks in equities, energy, and other risk assets.