By: Todd M.
Overview
Starbucks (NASDAQ:SBUX) is scheduled to report 1Q 2013 earnings after the close of trading on Thursday, January 24. Results are typically available several minutes after the closing bell and will follow with a conference call at 5:00 p.m. EST.

Outliers & Strategy
Earnings Per Share: The value for this measure typically compares with consensus estimates. The exception is if a Non-GAAP figure is present. The estimate is $0.57, the midpoint of analyst's range of $0.55 - $0.59. (Source: Yahoo! Finance)
Revenues: Revenues are seen growing 11.70% Y/Y to $3.84 bln.
Earnings Per Share
Guidance (FY2013): Consensus estimates see Starbucks announcing EPS guidance of $2.16 for fiscal 2013, just above the range of $2.06 - $2.15 forecasted by the company in 4Q 2012.
Comparable Store Sales: This is a key indicator of overall health of Starbucks current business. Zack's Investment Research estimates that the company will report 5.5% growth in Global Comp. Store Sales.
Recent News
01/16: Starbucks will be expanding overseas by including tea shops, since coffee is much less popular in places like China and India. This seems to be a clear next step with their recent acquisition of Teavana in 4Q2012.
01/11: UBS upgraded Starbucks and raised its price target from $59 to $64, according to a post on StreetInsider.com. The firm cites a consumer panel analysis that implies 1Q2013 same store sales growth of 7%.
12/06: According to a post on StreetInsider.com Robert Baird upgraded Starbucks from Neutral to Outperform and raised its price target from $55 to $62. The firm cites steady earnings growth throughout the next one to two years.
12/05: Starbucks issued a press release outlining the company's global growth plans. Highlights include the opening of 3,000 new stores in the US by 2017, expansion into the $40 billion tea market with the acquisition of Teavana, the new Verismo machine, and that China is on pace to become the second largest market for Starbucks by 2014.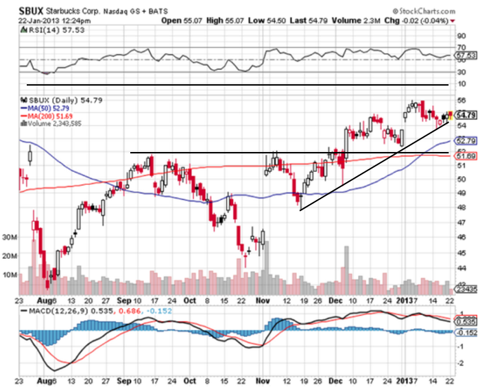 Technical Review
Starbucks shares are up almost 18% since the 4Q2012 earnings results. Shares are trading right underneath $56 resistance established in June 2012. If results surprise to the upside, look for a break above $56, with the next resistance point is $58.50, followed by all-time highs of $62 set in April 2012. Conversely, if earnings disappoint, look for initial support at $52 (near the 200-day SMA and the top of a recent six month range), followed by $50. (Chart courtesy of StockCharts.com
Summary
Starbucks has traded significantly higher in recent months, signaling that the Street is expecting a solid 1Q 2013 earnings release. Plans for international expansion, sales of the new Verismo machine, falling coffee prices, and strategic acquisitions have been positive catalysts this quarter. Consequently, a slight misstep could be seen as disappointing and send shares lower. Comparable Same Store Sales and FY2013 guidance will be key measures that could ultimately determine the trading direction following the upcoming earnings report.
DISCLAIMER: By using this report, you acknowledge that Selerity, Inc. is in no way liable for losses or gains arising out of commentary, analysis, and or data in this report. Your investment decisions and recommendations are made entirely at your discretion. Selerity does not own securities in companies that they write about, is not an investment adviser, and the content contained herein is not an endorsement to buy or sell any securities. No content published as part of this report constitutes a recommendation that any particular investment, security, portfolio of securities, transaction or investment strategy is suitable for any specific person.
Disclosure: I have no positions in any stocks mentioned, and no plans to initiate any positions within the next 72 hours. I wrote this article myself, and it expresses my own opinions. I am not receiving compensation for it (other than from Seeking Alpha). I have no business relationship with any company whose stock is mentioned in this article.