A great deal has been said in the media about the performance of stock markets during 2008, and also specifically about the reversal of fortune since the lows of November 20. I therefore only briefly summarize the year-end performance of various global stock markets in this post.
After $30 trillion was wiped out from world equities during 2008, stock markets closed the year with a winning streak of five consecutive up-days (albeit on thin volume), as the chart of the Dow Jones World Index shows. (It would be remiss not to mention that a sixth consecutive up-day was added on the first trading day of the new year – not shown below.)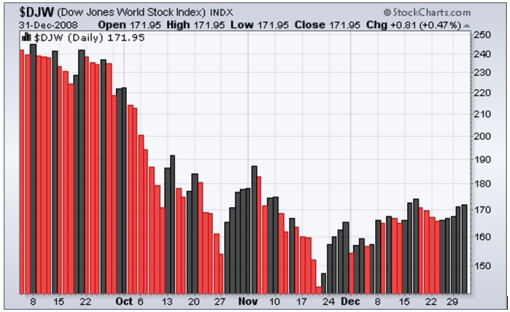 The returns in the table below are given in the local currency of the various countries for different measurement periods ended December 31. (Unfortunately I could not do the conversion to U.S. dollar, i.e. standardize to a common currency, because of a data problem.)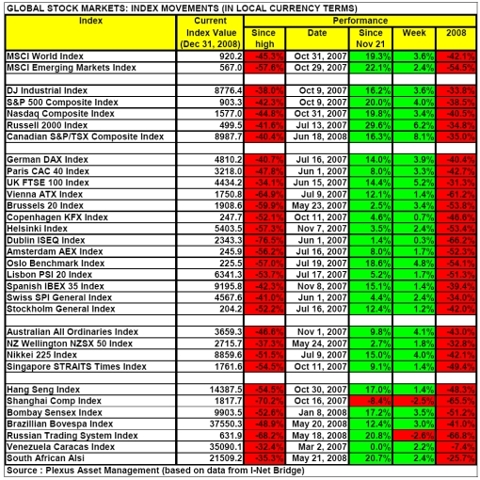 Although developing markets have outperformed mature markets from the bull market highs of October 2007, the picture has changed since October 2008, as seen from the declining trend of the relative-strength graph of the MSCI World Index versus the MSCI Emerging Markets Index. This may be an early indicator of investors returning to riskier assets.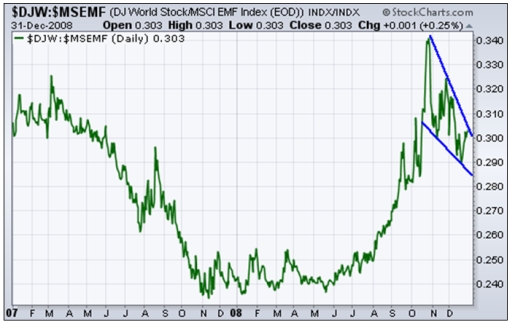 The best-performing individual bourses since the turnaround of late November were the Russell 2000 Index (+29.6%), Russia (+20.8%) and South Africa (+20.7%). However, China (-8.4%), Venezuela (0%), Ireland (+1.4%), Belgium (+2.5%) and New Zealand (+2.7%) had considerably less to cheer about.
Notwithstanding the rallies since the troughs of November 20, all global stock markets were still massively down by year-end from their respective bull market highs, as well as since the start of 2008.
The worst performers since their peaks were Ireland (-76.5%), China (-70.2) and Russia (-68.2%). The year-to-date performance of some of these countries is shown in the graph below.
With the indices of a number of individual countries having breached the 50-day moving average (and after year-end also having taken out the December peaks), the next target is the November 4 highs, followed by the key 200-day average. On the downside, the December 1 and the all-important November 20 lows must hold for the uptrend to remain intact. (For a more detailed discussion of the stock market outlook, see "Stock market internals: further headway in 2009?")