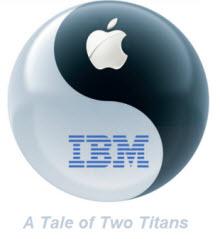 Markets are quickly surpassing September 2012 highs not led so much by great earnings as by Fed liquidity and ZIRP. That's about the size of things. Theoretically this action will continue until it can't if good economic news will force interest rates to rise and the Fed to back off. Just imagine what would happen to our national interest expense if interest rates rose on this huge debt and deficits! Then the public and investors will take notice. In the meantime any stock market dips will be bought it seems steamrolling conventional technical indicators.
Not that many noticed but Fed Minutes from 2007 have been released and it is well-noted if not ignored how inept Fed governors, including Bernanke, were in regards to the impending financial crisis. Most blew-off concerns about Bear Stearns, Countrywide and other troubles except for Fed Governor Richard Fisher. A quick summary is here with the conclusion of how little there really is in the way of transparency. Obviously, this is just a speed bump for today's rally as today alone another $5.7 billion in bond buying took place.
Markets are doing nothing in a small way as Netflix (NASDAQ:NFLX) beat expectations (meaning the company will "breakeven" going forward) sending the stock soaring by nearly 25%. This is silly behavior. IBM's trading and weighting Wednesday accounted for the "entire gain" in the DJIA. So, if you're looking at your portfolio and didn't see much movement it's because you didn't own IBM. Lagging sectors Wednesday included financials (NYSEARCA:XLF) and most consumer related sectors (NYSEARCA:XLP) and (NYSEARCA:XRT) for example.
Important Apple's (NASDAQ:AAPL) earnings came in at $13.81 vs $13.84 which put the stock sharply lower initially. It appears that Apple is facing strong competition globally and China in particular as China Wireless is selling comparable devices for less than $100. I was waylaid today by outside appointments so this recap will be short.
The dollar (NYSEARCA:UUP) ended flat despite a wide intraday range while gold (NYSEARCA:GLD) higher early fell. Commodities (NYSEARCA:DBC) were flat as most "risk assets" fell to advancing stocks. Bonds (NYSEARCA:TLT) were weaker with stocks rising.
Volume remains ultra-light as SPY trades less than 100M shares again. Breadth per the WSJ was actually negative highlighting the IBM impact making the day misleading.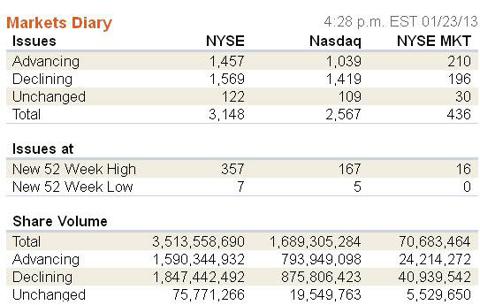 You can follow our pithy comments on twitter and become a fan of ETF Digest on facebook.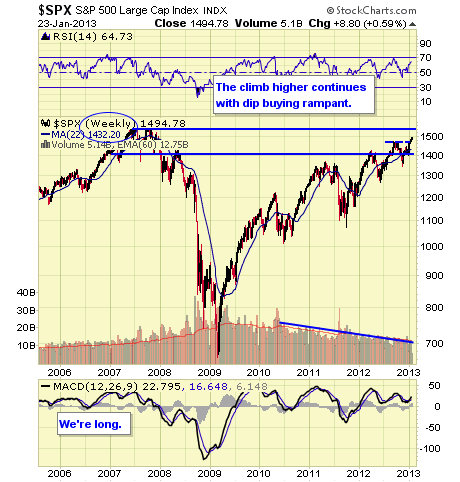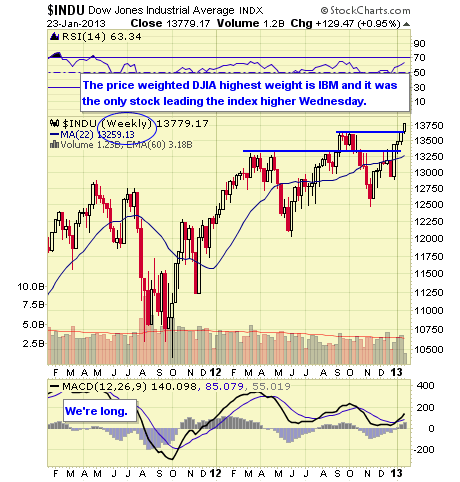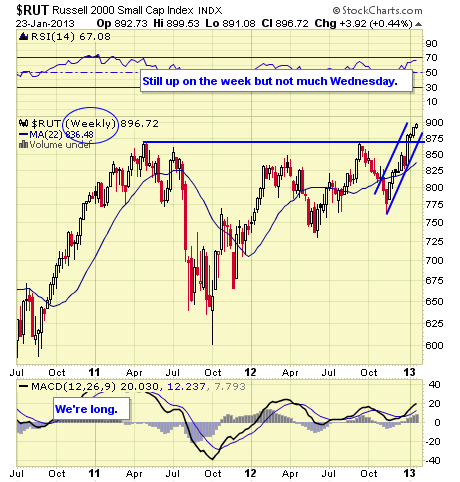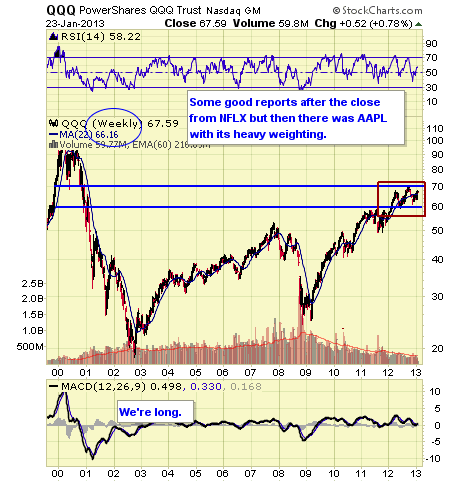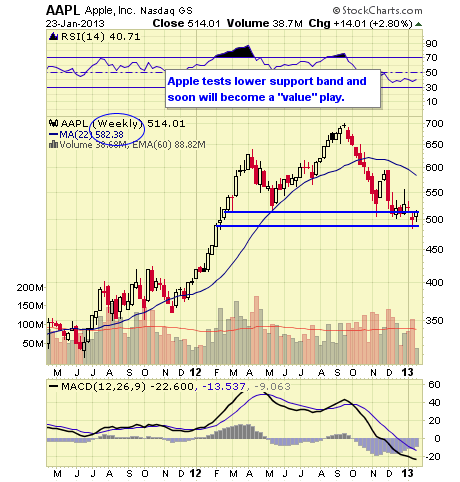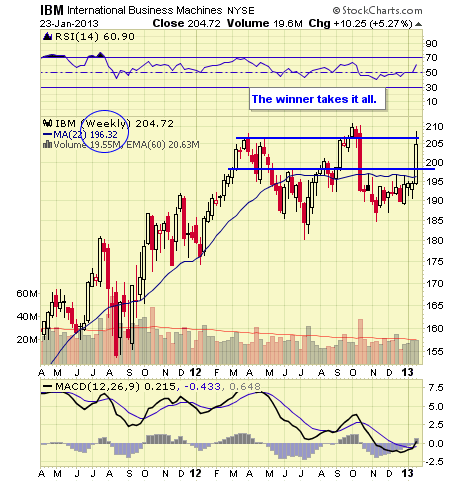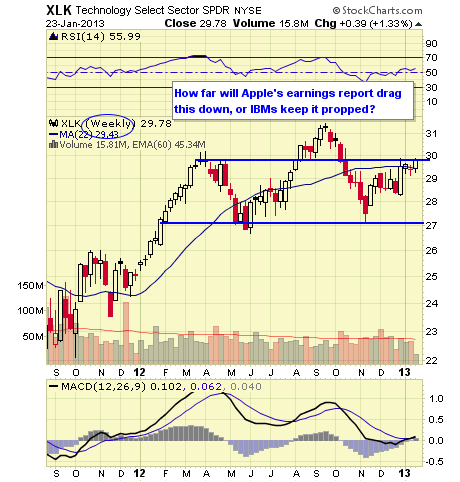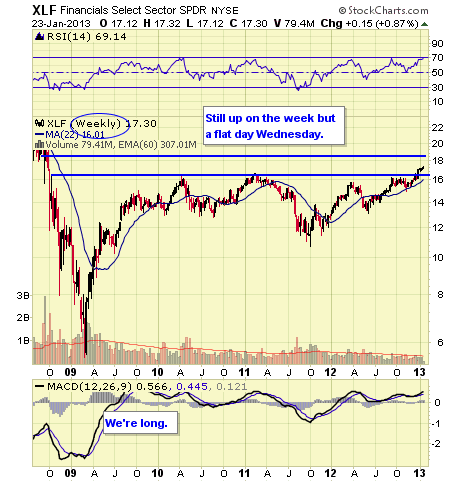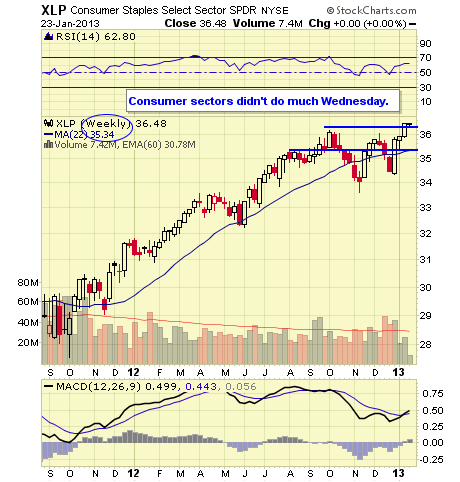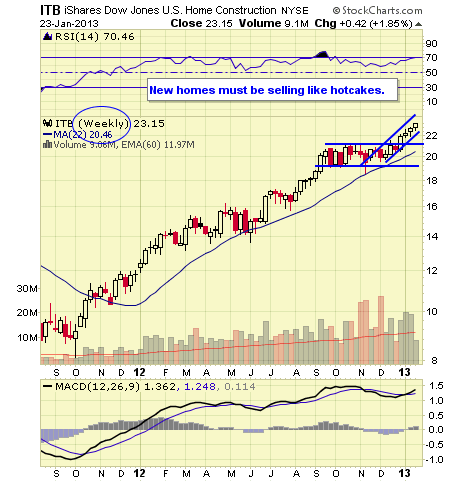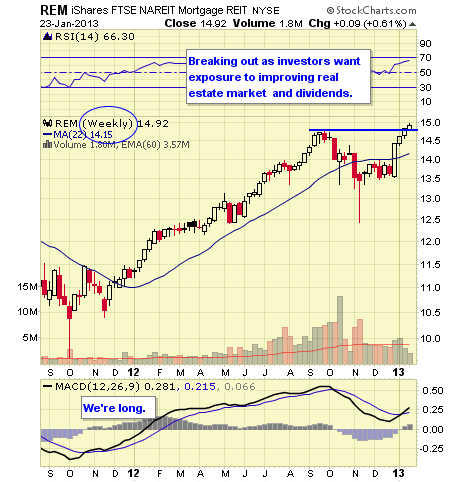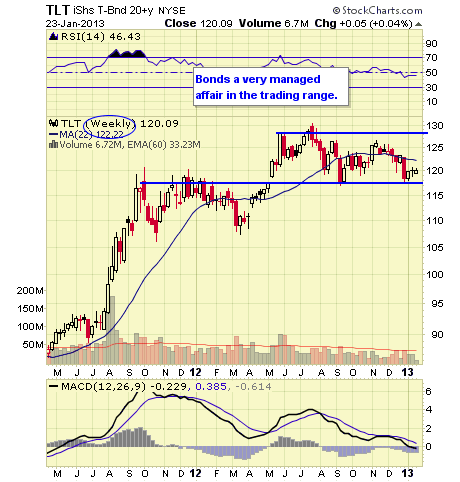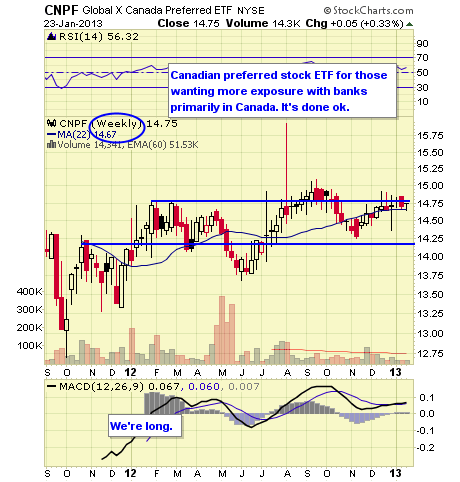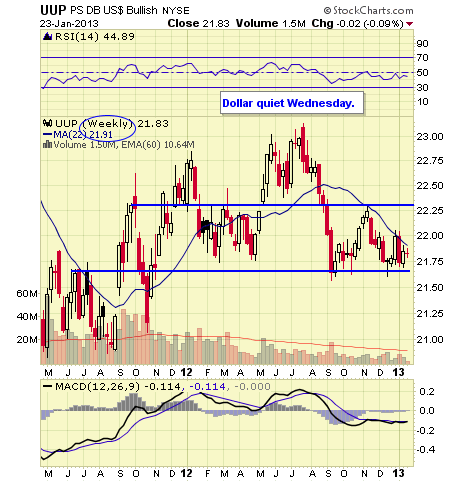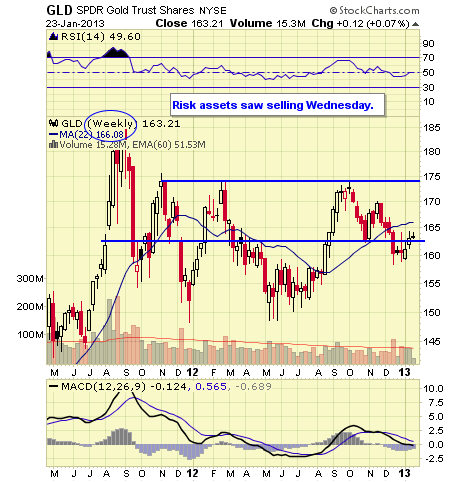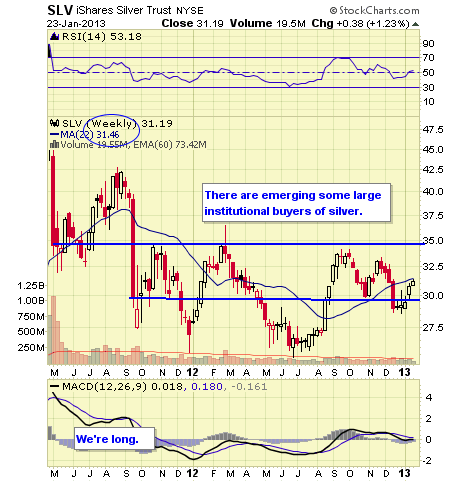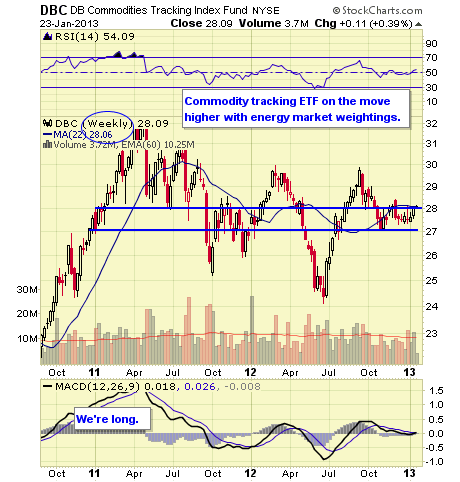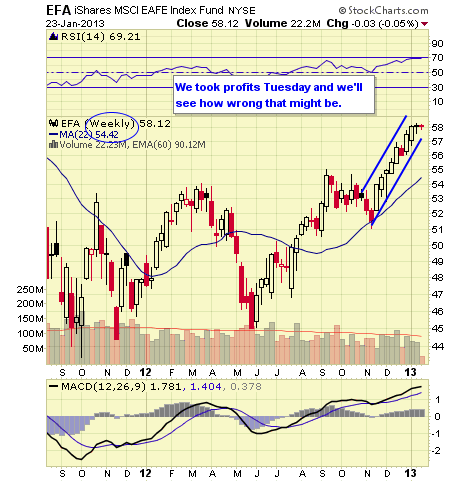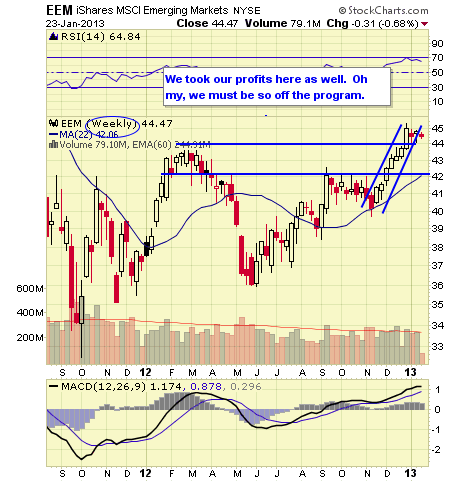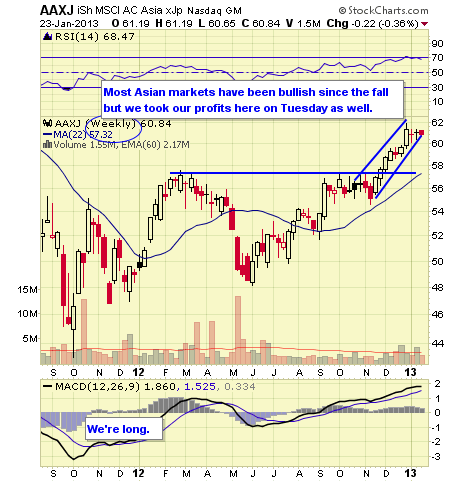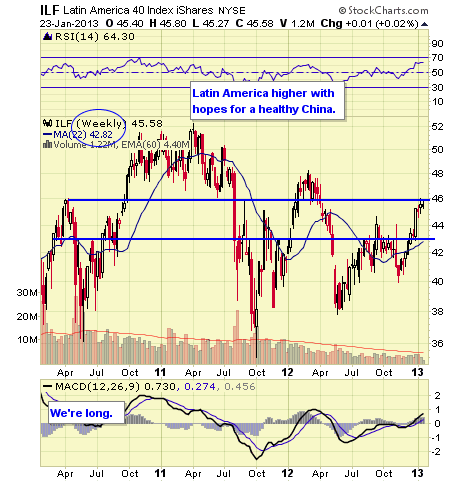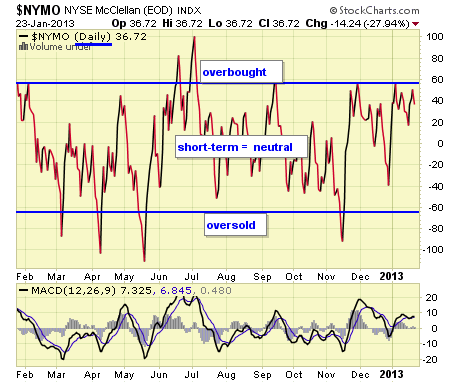 The NYMO is a market breadth indicator that is based on the difference between the number of advancing and declining issues on the NYSE. When readings are +60/-60 markets are extended short-term.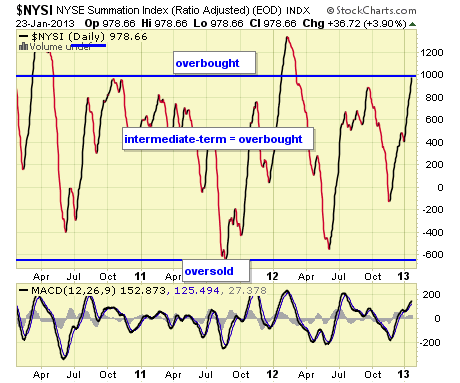 The McClellan Summation Index is a long-term version of the McClellan Oscillator. It is a market breadth indicator, and interpretation is similar to that of the McClellan Oscillator, except that it is more suited to major trends. I believe readings of +1000/-1000 reveal markets as much extended.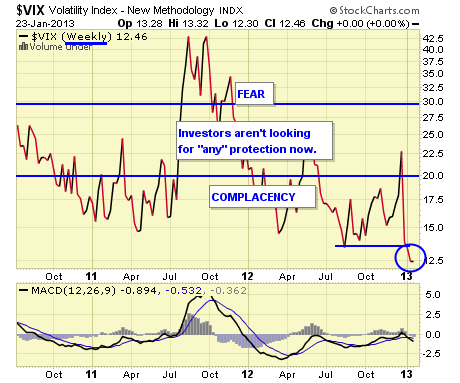 The VIX is a widely used measure of market risk and is often referred to as the "investor fear gauge". Our own interpretation is highlighted in the chart above. The VIX measures the level of put option activity over a 30-day period. Greater buying of put options (protection) causes the index to rise.
Apple's shares continue to drop in late trading now down a whopping 10%. The earnings reports and other news mentioned already means perhaps the company needs a new push. There was a clear sense in late fall that the stock was overowned and now we see why some big sellers have emerged as the stock has fallen from over $700 to less than $500 in just a few months. The company has a lot of cash on the books and perhaps now a dividend is in order.
Thursday will bring more earnings and more important economic data including: Jobless Claims, PMI Mfg Flash, Leading Indicators and Kansas City Fed Mfg Index.
Let's see what happens.
Disclaimer: The ETF Digest maintains active ETF trading portfolio and a wide selection of ETFs away from portfolios in an independent listing. Current "trading" positions in active portfolios if any are embedded within charts: Lazy & Hedged Lazy Portfolios maintain the follow positions: VT, MGV, BND, BSV, VGT, VWO, VNO, IAU, DJCI, DJP, VMBS, VIG, ILF, EWA, IEV, EWC, EWJ, EWG, & EWU.
The charts and comments are only the author's view of market activity and aren't recommendations to buy or sell any security. Market sectors and related ETFs are selected based on his opinion as to their importance in providing the viewer a comprehensive summary of market conditions for the featured period. Chart annotations aren't predictive of any future market action rather they only demonstrate the author's opinion as to a range of possibilities going forward. More detailed information, including actionable alerts, are available to subscribers at www.etfdigest.com.
Disclosure: I have no positions in any stocks mentioned, and no plans to initiate any positions within the next 72 hours. I wrote this article myself, and it expresses my own opinions. I am not receiving compensation for it. I have no business relationship with any company whose stock is mentioned in this article.