When Apple Inc. (NASDAQ:AAPL) recently announced that its revenues missed consensus expectations by about .4%, all of Apple's detractors let out a collective cheer that was so loud, it broke the sound barrier up here in Boston. Although we were disappointed that Apple's management had issued a disappointing Q1 2013 outlook after releasing its Q4 2012 performance in October, we were pleased that Apple was able to beat the Q1 2013 consensus estimates by $0.34/share. Apple reported quarterly revenue of $54.5B and quarterly profit of $13.08B, or $13.81 EPS.
Apple's shares dipped 5% after hours when it released its Q1 2013 results and then fell another 6% for a total of 11% when it issued Q2 2013 guidance that was well below what investors were projecting. While Apple has a history of lowballing its guidance to the point where investors have implied wiggle room in their models, we think investors were shocked at Apple's Q2 2013 management guidance and took Apple's shares down. Although Apple's Q2 2013 guidance calls for increased revenue of 5%-10% year-over-year, its gross margin is expected to decline by 10% due to the increased proportion of sales from iPads and iPad Minis, which carry lower gross margins than the iPhone.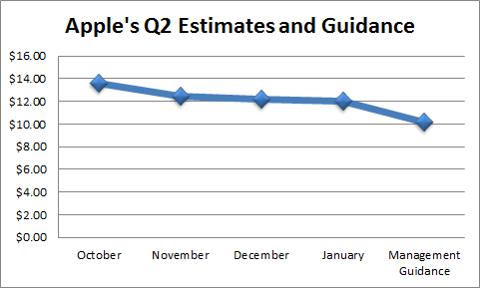 Source: FactSet
The iPhone continues to be Apple's best-selling product. Revenue from the iPhone increased 28% to $30.66B on a year-over-year basis even though Q1 2013 only had 13 weeks while Q1 2012 had 14 weeks. Units sold increased by 29% to 47.8M, which was impressive in light of the challenging macroeconomic environment as well as the success Apple enjoyed with its iPhone 4S product line last year. This certainly outshined the revenues and units sold by Nokia (NYSE:NOK) and Research in Motion (RIMM), even though we previously wrote about how those companies have lower wholesale and retail costs associated with phones from those two vendors. While Apple's share price has certainly pulled back by one-third since its September 21st peak of $705.07, Apple's iPhone sales volumes are much stronger than what RIMM and Nokia have enjoyed at each firm's respective peak.
Although share prices for Nokia and RIMM have generated rapid growth since the summer of 2012, Apple's iPhone sales volumes have still increased in the last quarter on a year-over-year basis unlike RIMM and Nokia. This was even though Nokia released two brand new flagship phones in the last 10 months. According to mobile carrier executives, the iPhone has lower churn than other smartphones sold by the carriers. Apple's iPhone sales through the big three US carriers (AT&T (NYSE:T), Verizon (NYSE:VZ) and Sprint (NYSE:S)) in the recent quarter eclipsed the number of Blackberry smartphones sold worldwide, as well as the number of Nokia smartphone devices sold worldwide. But what Nokia Nation should be embarrassed about is that Apple's iPhone sales at AT&T as well as its iPhone sales at Verizon significantly exceeded Nokia's Lumia sales worldwide.

Source: MRQ Reports from Apple, Nokia, Research in Motion and Verizon and our estimates
The iPad also saw strong growth during the quarter. On a year-over-year basis, iPads sold increased by 48% and revenues from the iPad increased by 22%. We believed that Research in Motion should be embarrassed that Apple's iPad revenues in the first quarter of Calendar Year 2012 exceeded RIMM's total company revenues for that period and lo and behold, iPad did it again for the second quarter, the third quarter and in the all-important holiday quarter. We projected that Apple's quarterly revenue from the iTunes Stores and related music products would exceed RIMM's consolidated quarterly revenue, and lo and behold our prediction has come to pass as revenue from the iTunes, Software and Services segment has exceeded RIMM's recent quarterly revenues. Even when RIMM releases its BlackBerry 10 smartphone device next week, we are not expecting RIMM's revenues to approach the levels generated by the iPhone or the iPad.

Sources: Apple and RIMM earnings releases
Performance of the iPod and Mac product lines has been significantly more downbeat. Unit sales of the Mac Desktops and Portables collectively declined by 22% and product revenue decreased by 16% versus the comparable quarter last year. We were especially disappointed in the Mac product line's performance because it had generated strong performance in FY 2012 versus Dell (NASDAQ:DELL) and Hewlett-Packard (NYSE:HPQ). Apple introduced the first Macintosh desktop computer 29 years ago this day and it introduced the new 13-inch MacBook Pro Retina display as well as its new iMacs in October. Apple's management projected in October that it was significantly constrained with respect to the new iMacs and were only able to ship them for the final month of the December quarter. We believe Apple's Mac sales would have been much higher absent those constraints. Apple began and ended the quarter with between three and four weeks of Mac channel inventory on a look-forward basis, which is below management's target range of four to five weeks.
The iPod is also a bit dated when you consider its capabilities versus the iPad and iPhone, and it shows as unit sales declined by 18% and product revenues declined by 15% Year-over-Year. So far, the new iPod products have not helped this product line get its groove back. We don't see Apple giving up on the iPod considering it has a 70% market share in the U.S. for MP3 players as of December. The iPod continued to be the top selling MP3 player in most countries Apple's management tracks based on the latest data published by GFK. We also believe that it's a great tool to preserve the strong growth rates achieved by the iTunes product. The iTunes platform generated $2.1B in revenue during the quarter, up from $1.7B in the prior year period.

Source: Apple's Most Recent Quarterly Report
On a geographic basis, all the regions saw strong revenue. Even though Europe is still ailing from the sovereign debt crisis, it almost generated 10.75% year-over-year revenue growth. Apple broke out Greater Chinese results from its Asian-Pacific region and Greater China (Hong Kong, Taiwan and Communist China) generated almost 67.4% year-over-year revenue growth. If only China Mobile and Apple can come to a sales agreement like Nokia did, Apple would be unstoppable in China.

Source: Apple's Most Recent Quarterly Report
Cash Flows from Operations were $23.4B and capital investments were $2.79B, resulting in free cash flows of $20.6B for the quarter. Apple opened 11 new stores and ended the quarter with 401 retail locations. About 38% of its retail store base (150 stores) is outside the US. Apple stores generated $16.3M in revenue per store in the quarter and its average revenue per week increased by 2.5% on a year-over-year basis. Apple Retail stores saw 121M visitors, an increase of 10% year-over-year and average about 23,000 visitors per store per week. Apple Retail generated 5% revenue growth, though its operating income declined by 11% in Q1 2013 versus Q1 2012. Based on Ron Johnson's struggles at J.C. Penney, we think that he should realize that he never should have left Apple Retail and we think that Ron Johnson should resign gracefully from JCP and go back to running Apple Retail.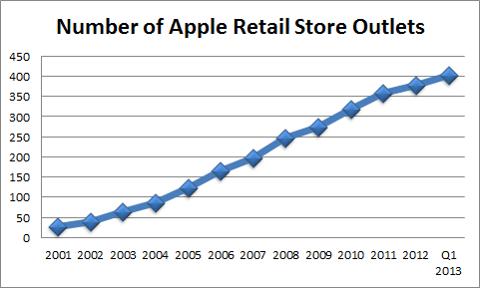 Sources: Apple's Most Recent Earnings Call and Our Most Recent Report on Apple Stores
Apple also has $137B in cash and marketable securities ($94B attributed to overseas entities) representing over 31.5% of Apple's Market cap. Apple paid a $2.65/share dividend payment on August 16th, which was its first dividend in 17 years. Apple officially began its $10B repurchase program in FY 2013 and repurchased $1.95B shares. Apple is looking to return $45B in cash to shareholders from 2013-2015 and we think Apple may need to boost that figure in order to stabilize its share price.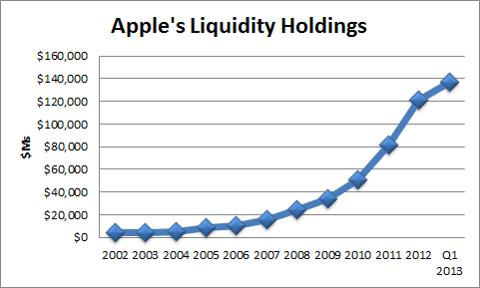 Source: Morningstar Direct
In conclusion while we are never happy to see companies in our portfolio miss revenue estimates and to give downbeat forecasts, we believe that Apple's shares should be reaching a bottom in the near term. We believe that those few investors who have been short Apple and long Nokia or RIMM will be well served by winding up that trade because Apple's shares have been through the worst that the market could throw at it. Apple has made a number of recent missteps, however, it has taken steps to fix the problems in order to avoid suffering the fate of Research in Motion and BlackBerry. Now that Apple is trading at a price not significantly higher than its prior year levels and within 10% of its 52-week low, we believe that this provides investors a solid buying opportunity.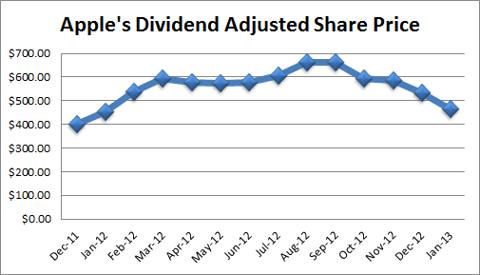 Source: Morningstar Direct
Disclosure: I am long S, AAPL. I wrote this article myself, and it expresses my own opinions. I am not receiving compensation for it (other than from Seeking Alpha). I have no business relationship with any company whose stock is mentioned in this article.
Additional disclosure: Additional disclosure: This article was written by an analyst at Saibus Research. Saibus Research has not received compensation directly or indirectly for expressing the recommendation in this article. We have no business relationship with any company whose stock is mentioned in this article. Under no circumstances must this report be considered an offer to buy, sell, subscribe for or trade securities or other instruments.