Netflix (NASDAQ:NFLX) smashed the estimates last night, posting a profit 200% higher than the 13 cents loss the pundits were calling for. Since Carl Icahn disclosed his long position in the security, shares are up some 143% (baking in the pre-market gain, which, at the time of this writing, stand at about 38% compared to yesterday close). But is the bigger picture really so rosy?
Falling profits and rising costs
Yes, the stock didn't post a loss as analysts were expecting, but nevertheless earnings actually fell 92% from a year earlier. Additionally, the growth in revenues, which used to be 32% comparing Q4 2011 and Q4 2010, slowed to a mere 7% this last quarter.
The stock is actually flying pre-market, though: it must be the subscribers growth then, clearly subs additions must have accelerated suddenly. Well, turns out, subs growth actually slowed compared to one year ago, from 24% to 20%.
Put it in perspective: at the end of 2006 subs were 6.3 million and net income stood at $14.9 million. Six years later, subs have more than quintupled to 33 million, while net income didn't even manage to double. (see charts for reference)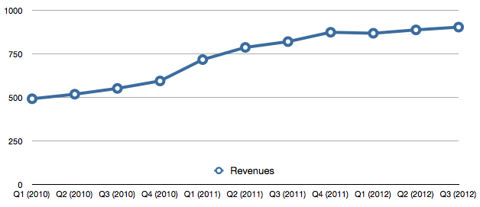 One of the main causes? The gargantuan deals Netflix is sealing with content providers, which allow the company to let its user stream more content (and therefore attract more of them), but at the same time have a massive impact on the income statement. Just look at the last major deals Netflix manage to sign:
Dreamworks deal, late 2011
Disney deal, late 2012
Time Warner deal, beginning of 2013
Each of these deals is estimated in the hundreds of million dollars, the burden of which might get compensated by subs fees, but which clearly offers no certainty of growth in earnings by itself.
Final thoughts
Still, the market seems to be extremely pleased by these results, falling growth in revenues and subs addition doesn't seem to be a big concern in the face of beaten battered estimates. Put in the Icahn effect (who, nevertheless might be tempted to exit his position after this huge run), and the stock clearly seems to have an incredible momentum, even though the fundamentals are not there to propel shares higher.
Short term, Netflix still looks like it is poised for more upside. Longer term? The fundamentals are just not there: growth has slowed, costs are rising, management has proved itself not to be the best you can get, subs growth relies on extremely expensive deals with content providers. Be careful in the long run.
(source: Netflix 10-k filings, press releases)
Disclosure: I have no positions in any stocks mentioned, and no plans to initiate any positions within the next 72 hours. I wrote this article myself, and it expresses my own opinions. I am not receiving compensation for it (other than from Seeking Alpha). I have no business relationship with any company whose stock is mentioned in this article.