Ralph Keitel works as Principal Investment Officer for the International Finance Corporation [IFC] of the World Bank Group, which concentrates on the private sector. I had the opportunity to meet Ralph at the Syneidesis Group conference in early December 2012 and listen to him present about the IFC's case for investing in Emerging (and Frontier) markets. The World Bank's Antoine van Agtamel is credited with coining "Emerging Markets" in the 1980s while the IFC's Farida Khambata is credited with coining the term "Frontier Markets" (as a subset of Emerging Markets) in the early 1990s.
Why do you care? Because the IFC, as the World Bank's investment arm, is among the most successful investment agencies in the world. Contradictory to popular belief about bureaucracy making business impossible, the IFC, with 184 member countries, is a large institution supported by 184 governments that has averaged a 19.7% return per year since the year 2000 on its portfolio of private equity funds in Emerging Markets.
On the one hand, we cannot all invest the way IFC does. On the other hand, we can all learn why IFC is so successful in Emerging Markets (NYSEARCA:EEM) and the Emerging Market subset of Frontier Markets (NYSEARCA:FM). Ralph Keitel graciously agreed to share his views and some IFC data for this interview.
Jon: What is the basic premise for why Emerging Markets will outperform Developed Markets for the next decade or two decades?
Ralph: It's risky to predict how economies or markets will perform in the future, let alone over the next one or two decades. But there is strong evidence that emerging markets overall will continue to grow at much higher rates than the OECD countries for the foreseeable future. Thanks to better macroeconomic policies, larger currency reserves, lower inflation and thus more stable exchange rates, most of these economies are now much better positioned to withstand external shocks than in the last century. All this will continue to benefit the rising middle class in these countries and it is these people with their higher disposable incomes and discretionary spending that drive GDP-growth.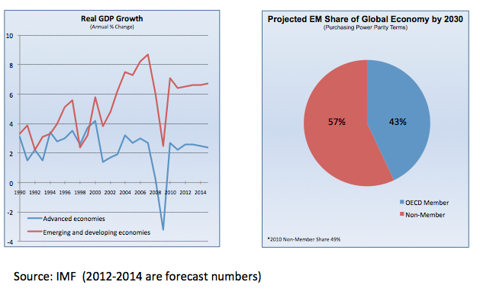 Jon: One thing that is interesting about IFC's investing success is that all investment funds, and their managers, have a set of environment and social guidelines they must follow. Investors are sometimes concerned that when they invest in Emerging Markets, they may be doing something adverse for the local population. What are guidelines investors can think about to be socially responsible investors in these markets?
Ralph: In many developing countries, the environmental, social and governance [ESG] laws and policies are lagging behind the developed world. It therefore falls to multilateral institutions like the IFC and other developmental financial institutions to ensure that our investments adhere to the highest ESG standards. IFC's policy provisions prohibit any activity in a number of excluded sectors (e.g. firearms, gambling etc) and we additionally require all investments to adhere to our performance standards, which enforce our ESG requirements. There is a high correlation between good governance and good returns and we are very concerned about our good reputation. Investors should be able to replicate this to a degree by investing principally in companies that adhere to high SRI/PRI principles such as the UNPRI.
Jon: It seems like IFC is a successful investor in Emerging Markets in part because IFC investment funds invest in markets early as they begin to open up, and have a network of experienced professionals around the world. Could you discuss this, and discuss the benefits of getting in on the ground floor of investing in countries?
Ralph: How early an investor decides to enter a space or frontier region depends on one's individual risk appetite or tolerance. IFC, as part of the World Bank Group, has a dual mandate, so developmental impact is very important to us. But our experience over the past 50 years has shown that financial returns and developmental impact are not mutually exclusive but usually go hand-in-hand. This is particularly true in frontier markets where fast-growing SMEs (small and medium-sized entrepreneurs) are often the biggest big job creators. Having knowledgeable staff on the ground across nearly hundred offices around the world, helps IFC to understand the dynamics and intricacies of the local environment and thus make better informed decision. Investing in frontier countries, whether it's in Central Africa, Bangladesh or Guatemala requires local know-how and regular oversight.
Jon: In your December presentation you mentioned that some IFC emerging market investment funds have internal rates of return [IRR] of over 200%. Are their qualities - whether they be particular sectors or particular country characteristics - that one can foresee leading to these types of returns? Or do you find that with enough diversification investing in emerging markets, some small percentage of investment will get these high returns? Or, is this often more about the particular fund manager than the investment climate?
Ralph: Private equity funds with an IRR of 100% or even 200% are certainly rare, even in IFC's portfolio, which leans heavily towards frontier markets. These tend to be the early movers and of smaller size as achieving such outsized returns naturally becomes much more difficult as fund sizes grow and new competitors enter the market. Private equity is a very particular asset class, where a small number of top-tier funds create the majority of wealth and profits so average returns don't reveal the whole story. In private equity, an investor's skill lies in identifying the top quartile (or better: top decile) fund manager that are able to consistently outperform.

Jon: The IFC's average annual return of 19.7% in Emerging Markets private equity funds since 2000 is very interesting. For retail investors investing in publicly traded equities and ETFs, it seems like the expectations should be lower. However, a theme for IFC is that Emerging Market growth will continue to outperform the growth of Developed Markets (e.g. the U.S., Europe, Japan). If you think Emerging Market growth is this good of an investment, should it be a part of every retail investor portfolio?
Ralph: What helped us to outperform the broader index is that we have invested more in frontier regions (such as, for example, Africa) so our portfolio benefited from a much broader diversification and the outsized returns you can achieve in frontier markets. Many multinationals are following a very similar strategy by expanding into new markets. Many large multinationals are deriving an ever increasing share of revenues (and profits!) from their emerging market operations. And this is where most are seeing the majority of their growth. As a share of global GDP, the contribution from developed markets continues to shrink so everyone (sellers, buyers and investors) should assess their emerging markets strategy.
Jon: Earlier this year I made a list of all the ETFs, ETNs, and closed end funds investing in Emerging Markets in the U.S. alone. It is an overwhelming large list. IFC has over 100 offices around the world to put IFC in the position to know everyone they need to know both in the countries IFC invests in, and in the investment community from which IFC's fund managers come. What ways could retail investors find their own edge investing in Emerging Markets? Being more nimble? Following an Emerging Markets dogs theory (like the Dogs of the Dow)? Diversifying themselves between value plays (Emerging Markets that underperformed in the prior year) and growth plays (betting some of the best performers this year will continue next year)?
Ralph: We found that there is a high correlation between governments implementing reforms and policies that benefit the private sector while, at the same time, cutting red tape and corruption that stifle entrepreneurship and innovation. Leaving aside those that merely export natural resources, it is those countries now reaping the rewards that have begun to implement private sector reforms and sounder macroeconomic policies years ago and which has since lead to increased inflows of FDI (foreign direct investment) and economic growth. IFC, each year, publishes its Doing Business Report which assesses the overall ease of doing business for the private sector in 185 countries and which is available to the public.
Jon: Where do China (NYSEARCA:FXI) and India (NYSE:IFN) fit into the IFC's view of the world? Does IFC consider countries that are leveraged to these two giants ongoing growth?
Ralph: Being a long-term investor, IFC is still a large investor in the BRICs countries but we tend to adjust our investment focus as countries graduate to middle-income countries and receive significant inflows of FDI. India still has a huge number of people living under $2 per day and there remains a lot to be done for developmental finance institutions like IFC in many areas and sectors. China, on the other hand, has demonstrated impressive growth over the past 30 years and succeeded in lifting millions of people out of poverty. So here our focus in private equity is mostly to support funds that are in line with IFC strategic priorities that might not attract initial private capital, such as seeking to mitigate the effects of climate change, i.e. invest in green businesses or clean energy.
Jon: The Middle East and North Africa (NASDAQ:PMNA) has been a high growth region (e.g. Qatar & Kuwait) and a volatile region (e.g. the Arab Spring) over recent years. Which parts of the Middle East and North Africa [aka MENA] region give you cause for most optimism?
Ralph: Given the high level of average per capita-incomes, IFC does not invest in the GCC. But the MENA region, especially North Africa is a very high priority for the World Bank Group. There is a lot of entrepreneurial spirit in the region but high unemployment, especially youth unemployment, was a significant cause of the ''Arab Spring'', So IFC is supporting several initiatives that help to create jobs and channel this energy towards productive uses and help foster economic growth.
Jon: Africa (NYSEARCA:AFK) is a challenging region to invest in for retail and institutional investors but IFC has had good successes there. Africa has 54 distinct countries, yet they often get lumped together in investment discussions. What do you look for as growth factors in African countries?
Ralph: Indeed, it's not correct to talk about "Africa" as if the continent was one monolithic entity rather than a plethora of distinct people, languages and cultures. The biggest problem in terms of investing in Africa is that most countries have fairly small economies and populations (though that's obviously not true for a country like Nigeria). So we look for funds that have a regional focus such as, for example, East Africa - a region with over 100 million people that is seeing a lot of harmonization and with a natural hub in Nairobi.
Jon: Latin America (NYSEARCA:ILF) has had quite a few good successes for IFC in Peru (NYSEARCA:EPU) and Chile (NYSEARCA:ECH), among others. Yet, other countries such as Argentina (NYSEARCA:ARGT) and Venezuela have presented challenges. Where are the good stories in Latin America right now?
Ralph: Latin America is an example par excellence of how government policies can influence a country's long term outlook. IFC is reluctant to invest in countries where the rule of law is not respected as this significantly impedes the ability of the private sector to flourish. But Latin America, overall, has come a long way from the 1980's and 90's. The Andean region overall, and in particular countries such as Colombia, has performed exceptionally well thanks, in good part, to good policies that were implemented years ago. Mexico, we believe, should also perform well in the future thanks to a new government that has already signaled its intention to open up the economy.
Jon: Two questions for your final thoughts. Hans Rosling in a TED Talk questioned what happens when billions of people get washing machines and use more electricity. What do you think about this video? and what keeps you optimistic about the positive impact of global economic growth?
Ralph: This goes to the heart of IFC's investment approach: Sustainability is key for us. Bringing growth and development to the poor of the world is important but it must be achieved in an environmentally friendly manner. Nearly all the worst polluted cities in the worlds are in the developing world and the rising demand for goods and services is putting significant strains on our plant's resources and our environment. But it is important to mention that many countries, such as China, are actively seeking ways to limit emissions and develop cleaner sources of energy.
Thank you Ralph. Seeking Alpha and its readers greatly appreciate you taking the time to share your perspective.
Disclosure: I have no positions in any stocks mentioned, and no plans to initiate any positions within the next 72 hours. I wrote this article myself, and it expresses my own opinions. I am not receiving compensation for it (other than from Seeking Alpha). I have no business relationship with any company whose stock is mentioned in this article.