On Friday, General Electric (NYSE:GE) reported solid fourth quarter results across the board. Total revenue advanced 4% as industrial organic expansion increased at a similar rate. Adjusted orders jumped 7% in the quarter, and the company's backlog swelled to $210 billion, a new record (Image Source: GE 4Q Earnings Presentation).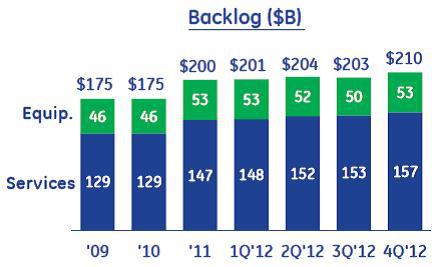 GE's operating margins increased 120 basis points during the period, and fourth quarter operating earnings per share expanded 13% from the same quarter a year ago. All of its industrial segments experienced earnings growth, with five of the seven industrial segments putting up double-digit bottom-line expansion. GE Capital posted $1.8 billion in earnings during the quarter, and its Tier I common ratio came in at a healthy 10.2%. The industrial powerhouse continues to be a cash cow, as it hauled in roughly $17.8 billion in cash from operating activities during the year. GE now holds $77 billion of consolidated cash and cash equivalents, offering substantial support for share repurchases and increased dividend payments. During 2012, GE bought back roughly $5.2 billion in stock, and just last month, it raised its quarterly dividend 12%, to $0.19 per share-its fifth increase in three years.
GE is perhaps the most important indicator of the health of the industrials end market, where segment revenue advanced 9% in the quarter, excluding currency. As far as assessing the ongoing strength of the sector, the firm's all-time high backlog is quite telling. Though there was weakness in wind turbine orders during the period, the ratio of equipment orders received to orders billed (or its book-to-bill ratio) came in at a healthy 1.2. Such performance bodes well for many industrial firms, especially when viewed in conjunction with the ~1.5 book-to-bill ratio recorded during 2012 at the airframe makers, Boeing (NYSE:BA) and Airbus. During the quarter, CFM International (a 50/50 joint venture between GE and Snecma) announced a commitment from Alaska Airlines (NYSE:ALK) for the purchase of CFM engines to power 50 new Boeing 737 aircraft, and we're fans of GE's agreement to purchase the aviation business of Avio S.p.A. The Italy-based company will complement GE's position in aviation and other engine components, and we have no qualms with the purchase price (8.5 times EBITDA). Overall, we think GE's increasing exposure to aerospace is a distinct positive.
Looking ahead, GE indicated that it remains on track to achieve its 2013 goals: "double-digit earnings growth and solid organic revenue growth for the industrial segment (5-9% excluding wind), significant cash returned to the parent company from GE Capital, further margin expansion (70 basis points), and returning cash to shareholders ($12 billion+)." We are strongly considering the firm for addition to the portfolio of our Dividend Growth Newsletter.
Disclosure: I have no positions in any stocks mentioned, and no plans to initiate any positions within the next 72 hours. I wrote this article myself, and it expresses my own opinions. I am not receiving compensation for it (other than from Seeking Alpha). I have no business relationship with any company whose stock is mentioned in this article.