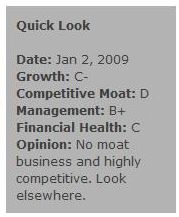 Herman Miller (NASDAQ:MLHR) is one of the largest designers and manufacturers of office furniture products worldwide. The company is known for its innovative designs, including the Aeron chair and the first cubicles. Herman Miller is the third largest competitor in the office furniture industry, trailing Steelcase (NYSE:SCS) and HNI (NYSE:HNI). More specifically, MLHR can be lumped into the "premium" segment of the market, where it is the largest player by sales but trails primary rival Knoll (NYSE:KNL), (another Magic Formula stock), in profitability.
Office furniture design and production is a fundamentally unattractive business for several reasons. First, sales volumes are heavily dependent on overall economic conditions, particularly non-residential construction and office space, turnover rates. This adds a sharply cyclical challenge to valuing the stock, which we generally like to avoid (the more predictable, the better). In the near term, these macro factors are forecast to be pretty weak. Office vacancy rates are over 13%, non-residential construction has grind to halt, and more companies are holding on to their cash instead of expanding into new and larger office spaces.
The biggest black mark on the business itself is the complete lack of any kind of built-in durable competitive advantages. There are no switching costs - offices can easily buy from a competitor for new or replacement furniture. There are obviously no regulatory barriers, unique assets, or economies of scale to benefit from. Herman Miller has tried to set itself apart from its competition with innovative designs. However, this can only be effective over short periods of time.
Competitors can easily copy any new designs that Herman Miller's labs produce, and at lower cost because they do not have to pay for the R&D to create them. Barriers to entry are low, and you or I could easily start up an office furniture design house with the right amount of capital and expertise, both of which are in abundant supply. Competition is brutal, with several larger competitors and countless smaller ones. For many office buyers, price is the main concern, which limits the amount of extra profit that can be wrung from good design.
Regardless of how well Herman Miller is run or how good its designers are, the industry is just not one that lends itself to long periods of sustained high profitability. This is illustrated by looking at the long-term picture. Over the past 10 years, the company has delivered just 1.3% compound annual revenue growth and anemic 1.9% free cash flow growth.
For those that aren't scared away by these factors, Herman Miller offers some attractive qualities. Operating costs are fairly scalable, as employee compensation is based to an extent on royalties and company performance, which means that when revenues are down, expenses drop accordingly. This flexibility helps maintain profit margins, which have been on a steady march upwards from 5.3% in 2004 to nearly 13% currently. The company is expanding both in addressable markets and geographically. By purchasing Brandrud in fiscal 2008, Herman Miller gained a solid foothold in health care furniture. International sales account for nearly a quarter of revenues today and the company recently opened a headquarters in China and announced a strategic partnership with local furniture provider Hong Kong POSH. Management hopes to drive over half of growth from international sources over the next few years.
Financially, Herman Miller is in reasonably good shape. Debt is high at 744% of equity (MagicDiligence looks for a figure under 80%). The cash to debt ratio is $163 million to $376 million. About half of the debt is due in 2011. However, coverage ratios are still comfortable, with operating earnings covering interest 14 times over. The company generates good cash flow, converting about 7.5% of sales to free cash, allowing a solid dividend (2.6%) and share buybacks (5% annual reduction in shares over past five years). Capital is well managed, with MFI return on capital averaging nearly 65% since 2004, and a current figure over 90%. These statistics point to excellent management, a must in such a competitive business.
Herman Miller is well run and shareholder friendly, with a history of innovative design. However, it is in such a poor industry, and with so many more attractive stocks on the MFI screen, I recommend that members avoid it, and look elsewhere.
Disclosure: Steve owns no position in any stocks discussed in this article.