Industrial bellwether DuPont (DD) reported somewhat weak fourth-quarter results Tuesday morning, but the firm's previously announced strong outlook trumped the report. Revenue during the quarter was flat year-over-year at $7.3 billion, roughly as the consensus anticipated, though full-year revenue grew 3% to $34.8 billion. Earnings from continuing operations were slightly better than expected, down 58% compared to a year ago at $0.11 per share.
DuPont's agricultural segment posted improved results, with revenue jumping 18% year-over-year to $1.5 billion. Although the fourth quarter generally includes losses in the segment, performance continues to improve, as shown below (Image Source: Q4 2012 DD Earnings Presentation).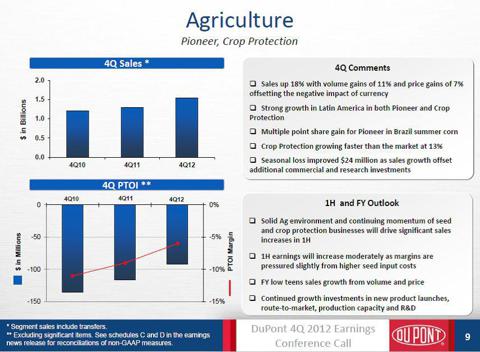 The strength in agriculture doesn't surprise us, as the demand for food continues to grow across the globe and farmers are well-equipped to purchase new technology to improve yields. Competitor Monsanto (NYSE:MON) appears to be doing a better job than DuPont in achieving profitability, but secular tailwinds in the agricultural space are so powerful that both firms should benefit. DuPont is modestly optimistic about increasing the segment's profits in 2013.
Lower titanium oxide demand weighed on results in the firm's performance chemicals segment, where sales slipped 15% on both lower volume and pricing. With lower capacity utilization and sales sinking, pre-tax operating income (OTCQB:PTOI) fell 54% year-over-year, as shown below (Image Source: Q4 2012 DD Earnings Presentation).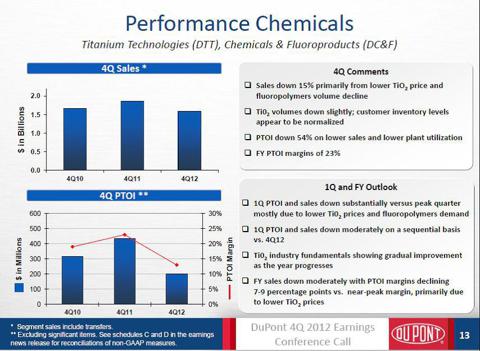 The outlook for the titanium dioxide market remains bearish, tempering earnings gains the company expects from the company's other segments.
Sales in the performance materials segment, which is highly exposed to the automotive market, fell 5% compared to the year-ago quarter due mostly to lower pricing and softer demand from the European auto market and electronics customers. Still, a more favorable mix and lower input costs propelled substantial margin improvement, which boosted pre-tax operating income 68%. DuPont expects more of the same in 2013, and we think this segment could even surprise to the upside if industrial growth exceeds DuPont's modest expectations (2%).
DuPont's smaller segments were a mixed bag, though its nutrition and health business experienced solid revenue growth. The segment adds probiotics, cultures, and enablers to food products, which were in strong demand during 2012. Margins improved 300 basis points during the year, and management sees more upside in 2013.
DuPont's Revenue
Segment Breakdown
2012
% Change
Agriculture
$1.5b
18
Electronics & Communications
$0.6b
-1
Industrial Biosciences
$0.3b
4
Nutrition & Health
$0.9b
6
Performance Chemicals
$1.6b
-15
Performance Materials
$1.5b
-5
Safety & Protection
$1.0b
2
Looking ahead, the firm expects full-year 2013 earnings per share of $3.85-$4.05 (up 2%-7%) on revenue of $36 billion, ahead of consensus estimates calling for $3.84 per share. Though the guidance was conservative, any improvement in the titanium dioxide market could give earnings considerable upside versus expectations.
Fundamentals appear to be improving for DuPont, but shares now fall within our fair value estimate range (after rallying in the past several weeks). The firm scores a 4 on the Valuentum Buying Index (our stock-selection methodology).
Disclosure: I have no positions in any stocks mentioned, and no plans to initiate any positions within the next 72 hours. I wrote this article myself, and it expresses my own opinions. I am not receiving compensation for it (other than from Seeking Alpha). I have no business relationship with any company whose stock is mentioned in this article.