1. THE CASH KEEPS PILING UP. Everyone KNOWS Apple (NASDAQ:AAPL) is sitting on a horde of cash. Very few acknowledge that pile is going to get lots bigger. This quarter Apple reported $24.5 billion in cash and short term investments, a whopping $9 billion increase in one year! That dollar position is going to get a lot juicier. So let's make a stab at it.
What will Apple's cash position be next quarter? In a year? Next quarter should easily see a $4 billion rise (after all we almost saw that increase last quarter and lots more iPhones were sold). As to 2009, how about an additional $12 billion to cash making it $36.5 billion. The point is that the investing public isn't following the money. Does anyone think Apple's cash will stagnate here? The cash will keep stacking up. The question is: when will the share price reflect Apple's stash. When it reaches, 40% of market cap? 50%?
Below is a graph of Apple's cash (including short term investments). If the trend holds, cash will exceed market caps by 2012. Whether or not that is realistic, I leave it to you as an investor. Again, the market is ignoring the powerful cash building. When will the stock price reflect the dramatic stacking of Apple dollars? (see chart below)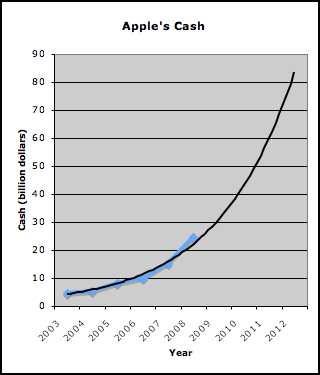 2. THE WORLD IS GOING NON-GAAP AND SO SHOULD YOU. Apple makes its money two ways: earnings that are booked as they happen (Macs, iPods, software) and earnings that are deferred (iPhones). The deferred earnings have dribbled agonizingly slowly in Apple's GAAP accounting. It's kind of silly to delay booking earnings that have occurred a year or more ago. Those deferred earnings are in reality gigantic. Why wait?
In a recent article (Apple's Time For Greatness Is Now), I begged Apple to PLEASE give investors the earnings of their iPhones as they occur and the company did (I don't think it was the article that did the trick). Last quarter it reported both GAAP (old way) and non-GAAP (new way) earnings. By doing so, Q4 2008 earnings went from $1.26 (GAAP) to $2.69 (non-GAAP) a share. Apple sold over 6 million iPhones last quarterm, boosting its earnings over a 100%. Investor relations has told me that Apple plans on continuing to report non-GAAP earnings.
My second prediction is: Apple will report amazing non-GAAP earnings this coming quarter and year. Forget GAAP earnings. The company underestimates actual earnings by more than half because it ignores the big iPhone story. I predict $3 EPS for Q1 2009 and $12 EPS for 2009, numbers I think Apple will easily beat. (See chart below)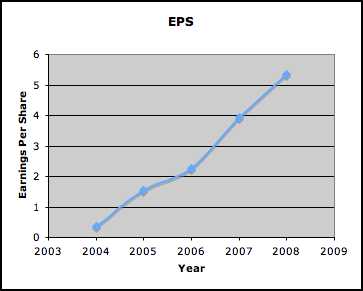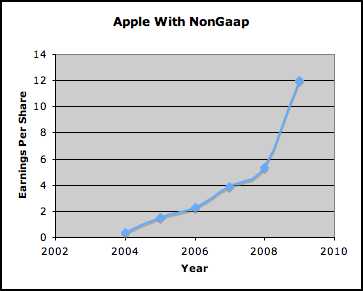 3. GUESS WHO PRESENTS JANUARY'S CONFERENCE CALL? Steve Jobs will again deliver the conference call (which will create a stir: wasn't he supposed to be dead? or was it dying?). Of course, he will appear thin again. Someday, after the world has hounded him enough, he will explain that he has been left with pancreatic insufficiency following his abdominal surgery. He now cannot easily absorb nutrients through his alimentary tract and has been left thin as a result. He is cancer free but is left with the unpleasant after affects of his surgery. I predict the gossiping will continue. Steve outlives most of the rumor mongers and retires at age 92 (under-nourished, thin people do tend to live longer).
4. EVERYONE'S BEEN DUMPING THEIR SHARES EXCEPT ONE GROUP OF INVESTORS. Apple shares are normally sold by insiders from time to time. THIS HAS BEEN A VERY UNUSUAL PERIOD MARKED BY LITTLE INSIDER SELLING. Not a lot of action selling here below $100. If Steve was on the way out, sales plummeting, and the story was over, wouldn't the guys at Apple be bailing?
5. AND, OF COURSE, THE FINAL PREDICTION. Apple shares go much higher.