As the market continues to surge to new highs, pushing the prices commanded by most well-known blue chip dividend payers further into the stratosphere, Diebold Inc. (NYSE:DBD) has come to my attention recently as a solid dividend payer still available at a value price. This venerable firm has been in existence since 1859, and per the company website, has paid dividends continuously for 59 years. My interest was piqued by these facts, and I decided to investigate further, to determine whether starting a position in DBD would be advisable. In this article I will present what I have learned, and my conclusion.
Highlights from the Most Recent Quarterly Earnings Report and Recent Price Movement
The stock has been declining steadily since reaching an interim high of $42.93 on 4/25/2012, arriving at a nadir of $27.66 on 11/16/2012. Since then, the issue has recovered some of the lost ground, closing at $32.74 on 1/18/2013. Diebold reported results most recently on 10/25/2012, for the quarter ending 9/30/2012. The company reported GAAP EPS of $0.27, and non-GAAP EPS of $0.39, vs. analysts' consensus estimate for non-GAAP EPS of $0.65. The GAAP EPS for the comparable prior year quarter was $0.65, while for non-GAAP EPS, it was $0.69. The non-GAAP values exclude charges for restructuring related to the company's global realignment plan, non-routine expenses related to a Foreign Corrupt Practices Act (OTCPK:FCPA) investigation, and non-cash impairments related to previous acquisitions.
The disappointing results were attributed to several factors, among them project delays in Brazil, and a shift in the revenue mix in North America. Concurrent with the earnings release, the company also provided reduced guidance for the full year 2012, with GAAP EPS being reduced from the range $2.31 - $2.44 to $1.92 - $1.99. Full year non-GAAP EPS was reduced from $2.50 - $2.60 to $2.25 - $2.40. Surprisingly, the stock did not react too strongly at the time for awhile, although after a few days it did decline to the November low noted above, before recovering recently, such that it is now above where it was when the earnings came out. The immediate concern for investors now is the full year results for 2012, which are scheduled to be released on 2/12/2013. The consensus estimate for non-GAAP EPS is now $0.65 for the final quarter, and $2.28 for the full year. Looking beyond the pending earnings release, the more important question is, what are the long-term prospects for the firm and the dividend? To get a broader perspective, I reviewed the company's history, earnings for the past several years, debt levels, several other fundamental measures, and numerous ratings.
General Information
Diebold traces its roots back to 1859, when an immigrant named Carl Diebold joined an existing lock and safe manufacturer in Cincinnati. The entrepreneurial Mr. Diebold eventually bought out the original owners, renamed the firm, and moved it to North Canton, Ohio, in 1872, where it remains headquartered today. A catalyst for the ensuing period of substantial growth was the Chicago Fire of 1871, which boosted the firm's reputation, as Diebold safes held up well through the cataclysm, preserving their contents, and along with them the records and wealth of numerous Chicago enterprises. The firm went public in the 1930s, and along with the rest of the country entered into a period of extreme economic distress, with the arrival of the Great Depression. One innovation that helped the firm survive was a unique bank security system that sold well, as the nation endured a rash of bank robberies during that trying era. The rush of government orders for armor plate in the 1940s allowed the company to recover economically, along with the rest of the country, as WW2 raged. The modern firm began to take shape at the end of the 1960s, as CEO Ray Koontz, in a move that was controversial at the time, directed the firm towards the emerging self-service banking model, culminating in the development of the new Automated Teller Machine (ATM). The firm thus became much more than just a vault and safe manufacturer. The move paid off as Diebold became synonymous with ATMs, and remains a major global supplier of ATMs worldwide.
Today, the firm has basically two lines of business - Self-Service Solutions, including ATMs, and Security Solutions. Financial Institutions are the firm's primary customers, with the exception of a diversification move into Brazilian election and lottery systems. The Investors section of the firm's website provides a breakdown of 2011 revenues by these three categories, as follows: 76% Self-Service, 21% Security, and 3% for the Brazil initiative. Alternatively, the 2011 revenue mix breakdown of Products vs. Services shows that Products accounted for 55% of revenues, while Services accounted for 45%. Finally, a breakdown of revenues by geographic region shows North America at 50%, Latin America and Brazil at 23%, Asia and the Pacific Region at 15%, and Europe, the Middle East, and Africa at 12%.
With a market capitalization just over $2 billion, Diebold is a mid-cap stock, and is included in the S&P Mid Cap 400 Index. The stock is 75% owned by institutions. The firm is classified as a Business Equipment Supplier, primarily to financial institutions. The financial health of Diebold is thus tied closely to the health of this business segment.
Revenue and Profitability
Note that all fundamental values and ratios as presented were obtained from the MSN Money website or from the company's website, which provides investors with a wealth of information.
The most recent quarterly results were noted earlier, and the stock has rebounded a bit since the 10/25/2012 earnings report. To get a longer-range perspective of revenues and earnings, consider the results for the last ten years, as shown in the following table: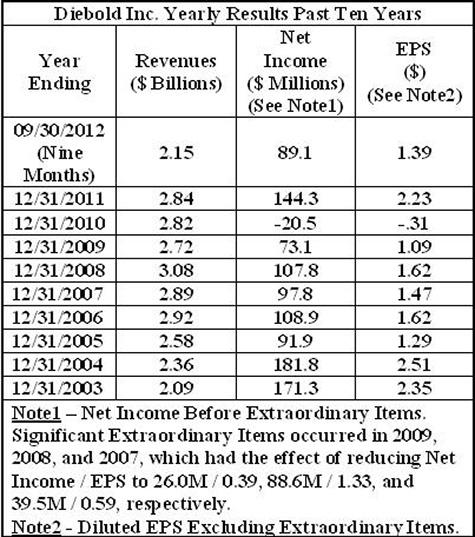 As can be seen, Diebold took a significant, if delayed, hit in 2010, as the ripple effects of the financial crisis on the firm's customer base finally caught up with the company. The firm rebounded in 2011, and appears on track to post decent results for 2012, even after considering the reduced guidance. Recent margins / five-year averages are: Gross Margin, 25.75% / 24.8%; PreTax, 6.64% / 4.1%; and Net, 5.83% / 3.0%. Recent returns / five-year averages are: ROE, 19.96% / 8.1%; ROA, 6.9% / 3.4%; and ROIC, 10.3% / 4.9%. These numbers indicate that the firm is performing currently at a higher level than the average over the past five years.
Dividend Information and History
The current quarterly dividend is $0.285 per share, which generates a yield of 3.48% at a price of $32.74, the closing price from 1/18/2013. The most recent increase was on 2/15/2012, and the firm has increased the dividend annually for over 20 years, always with the first payout of each year. In fact, the firm states on their website that dividends have been paid and increased regularly for 59 years. Just looking at the most recent five years, the dividend has increased by 21% over this period. While this may not seem like all that much, when you consider that the period encompasses the financial crisis and a big hit to earnings in 2010, it is commendable, and indicative of the fact that management is committed to the dividend policy. The payout ratio is only 43%, so the dividend is well supported. Diebold is one of David Fish's Dividend Champions, and is also on Mergent's list of Dividend Achievers.
Financial Position and Debt
The MSN Money website data for DBD shows the leverage ratio as 3.0, and the debt to equity ratio as .84, both satisfactory numbers. Interest coverage as shown as N/A, indicating no bonded debt, and confirming this, no corporate bond ratings are available from the rating agencies. Still, this apparently is not quite right, as the balance sheet from the most recent 10Q filing shows $647.8M of long-term debt. Investigating further, per Note 10 in the 10Q, this debt consists of $333.0M drawn from a five-year credit facility, with $167.0M still available, $300.0M of senior notes, $11.9M of industrial development bonds, and finally, $2.9M of other long-term debt. The maturity dates on the senior notes are staggered, with $75M, $175M, and $50M coming due in 2013, 2016, and 2018, respectively. While an interest coverage ratio per se is not provided, the firm states that they are in compliance with all restrictive covenants specified in their financing agreements.
While preferred shares are authorized, none have been issued. Looking at the Balance Sheet from the most recent 10Q, I calculate the ratio of long-term debt to total capitalization as 25%, the ratio of stockholder's equity to total capitalization as 33%, and the ratio of total liabilities to total capitalization as 67 %. While I would prefer an equity ratio closer to 50%, and a corresponding total liabilities ratio less than 50%, this is not a show-stopper.
Valuation and Technicals
Diebold's price ratios are typical of a value stock. The current valuation metrics, and for reference, the levels for a value stock, are:
DBD: P/E = 12.3, Price/Book = 2.4, Price/Sales = .69, and Price/Cash Flow = 8.2.
Value Stock: P/E < 15, Price/Book < 1.5, or at least not > 3.0, Price/Sales < 1.50, and Price/Cash Flow < 10.0.
The charts basically tell the story of the stock price action already observed, that the stock has been in decline since the end of April 2012, with a slight rebound in the last several days. While I am not a true believer in technical analysis per se, an article available here provides an interesting technical perspective on the recent price action. The article points out that the stock has been in a declining price channel since April 2012, and as it approaches the top of the channel, it could soon break out to the upside.
Ratings and Sentiment
Analyst coverage for DBD is pretty decent for a mid-cap issue. S&P, which just released a new report on DBD on 1/19/2013, rates the firm as only a three-star stock, which translates to a Hold rating. S&P also classifies the firm as having Medium risk, and gives it an Earnings and Dividend Quality rating of B, just slightly in the upper half of the possible ratings for that category. Thomson-Reuters indicates that there are eight analysts following the stock, with 1 rating it a Strong Buy, 1 a Buy, 4 a Hold, and 2 rating it as likely to Under Perform. Zacks indicates five analysts have weighed in on the stock, with 1 Strong Buy, 3 Holds, and 1 Sell. Various other ratings of interest are: Schwab - C, Market Perform, Market Edge - Long position is recommended, The Street - Buy, but with the lowest buy conviction level, Ford Equity - Hold, Columbine Capital - Hold, EVA Dimensions - Over Weight, and Ativo Research - Hold. The ratings are roughly in the middle, with a slight positive bias. This is actually OK. A value investor does not want to buy in on a stock that is "over-loved." Popular stocks, rated as Buy or Strong Buy by a majority of the ratings analysts, are usually fully-priced by the time the ratings become that positive, and frequently are poor investments when purchased at lofty levels.
Diebold's approach to accounting and governance is rated as average risk, as per GMI Ratings, a corporate governance and accounting risk ratings firm. GMI assigns a score to DBD that indicates only about 35% of rated companies have less accounting and governance risk than DBD. One positive is that Diebold has long separated the CEO and Chairman of the Board positions, having a non-executive Board Chairman. This has recently been affirmed, with a new non-executive Chairman of the Board named effective 1/21/2013, Henry D.G. Wallace, replacing John N. Lauer, who retired after a number of years of service. The CEO, Thomas W. Swidarski, remains the only company executive on the 11 member board. While the GMI report has not noted any "red flag" instances of accounting or governance issues, there are a couple of outstanding items of concern:
First, there is a securities class action lawsuit filed in June, 2010, related to the firm's restatement of financials for the years 2003 through 2006, plus the first quarter of 2007, as reflected in the 10K filing for 2007. The recent 10Q report states only that the impact of this action cannot be estimated at this time, which is not particularly reassuring.
Then, there is an ongoing investigation of the company for potential violations of the Foreign Corrupt Practices Act (OTCPK:FCPA). The instances were actually discovered by Diebold itself, in performing due diligence for a possible acquisition, and are concerned with payments by its subsidiary in Russia that may have been in violation of the FCPA. The most recent S&P report noted that this issue, while certainly a negative factor, involves amounts that are small relative to overall operations. Similar to the first item, the recent 10Q comment on this item merely states that the company cannot predict the results of the investigation, nor the expense of resolution. While again not very reassuring, since the company discovered and reported the incidents on its own, and is cooperating with the appropriate government agencies, the eventual impact should be manageable. Note that this last comment is the author's opinion, not from S&P or the Company.
Conclusion
Before I conclude, in the interest of full disclosure, I want to note that I am not a financial professional, nor am I certified in any way as a financial advisor. I am an independent, individual investor, focusing on dividend-paying stocks exclusively.
I currently subscribe to three dividend-focused advisory newsletters: the Morningstar Dividend Investor, Investment Quality Trends (NYSE:IQT), and Income Superstars, from Weiss Research. If a stock I am considering is recommended by one or more of these resources, it improves my comfort level with the stock. Unfortunately, no such comfort level improvement is forthcoming with DBD. Only Investment Quality Trends mentions the stock, and unfortunately, the mention is that Diebold has fallen from being recommended to being a "Faded Blue," which is a stock that has fallen off of its list of recommended stocks. The cause of the fall is not clearly stated, but likely is due to the loss reported in 2010, which would cause the stock to fail an earnings screen applied by IQT.
I believe the recent weakness in DBD shares, which may be slipping away if the current rally continues, presents an opportunity to acquire shares of a solid mid-cap stock with an outstanding dividend record at a value price. Frankly, if I could find a large-cap blue chip with a 3.5% or better yield, at anywhere near a value price, I would not give DBD a second look. Still, when I consider the alternatives, with fixed income at all-time lows, and with most high-quality dividend stocks approaching bubble territory, buying DBD seems like a reasonable bet. I have some concerns regarding numerous risks with DBD identified in this investigation, but I have to admire the outstanding dividend record and staying power, as demonstrated over 50 years. I am therefore giving DBD a very qualified buy recommendation, with an admonition to start out small, perhaps very small, and wait to see what the soon-to-be-released annual report reveals. Then, if all looks well, I will consider adding a little more, if the price has not advanced too far. I would say to wait until after the annual filing to acquire any shares, except that, based on the recent price action, it may very well be out of range by then. If I cannot get it at a value price, I might as well buy Colgate Palmolive (NYSE:CL) or 3M (NYSE:MMM), to name a couple of high quality dividend payers with prices to match. Readers of my articles and blog are aware that I usually favor an incremental acquisition approach, and if there was ever a case where I would recommend such a cautious approach, acquiring DBD at this point in the cycle is one such case.
Disclosure: I am long DBD. I wrote this article myself, and it expresses my own opinions. I am not receiving compensation for it (other than from Seeking Alpha). I have no business relationship with any company whose stock is mentioned in this article.
Additional disclosure: I initiated a small position in DBD on 1/22/2013.