Spotting a new technology that has the potential to revolutionize an industry is a difficult task. In 1984 when Apple (NASDAQ:AAPL) released its first Macintosh computer, most people did not take note or have the foresight to speculate where the company could take its novel technology in years to come. In 2011, however, when Claros Diagnostics introduced its first desktop diagnostics analyzer that delivers up to 20 disease diagnoses within minutes from a drop of blood, many seemed to take note. The company was profiled among Google (NASDAQ:GOOG), IBM (NYSE:IBM), Apple, Amazon (NASDAQ:AMZN) and others as being one of the 50 most innovative companies in the world for 2011 by the MIT Technology Review. The general sentiment was that this company's product could potentially revolutionize the entire medical industry.
Another company working in the same area of next generation medical diagnostics happened to take note of this new technology platform as well, and this company was Opko Health (NYSEMKT:OPK). In the second half of 2011 OPK decided to snatch up Claros Diagnostics for $49,000,000. The match appears to be a perfect fit for the both of them. Brought to the table by OPK is proprietary biomarkers and next generation tests for Cancer, Alzheimer's, Vitamin D, testosterone and various other medical areas. Claros in turn brought to the table a revolutionary technology platform that is capable of transforming the entire diagnostics industry. Its technology appears not to have shown any disease limitations for applicability thus far, but more testing will be needed.
In Opko Health's most recent presentation at the Annual JP Morgan Biotech conference they displayed some information that many investors appeared to not have been aware of thus far. The presentation discussed that their new diagnostic technology is in fact not only capable of diagnosing through blood samples, but can also use samples of urine, saliva, sweat, tears, semen, amniotic fluid, spinal fluid and serum. I considered this valuable info since OPK also discussed its diagnostic system testing various other areas such as STDs, fertility, cardiology and more. Further interesting news that OPK disclosed is that they are projecting to launch their 4Kscore™ LDT for prostate cancer by Q2 2013 in the US.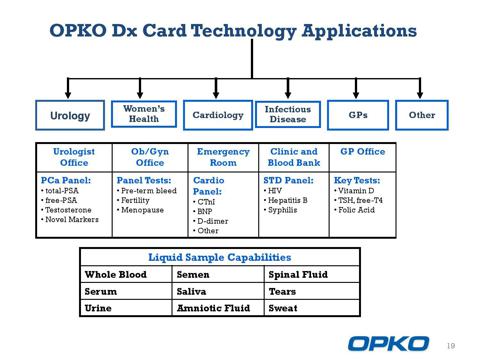 What was not discussed in OPK's JP Morgan Biotech presentation was their new purchase of Canadian based pharmaceutical company Cytochroma. This news was not out publicly prior to OPK's presentation and came as just another piece of very good news following the conference. Disclosed was their acquisition of two drugs that are currently in Phase III FDA approval trials. Also revealed was that the company's management and employees will be under employment by OPK. What was not mentioned however were the other 4 earlier stage drugs that are in Cytochroma's pipeline displayed below.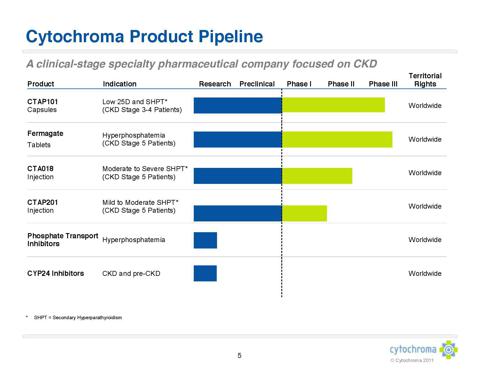 These are not OPK's only pharmaceutical drugs in the line up however. Several drugs are currently in development. One of the most up and coming ones is their cancer drug Rolapitant which they have licensed to Tesaro (NASDAQ:TSRO). This drug was purchased by OPK from Shering-Plough due to an FTC condition for their merger with Merck (NYSE:MRK) who sells a competitor cancer drug. Mid year OPK is set to receive milestone payments of up to $121MM from Tesaro pending certain testing approvals for Rolapitant are met. Executives at Tesaro feel that this could be a billion dollar drug alone. This bodes well for OPK as on top of their potential large milestone payments they are also due to receive a royalty on the sales of the drug and hold the rights to market the product in Latin America. This was a strategic contingency put in place by OPK because of the weight they hold in Latin America as a result of their owned subsidiaries. These subsidiaries include Opko Mexico, Opko Chile and the Brazilian pharmaceutical company they recently purchased Silcon. The final FDA approval for Rolapitant is expected by 2014.
Without a crystal ball to look into the future, one may only have their sense of intuition to work with when making speculative investments. Yet when a new technology is introduced that seems to be light years ahead of the competition, one can't help but be intrigued. Where Opko Health will take its new diagnostic technology in years to come may be just as unpredictable as it was for Apple investors to guess in 1984. Yet with a pipeline of several potential major revenue generating products as well, all it could take is one taking off to make this company a huge success. Since Opko Health is a complex holdings corporation with a vast amount of business ventures, I am unable to address all of its products in one article. In a follow up article however I will take a further in depth look at some of OPK's other products in development, one product in particular which seems to have gone completely under the radar of analysts and speculators alike.
Disclosure: I am long OPK. I wrote this article myself, and it expresses my own opinions. I am not receiving compensation for it (other than from Seeking Alpha). I have no business relationship with any company whose stock is mentioned in this article.