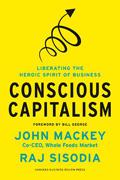 CONSCIOUS CAPITALISM by John Mackey and Raj Sisodia, Harvard Business Review Press, Boston, MA, 2013
This book, already rising on the best-seller lists, is much more than a brilliant PR move for Whole Foods Market (WFM) by its co-founder John Mackey and Professor Raj Sisodia of Bentley University. John Mackey is the real deal: a highly successful CEO of an acclaimed $11 billion company which created a new model for food supermarkets and one to follow in many other sectors of industrialized economies. However, he often gets called out for his political statements - such as his opposition to Obama's Affordable Care Act which he has called "socialism" and more recently "fascism." Many in the USA agree, as I do, that our society does show fascist tendencies, meaning that corporate power is too close to political and government power - often dominating and linked to control over mass media. Insomuch as insurance and pharmaceutical companies dominate in ObamaCare, I can agree with Mackey.
Mackey unashamedly recounts his early beginnings in the 1970s as a long-haired, bearded member of the counter culture in the communes and co-ops in Austin, Texas. He studied Eastern philosophy, religion and ecology, became a vegetarian and now practices yoga, meditation and is a vegan. Hence his keen interest in healthcare. After attending two universities, he never took a single business course and ended up with no degrees. Nevertheless, Mackey says this was a good grounding for an entrepreneur since he had nothing to unlearn. Overcoming his earlier view that corporations were essentially evil, searching only for profit, his passion for healthy food and lifestyles propelled him to launch his natural foods market, Safer Way, a 3000-square foot store with his girlfriend Renee Lawson in 1978. They merged with another small natural foods store, changing their name to Whole Foods Market in 1980.
The rest is history. Mackey found that he loved being an entrepreneur and running his own business geared to serve his vision of better nutrition and healthier societies. As we all know today, his customers love his stores, enjoying the food; his shareholders (I am one) are happy too. So are most of his employees and suppliers who grow the natural, organic crops, raise the fee-range chickens and cows in thousands of small farms in the USA. No doubt, a business model like that of Whole Foods Market would have been rejected by most business schools and investors focused on bottom-line profits an short-term returns. Mackey defends the company's non-unionized stores and tells what he learned from their store in Madison, Wisconsin, which did unionize and later why the union voluntarily dissolved.
Thus, Conscious Capitalism is Mackey's exploration of his outside the box model which upends almost all conventional business concepts and yet became a success. His co-author Professor Raj Sisodia whose book Firms of Endearment: How World Class Companies Profit from Passion and Purpose describes other such outlier businesses. Sisodia shows why they succeeded in outperforming their S&P benchmarks from 1996-2011 with annualized 21% versus 6.5% returns. We learn in Conscious Capitalism why and how they compare with Whole Foods Market, which is also fascinating, all with similar superior working conditions, higher wages, open books, lower administrative and marketing costs. Whole Foods Markets' policy is that no one can be paid more than 19 times the average salary of its full-time employees, all of whom work in teams.
The bottom line for Whole Foods Market is not money - but similar to those companies in portfolios of endowments, mutual funds and pension plans using triple-bottom line (people, planet, profit) accounting as developed by the Global Reporting Initiative (GRI) and favored by the UN Principles for Responsible Investing (www.unpri.org) whose institutional investor members manage $33 trillion of assets. So, Conscious Capitalism spells out the practices which Mackey, I and many others believe will restore the trust which has been eroded, both in corporations and markets, and will allow capitalism to continue.
Mackey's greatest criticisms are of orthodox economists and their dysfunctional textbooks and models which failed so badly in 20008. He challenges their myths of profit-maximizing and "externalizing" costs to others and how Wall Street analysts' short-termism affects adversely both corporations and management, as well as shareholders. Mackey has been criticized in many ways beyond the fact that Whole Foods Market is not unionized. Yet his employees seem satisfied with their jobs and health-insurance plan and wellness program. He sums up qualities of the cultures of conscious companies and organizations as TACTILE: Trust, Accountability, Caring, Transparency, Integrity, Loyalty and Egalitarianism. On page 273 is a credo for Conscious Capitalism and how companies with higher purposes to serve the common good and all their stakeholders will become the norm and help our societies evolve toward more freedom, harmony, prosperity and compassion.
To find such a credo and ideals articulated by a libertarian-leaning business leader of an iconic company is refreshing! I also believe it can point to a more sustainable future for our human family. I was invited to present at a conference organized by Conscious Capitalism Inc. run by co-author Raj Sisodia in which John Mackey participated along with a group of like-minded executives from Wall Street firms and business institutes. Our discussions were wide-open, far-reaching beyond today's financial orthodoxies. In our current world of crises, breakdowns, conflicts and gridlock, we need positive solutions more than ever. I welcome this book and hope asset-managers will take heed.
Disclosure: I am long WFM. I wrote this article myself, and it expresses my own opinions. I am not receiving compensation for it (other than from Seeking Alpha). I have no business relationship with any company whose stock is mentioned in this article.