Note: This article was first published before Apple released its December quarter results. The article attempts to predict Apple's gross margins for the December quarter. The results have now been released.
Current concerns over gross margins are overstated. Apple will produce better than expected gross margins in the December quarter and in the future. This is the first in a series of articles I hope to publish on Apple.
Margin Fears Are Overstated
Apple's gross margins fell to 40% in Q4 as opposed to 42.8% in q3 and 47.4% in q2. These were significantly worse than most analysts were expecting. Apple also warned the iPad mini will have significantly worse margins than its other main products. Apple guided even lower gross margins of just 36% for the December quarter.
Here are the reasons Apple gave for anticipated lower gross margins in the December Quarter (Q1):
80% of total revenue new products (50% is the iPhone)
Apple has never had so many new manufacturing processes at once
Lower iPhone 4 and 4S pricing in December
iPad mini (with significantly smaller margins)
Greater Deferred Revenue
This worsening of margins is unsurprising given the launch of so many new products. While fears are legitimate, I think they have been overstated.
Apple's margins were hit badly by the iPhone in the most recent quarter (the iPhone makes up over 50% of revenue). The gross margins on Apple's new iPhone 5 were unsurprisingly worse because it is a new product and very different to the previous iPhone.
On the conference call Apple warned that any improvements in iPhone 5 margins in the December quarter would be offset by lower iPhone 4 and 4S prices. However the iPhone 4 and 4S already sold at a significant discount in the prior quarter. This drove down average revenue per phone to $636 and depressed margins as a result.
The lower priced 4 and 4S will make up a much smaller percentage of total iPhone sales for the latest quarter. In the September quarter they accounted for around two thirds of all iPhone unit sales. They will have a much smaller weight and therefore much less impact on total iPhone margins in the December quarter. I predict average revenue per phone will be higher at $650 and gross margins will be better as a result. This is $9 lower than the $659 ASP in Q1 2012. This is because whilst the iPhone 5 will make up the majority of sales, evidence suggests that a greater proportion of lower value iPhones will be sold in the Q1 2013 versus Q1 2012.
Apple puts a portion of every iPhone sold to deferred revenue. Because sales in the December quarter are expected to be greater than prior quarters, more revenue will be going towards deferred revenue than Apple will receive from previously sold phones. Therefore margins will be temporarily adversely affected and this may limit some of the effect of better iPhone 5 margins. This negative impact will be offset in subsequent quarters. Regardless the impact in the December quarter will be small.
During the conference call, Apple said, "Costs will not accelerate on a per unit basis throughout the quarter." Apple made it clear that iPhone 5 costs won't worsen despite any supply constraints, implying costs will actually fall.
iPhone 5 costs will come down. Despite the difficulties meeting demand Apple will still drive supply efficiencies. History shows us, with previous iPhones, that costs improve every day after launch. Manufacturing processes will get more efficient, yields will improve and the cost of components will fall. Indeed all the evidence suggests yields have improved throughout the quarter and this will only benefit gross margins.
As a result of all factors I am confident that overall iPhone margins will improve in the December quarter. There will also be improvements in subsequent quarters. Whilst Apple is refreshing almost all its products, the iPhone accounts for 63% of the revenue from these refreshed products. Therefore it will have by far the most significant impact on gross margins.
The Impact of the iPad mini on Margins
Although there are serious concerns over the iPad mini impacting overall margins these fears are also overstated. I am currently estimating 9 million iPad mini sales in q4 at an average of $335. If that is the case the iPad mini would still only account for about 5% of total revenues (assuming total revenue of $56.8bn). If we make a very conservative assumption that iPad mini gross margins are 20%, half as good as the rest of Apple's products, the total impact would be about 120 bps. However this assumption is almost certainly way too conservative.
IHS has completed its analysis of the parts in the basic 16GB Wi-Fi iPad mini and it has concluded that it will cost about $188 to build. Even if we assume this is accurate the actual cost of the iPad mini will be higher. This cost does not take account of quality control (something we know Apple is extremely strict on). It doesn't take account material wasted in the manufacturing process. It doesn't take account of packaging. Perhaps most importantly it doesn't take shipping costs into account something Apple has been struggling with recently. Apple's shipping and handling costs are included in cost of sales. I have estimated $30 in extra costs bring total costs to $218. Re-seller costs are accounted for in net sales and bring down the average selling price which I am currently estimating at $335 for the December quarter. This would give gross margins of 35%.
Assuming gross margins average 40% across all Apple's other products, the impact of the iPad mini on overall gross margins would be just 27bps in the December quarter. (Assuming $56.8bn revenue and 9 million iPad mini sales at an average of $335). Despite Apple's warning of lower gross margins, the impact of the iPad mini will be very limited.
The new iPad has also been refreshed. The product is not significantly different from the older version from a design or manufacturing point of view and I do not expect it to have a significant impact on overall margins. The majority of the components are the same as the previous version. Together the iPhone and iPad makes up over 90% of revenue from new products and these products will have the main impact on gross margins.
Historical Guidance and Consensus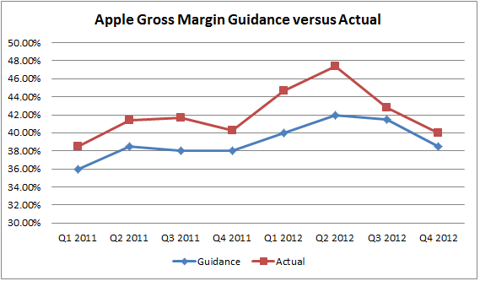 There has been a lot of confusion over Apple's latest guidance. Apple guided revenues of $52bn and EPS of $11.75 with gross margins of 36%. Apple's guidance is always extremely conservative and I believe this has been misinterpreted by the market (Consensus is currently for gross margins of 38.4%). I think it is especially telling when we examine Apple's 2012 Q1 Guidance from a year ago.
In Q4 2011 Apple predicted 2012 Q1 guidance of $37bn and EPS of $9.30. Apple actually produced revenue of $46.33bn and EPS of $13.87. A 25.22% and 49.14% beat respectively. As a result net margins were significantly better than expected, 28.19% as opposed to the 23.67% guided.
The same was true of gross margins. Apple guided gross margins of 40% but then delivered gross margins of 44.7%. A huge 470 bps beat. It is likely we will see something similar for the December quarter.
Gross Margins Long Term
Gross margins on existing products will improve in subsequent quarters as they have done historically as component costs fall. A potential threat to gross margins is if Apple moves to a six month product cycle in order to compete with competitors releasing multiple high end phones, such as Samsung. The faster introduction of new products will hurt margins but this should be viewed as a positive for the company. Any margin impact will be more than offset by increased sales. Apple's exceptionally loyal following ensures that many will buy its latest product without question. A faster product cycle will also help to prevent the huge drop off in sales prior to the launch of a new iPhone as we saw in Apple's Q3 and Q4.
Whether this happens soon is uncertain. I have yet to incorporate a six month production cycle into my model. It seems likely this will happen if not this year, then next. It will impact gross margins but I view it as a positive catalyst for the stock.
Lower Priced iPhone
There have been different reports of a new iPhone launching in Apple's Q3 and Q4 (Q2 and Q3). The latest reports are for three new iPhones this year. An iPhone math, a larger 4.8 inch iPhone, a new next generation iPhone and a cheaper iPhone for emerging markets. There has been some speculation about the potential for a lower priced iPhone for developing markets. This might have an impact on gross margins. But at the moment this is just speculation, this device may not even exist and I have yet to incorporate this in my model. The primary focus of this article is on gross margins in the December quarter.
In Conclusion
There is no doubt that margins have worsened from last year but concerns are overstated. This is primarily because of a raft of new products. As history shows Apple's guidance is far too conservative and sets them up for an easy beat in the Q1 quarter. In the Q1 quarter I believe that the relatively small impact of the iPad mini and other new products will be offset by improving iPhone margins. iPhone margins will improve because of a higher average selling price and lower iPhone 5 costs. I estimate overall gross margins of 40% for Q1 2013, the same as the prior quarter and ahead of consensus at 38.4%. Going forward I currently expect to see ongoing improvements in gross margins in q2 and q3 but this will depend on future product launches.
I believe a significant q1 surprise on gross margins could be a major catalyst for the stock given the huge sell off in the stock, low expectations and low valuation.
Q1 2013 Revenue Estimate: $56,754 million
Consensus Q1 2013: $54,730 million
Q1 2013 EPS Estimate: $15.46
Consensus Q1 2013 EPS: $13.47
Quick Update and Results:
Q1 2013 Revenue: $54,512 million
Q1 2013 EPS: $13.81
Apple reported results which were lower than my expectations. Most of this is accounted for by the very poor performance from the Mac division, which was $1.3bn less in revenue than my expectations. iPad, iPod and iPhone sales were all very slightly lower than my predictions, making up the remaining $0.7bn difference.
As expected gross margins were much better than Apple's guidance and came in at 38.6%. (260bps higher) This was however still lower than my expectations of 40%. Given the high mix of iPhones (56% of revenue) this was disappointing. The average selling price for the iPhone increased from the previous quarter, as I had anticipated (to $642). However it was not as high as I had expected as a result of greater sales of older lower priced iPhones. Full update to follow soon.
Disclosure: I am long AAPL, HPQ. I own March Call Options for Apple with strike prices of $590, $635, $655, $670. I wrote this article myself, and it expresses my own opinions. I am not receiving compensation for it. I have no business relationship with any company whose stock is mentioned in this article.
Disclaimer: This article intended as general information only, and is not intended to provide specific advice, or due diligence to be relied on. As such, the information presented in any article does not consider any reader's personal investment objectives or financial situation; therefore, no article makes any personalized recommendations. See full disclaimer here.