2008 was one of the best years on record for U.S. Treasury bonds. The iShares Lehman 20+ Year ETF (NYSEARCA:TLT) - a good proxy for 30-Year Treasuries - gained 23% over the year. However, Treasuries seem to be winding down an unprecedented bull rally, with rates retracting from historical lows.
The big question on traders' minds is when will the Treasury "bubble" burst? It is still too early to tell, but TLT has taken a big dip over the last two trading sessions, down 4.55%. It should be noted that this occured over low volume holiday trading, but with general equity market volatility, as measured by the VIX, subsiding, this could be the start of a broader bond bust.
With the federal government balance sheet worsening by the day, Treasury fundamentals stand on shaky ground. General macroeconomic conditions stand at odds with bond market action over the last few months. With global asset values crumbling, institutional investors engaging in forced mass liquidations, and foreign governments picking up USD and short-term Treasuries to offset reserve losses, our currency reversed a six year slide and government bond yields dropped to shockingly low levels.

These rates may not mean much to the casual observer, but consider that the 5-Year, 10-Year, and 30-Year Treasuries yielded as high as 3.796%, 4.32%, and 4.813%, respectively, at their highs this year.
Starting with the October equity market crash, there was a global "flight to quality". During the panic government bonds were bid to ridiculous levels; for instance, 3-Month bills were yielding just 0.01% last month, after briefly dipping into negative territory. This means people were giving the government their money without expecting anything in return!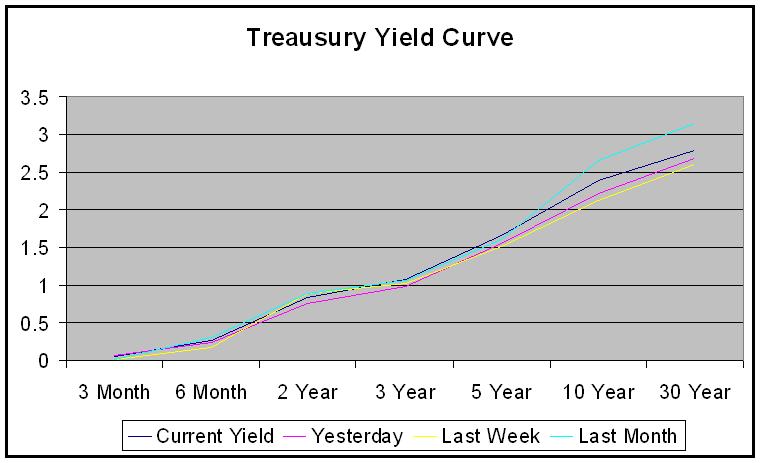 Looking at the yield curve over the last month, it appears as though Treasuries have been retreating from their peaks. The panic seems to be subsiding, and with it the quality premium investors were willing to pay to hold government bonds. TLT's 4.55% drop may spell the beginning of a snap back to normalcy, or much worse: there is always the risk that America's fiscal irresponsibility will brand our debt "junk."
This week will be more telling than the previous, as traders return to work from the holidays and regular volume resumes. Holding onto Treasuries at these levels is only justifiable if you anticipate pervasive, long-term deflation. If not, now is as good a time as ever to rebalance your portfolio and unload some Treasuries. Speculators should start to look at shorting government debt, starting with longer term maturities.
Disclosure: Author holds a short position in TLT