Last week the Institute of Supply Chain Management (ISM) released its Manufacturing report on business. It wasn't pretty, with a reading of 32.4% (see my previous article on how to interpret these index numbers), levels that haven't been seen since the mid 70's and early 80's.
So why dig into the report? Well, it only takes you 10 minutes to read it, and it reveals other bits of information that can help frame your perspective on the environment. Most folks will just read the number 32.4% and say, "OMG, that's bad" and move on to water cooler talk stirring up mounds of fear.
Don't get me wrong, things are not pretty. However, the last time I dug into an ISM report it was for the Non-Manufacturing sector way back in February 2008. The Dow dropped 370 points the day the report came out. Digging into the report revealed one sector that was exhibiting growth (educational services). That led me to the doorsteps of DeVry (DV) and Strayer (NASDAQ:STRA), of which the former is part of the Ten Grand Portfolio, and doing well I might add. Unfortunately there aren't any pretty stock gems in December's Manufacturing report, but there are 3 things take note of.
1. Cycles and Long Term Growth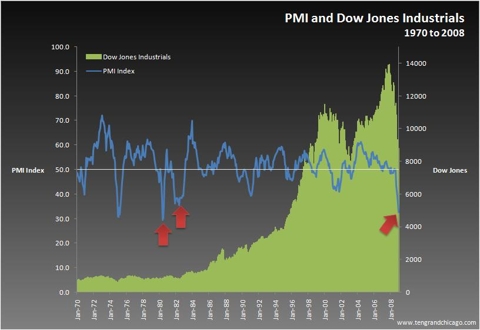 Could we see something similar to the 1980's? A double dip in the PMI index? No one can predict this, but so far it looks like we are going to touch similar levels based on our financial mess which hasn't stabilized yet. I threw up the Dow Jones Industrials to to compare against these growth/contraction periods. Over the long haul, the Dow continues to grow, which is why you hear countless remarks about investing for the long term from your financial advisor.
2. The economy has more to suffer
I'm not an economist by trade, but I do know the source of any healthy economy is jobs. When purchasing managers tell you things on the employment front aren't looking good, it means layoffs are coming. The precipitous drop from November to December was steep. Companies can't walk into work and within a few weeks cut jobs. Layoffs require planning time. December's reading was dismal. I expect follow up actions for Q1 for the manufacturing sector.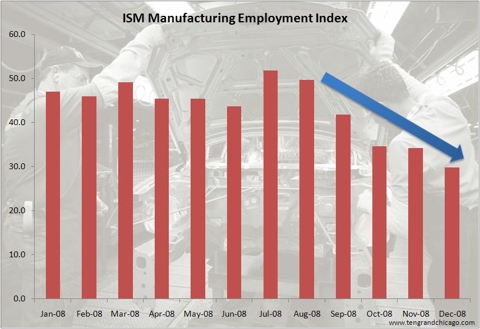 3. Prices are dropping
This was the only bright spot in the entire report. Prices for materials to make stuff are dropping. Survey respondents have been reporting paying lower prices this past month. Everybody was getting squeezed earlier in the year when oil was in the $140/barrel range. You can see from the Manufacturing Prices Index chart prices falling sharply, a result of slowing materials demand.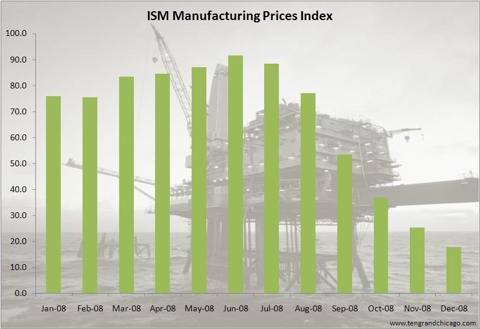 So what does this mean for the Ten Grand portfolio? Don't move, with the exception of picking up EWC (read yesterday's comments), and doing quarterly and equal installments into the S&P 500 (NYSEARCA:SPY).