As the biggest bear on the planet or so it seems at times, the recent rally to post recession highs in most of the major indices has kept me sidelined in recent weeks as far as offering commentary. I begin to write and realize that all I have to say is just more of what I have been saying for the last four months. Redundant commentary is just that, redundant and offers little of value. So why say it?
What has caused me to offer some commentary now is predicated on the fact that some do actually listen to me and might be wondering if I have changed my views based on the recent run-up in stocks. A second reason is my need to offer a balanced view to the inexplicable optimism that seems so pervasive in recent weeks.
My answer to the first question -- have I changed my bearish perspective - is absolutely not. As to the second point - a need to offer a balanced perspective to the bullish optimism - I need to remind readers that nothing has changed in the last few weeks and therefore my comments over the last four months still stand as a reflection of how I see 2013 developing.
I want to remind readers that I made a number of bearish calls dating back to September 17, the Monday following the announcement of QE3. On December 10, 2012, I summarized those calls in an article entitled Traders Stare Down The Fiscal Cliff - Is This A Stock Market In Denial? The following table reflects the performance of those market calls as of December 10:
| | | | | |
| --- | --- | --- | --- | --- |
| ETF | Sept 17,2012 | 7-Dec-12 | $ Gain/Loss | % Gain/Loss |
| | 16.13 | 15.99 | 0.14 | 0.80% |
| | 31.61 | 28.69 | 2.92 | 9.20% |
| | 37.34 | 45.29 | 7.95 | 21.20% |
| | 170.4 | 164.93 | 5.47 | 3.20% |
| | 19.43 | 20.4 | 0.97 | 4.90% |
By comparison, the next table reflects the performance of those same market calls as of Friday's close:
| | | | | |
| --- | --- | --- | --- | --- |
| ETF | Sept 17,2012 | 18-Jan-13 | $ Gain/Loss | % Gain/Loss |
| XLF | 16.13 | 17.15 | 0.14 | -6.00% |
| XLK | 31.61 | 29.39 | 2.92 | 7.00% |
| SCO | 37.34 | 37.11 | 7.95 | -0.62% |
| GLD | 170.4 | 163.09 | 5.47 | 4.28% |
| UUPT | 19.43 | 20.12 | 0.97 | 3.55% |
For the sake of comparison let us assume a $1,000 investment in each of the 5 ETFs as of December 10, and again as of January 18. On December 10, the dollar gain on the total position would have been $393 or 7.86%. As of Friday's close the dollar gain is only $82 or 1.64%. Notwithstanding the impact of the "fiscal cliff" relief rally the positions as a whole still remain in profit territory so no sour grapes from me.
Consider the following comments I made on September 18, last year, regarding (NASDAQ:AAPL):
Does anybody give any thought to the idea that a global slow down is really happening. I think there are a lot of factors that are about to cause the public to run for cover.

I think iPhone sales are going to suffer. Price has to play a part here.
Apple closed at $701 on that day. Or how about this comment on November 2, 2012:
As to supply issues, In my opinion a lack of supply is by design as the global slowdown has been anticipated. I think the odds are better that you see a $200 drop than a $200 rally in the next 3 months.
I don't feel I have been left behind nor do I begrudge the bulls for their moment in the spotlight. I remain firmly rooted in my belief that my call is correct and that in the end the gains will be realized by the bears in 2013 - not the bulls.
For those who choose to disparage my bearish call one might at least give some thought to the bearish call I made on Apple. Just looking at reader comments my bearish position wasn't widely shared back in September or November but it was still right. Few saw a 40% fall in Apple and few seem to see a broad market sell-off in 2013 either, but common sense and logic suggests that is exactly what we will see.
A few things to consider
First a little history -- at the start of 2012, I was a very aggressive bull and long the market. We had put in the lows in October after first plunging 25% in a matter of a few days in late July and early August after Congress fumbled the ball on the debt ceiling matter and the U.S. was issued its first ever credit downgrade. Consider that on July 22, the S&P put in a high of 1346 and by August 9, the S&P put in a low of 1101 - a drop of 245 points in just a few trading sessions and we aren't talking the Dow here, we are talking the S&P.
The market thereafter made a few attempts to reverse trend and move back higher and after the fourth time the market did manage to move out of its sideways trading range in October. I saw stocks as oversold and worthy of a rally from the 1100 - 1200 range back to the upper end of the 12-year highs.
That shouldn't imply that I thought our problems were solved or that I had a long-term bull view. I just thought the downside was overdone and a rally was in order. My 2012 target was for the market to be up in the 10% -15% range by the end of 2012. My view was based on the fact that the downside move was a little extreme and the Fed's QE policy was decidedly inflationary. As a Keynesian my thinking was that an aggressive effort to produce inflation was the correct approach and the Fed seemed inclined to do just that.
What I didn't see was the rapid rate of ascent. Consider that by April 2, we had climbed 12.7% from the end of year lows and 32% from our October 4, 2011 low. That's a lot in a very short period of time and suddenly we had moved from oversold to overbought. I could see a year-on-year gain of 12% to 15% but no more.
Since stocks move even when they have no reason to move it stood to reason that we would pull back over the next few months and then resume the upward trend into the end of the year. That was my logic in late April - early May and it was based on nothing more than the fact that stocks move and since there was no reasonable basis for gains year on year to exceed the 12% to 15% levels stocks necessarily would trade lower through the summer months before moving back to the April highs going into year end.
Although this is essentially what occurred it should be noted that I modified that call in September, with the announcement by the Fed of QE3. My logic was that quantitative easing was not working to expand M2 and create the inflation it was intended to create. It occurred to me the Fed's "transparency" on monetary policy was not designed to inform but rather to influence behavior.
QE3 was an extraordinary measure that did nothing but add more excess reserves to a system already bloated with excess reserves. It wreaked of overkill and desperation. Bernanke didn't explain that QE3 wasn't working. Rather, he told us that the Fed was committed to stay the course and keep printing money until it did work. In other words he was not informing us but trying to influence us into believing that he would eventually inflate us out of this so we would be well served to get on board.
I have since come to the conclusion that the Fed had two purposes for additional QE. The first is pure Keynesian theory that says we must use monetary policy to expand money supply in the economy and in so doing induce borrowing and spending, which drives demand for goods and services higher and therefore expands the need for more labor, which adds even more demand - the result being increasing GDP and a move to full employment.
The second purpose for a continuation of QE was to enable the government to continue with a borrow and spend fiscal policy by assuring a high demand for newly issued debt. In other words, the Fed would print enough money to absorb all the fiscal excess. Roughly speaking the Treasury has increased the debt by about $6 trillion in the last four years and the Fed has increased its balance sheet by $3 trillion. In other words the Fed has absorbed a huge percentage of the debt increase through the printing of new money.
The bottom line is that the Fed has failed to achieve the first objective, which is to increase M2 and money velocity. However, it has achieved its second objective - monetizing the public debt and in so doing permitting the government to continue on the path of providing economic life support to an economy that is being propped up only by massive and unprecedented increases in debt. More on this in Part 2 but for now what is in store for 2013?
So, as we start 2013 we once again find ourselves confronted with a very rapid ascent - this time pushing to post recession highs on the major indices. Consider that the S&P has moved from 1398 as of December 31 to 1485 on January 17 - a move of 6.2%. (The Dow has performed even better by the way.) Looking back to the November 16 low the S&P has moved up 126 points for a total gain of 12.7%.
Applying common sense to the matter
So, common sense would suggest that we may have a little more left on the upside. Just looking at year-on-year gains I think you will be hard pressed to find any credible market prognosticator suggesting 2013 gains in excess of 15%. I find such calls absurd in light of the fundamentals but to that in a moment. Given that the most optimistic call of 15% puts the S&P at 1607 - another 109 points higher from Friday's close -- I will allow for the fact that this may occur.
I won't suggest that such a move is in any way logical or supported by fundamentals but it is obvious that the markets are moving more on emotional and euphoric giddiness than any fundamental justification. The truth is we are in a bit of a pickle here but for the moment at least that doesn't seem to matter.
I will concede the fact that we could test the all-time high on the S&P 500 of 1576 set on October 11, 2007, and it is possible we may even push through that a little. But then what? Do we just sit there? Probably not and the likely scenario even if we weren't in a pickle - and we are - is that the market then retraces back to the lows set in October of 2011.
Remember markets move and there is simply nothing that confirms that we have reversed course on the major fundamental headwinds that confront us so it seems reasonable to assume a best-case scenario is something akin to last year -- an early push to the highs and then a sell-off and a final upward push going into the end of the year.
That is what I see as best case and necessarily sets the parameters for a risk/reward assessment. Assuming this was to occur as outlined the upside to establishing a trade at current levels basis the S&P is about 100 points. The downside back to the October 2011 lows of 1074 puts the risk at 400 points -- in other words a risk of 400 points for a gain of 100 points. That is just not a trade I would want to make.
A better best-case scenario would be a retracement back to the June, 2012 lows of 1266, which sets the risk/reward for the trade at about 100 points up and 200 points down - again a trade I wouldn't want to make. My rule is that I have to have a situation based on objective analysis that produces a risk/reward of at least 1:2 - in other words I will risk 100 points if I see a reasonable expectation of a 200 point gain and the best-case scenario as I see it if one were to buy at these levels is the exact the opposite of what makes sense - that is a risk of 200 points for a possible gain of 100 points.
Momentum aside, let's look at the fundamentals for market catalysts
Again, simple logic suggests that even if we do move to all-time highs we will not blow through those highs by any significant amount. There is just no justification for a move beyond 15% year on year and it certainly appears that if there is any chance at all of that occurring in 2013 it is right now as momentum for the moment is decidedly on the side of the bulls.
That leaves the rest of the year. Momentum tends to drive markets in a certain direction until a catalyst causes that direction to shift. It is the nature of markets and it is predicated on the collective perception of market participants. There are three primary perceptions that have driven markets in recent weeks:
We will avoid the austerity measures posed by the debt and deficit spending dilemma.
The Fed will not be able to control inflation.
The economy is finally turning around as evidenced by modest improvement in the unemployment situation and an upturn in housing metrics.
That's the perception at the moment and all three of these perceptions must be mixed with the basic buy-side bias of stocks in the first place. One only needs to look at a long-term chart of the Dow to see that a buy-side bias exists. Over time stocks go up and there is substantial empirical proof of that statement.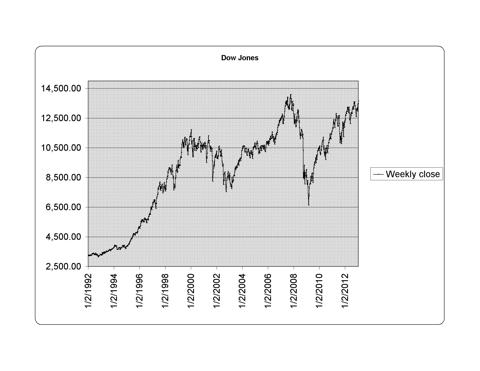 It can be argued that the Dow is driven by a monetary policy that seeks to achieve inflation at a rate of around 2% annually and also that the Dow components change with the laggards being eliminated and the high flyers being added over time to maintain that upward trajectory. That, however, is the real world and no basis at all for discounting the validity of the buy-side bias. The truth is stocks have an upward momentum over time and a long-term buy and hold approach has always worked given a long enough time horizon.
The fact is we want the markets to move higher, we expect the markets to move higher, we invest on the basis that the markets will move higher and we bias our reporting of economic data toward the buy side. In other words we emphasize the good data and discount the bad data. We frame our perceptions around what we want to happen and build arguments that will support those perceptions necessarily discounting the negative.
Another characteristic of markets is that this buy-side bias will often times push markets well beyond what can be supported by economic reality. A divergence occurs as the bias pushes stocks higher and higher and beyond what the broader economic metrics suggest is reasonable.
When this divergence occurs recalibration is required to bring stock prices back in line with the broader economic metrics. As stated, the momentum is decidedly buy side biased and with ample justification so momentum shifts that provide that recalibration only occurs when a catalyst serves to shift sentiment.
Another characteristic of stocks is that they tend to move in an upward trajectory at an angle of about 45 degrees and they recalibrate -- based on a catalyst that shifts direction - rapidly and at a 160 degree angle. Once that recalibration occurs there is usually a brief period of consolidation before the market once again resumes the upward trajectory.
So to the point, will we simply move sideways in a band width established at the all-time highs on the S&P in the 1600 range and the 2012 lows in the 1250 range; will we trade in a broader range defined by the 1600 high and the 2011 lows in the 1100 range; or will a recalibration occur that pushes the market substantially lower - possibly to the 2009 lows?
Remember markets will move so operating on the assumption that we will simply push ever higher in 2013 without retracements is not at all plausible. Furthermore, a repeat of 2012 seems unlikely as the fundamentals at the start of 2013 are decidedly different than they were at the start of 2012.
That sets up the need to address the market drivers I listed above. Will Congress resolve the debt and deficit situation in a way that satisfies market participants? Will the Fed lose control resulting in a rapid increase in inflation driving the dollar substantially lower? And finally, are recent upticks in housing and unemployment numbers going to continue?
We will discuss each of these in Part 2 of this series to see if there is sufficient reason to assume that a catalyst might be provided within the context of these metrics that will serve to push the markets beyond the 1600 level on the S&P or back down to the 2009 lows.
Disclosure: I have no positions in any stocks mentioned, and no plans to initiate any positions within the next 72 hours. I am short a group of tech stocks and financial stocks. I wrote this article myself, and it expresses my own opinions. I am not receiving compensation for it (other than from Seeking Alpha). I have no business relationship with any company whose stock is mentioned in this article.