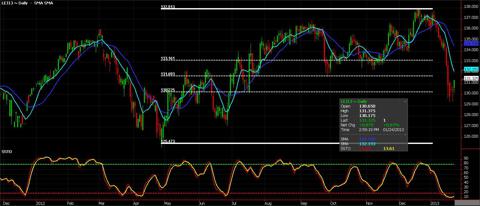 A 61.8% retracement has played out in the last 3 weeks but it appears we are finding solid support at that level. Above you can see in the chart for April live cattle futures prices are starting to bounce off oversold levels with prices appreciating 0.70% as of this post. I have suggested for clients to gain bullish exposure two different ways - either selling put options under the market or long futures while simultaneously selling out of the money calls 1:1.
I doubt after the 6% correction we've seen in the last month consumers will see a discount at the super market but traders shopping for value should stock up on beef at these levels as I anticipate we can make enough money to afford a nice steak dinner on the coming appreciation. My stance is we will see prices trade up to their 20 day MA in the coming weeks, identified by the dark blue line roughly 3 cents above current pricing. In live cattle a 3 cent move represents $1,200 per futures contact. The chart above is the daily chart but look at a weekly before getting too excited. There appears to be a lot of risk in my opinion if a trend line breaks that has held since late 2009. It was tested the last 2 weeks and held so be cognizant of the risk and have an exit strategy when constructing the trade.
Beef production is down as the cattle industry has gone through a major breeding stock and culling cycle in recent years. Not to mention a drought that reduced supplies so if demand reemerges this has the potential to be the perfect storm.
Risk Disclaimer: The opinions contained herein are for general information only and not tailored to any specific investor's needs or investment goals. Any opinions expressed in this article are as of the date indicated. Trading futures, options, and Forex involves substantial risk of loss and is not suitable for all investors. Past performance is not necessarily indicative of future results.
Disclosure: I have no positions in any stocks mentioned, and no plans to initiate any positions within the next 72 hours. I wrote this article myself, and it expresses my own opinions. I am not receiving compensation for it. I have no business relationship with any company whose stock is mentioned in this article.