Merck & Co Inc. (NYSE:MRK) is a global health care company that makes pharmaceutical products to treat conditions in a number of therapeutic areas, including cardiovascular disease, asthma, infections, and osteoporosis. MRK had greatly improved its long-term outlook by acquiring Schering-Plough in 2009. MRK closed at $42.82 with a 0.88% loss on Wednesday. Since our last article of "Merck - How To Play This 'Patent Cliff' With Options," MRK slightly decreased 1.97% from $43.68 on November 13, 2012. This article will update the developments and review the options strategy for MRK.
Recent Developments
On January 18, Europe's regulator has confirmed the suspension of Merck & Co's cholesterol drug Tredaptive in Europe after its failure in a major study. Merck already announced that it is taking Tredaptive off the market based on preliminary data from a long term safety study. While Tredaptive (also known as Pelzont and Trevaclyn) is not approved in the US, it is approved in 70 countries and available in 40 countries across the world and approved in 70 countries. According to Zacks' report,
"The decision to suspend Tredaptive does not come as a surprise given the disappointing long-term safety data from the HPS-2 THRIVE study. Tredaptive sales were not significant (first nine month 2012 sales of the drug were $13 million) and its removal should not affect Merck's top-line. However, Tredaptive was one of the candidates in Merck's pipeline slated for a US regulatory filing in 2013. Therefore, the suspension of the drug is a setback for the company's pipeline efforts."
On January 7, 2013, on the positive end, the resubmission of the New Drug Application, NDA, for sugammadex sodium injection has been accepted for review by the U.S. Food and Drug Administration (FDA). Merck expects the FDA's review to be completed in the first half of 2013. If approved, it would be the first in a new class of medicines in the U.S. known as selective relaxant binding agents to be used in the surgical setting.
On December 18, 2012, MRK and General Electric Co (NYSE:GE)'s healthcare unit agreed to collaborate on an experimental drug for Alzheimer's disease. GE Healthcare will supply Flutemetamol, an investigational imaging agent, to Merck for use with its experimental Alzheimer's disease drug MK-8931. Based on promising results from an early-stage clinical trial of MK-8931, Merck plans to move forward with a larger trial, called EPOCH, at multiple sites around the world.
Key Stats and Valuation
MRK has an enterprise value of $132.81B with a market cap of $130.18B. MRK has a healthy balance sheet with a total cash of $18.12B and a total debt of $19.60. MRK's debt-to-equity ratio of 0.3 is lower than Pfizer's (NYSE:PFE) 0.4 and GlaxoSmithKline's (GSK) 2.1. MRK has a strong cash flow with an operating cash flow of $11.45B and a levered free cash flow of $11.69B. MRK has a higher revenue growth (3 year average) of 26.3, as compared to the industry average of 6.9. However, MRK has lower operating margin of 18.6% and net margin of 14.2%, ttm, comparing to the averages of 22.3% and 16.4%, ttm, respectively. MRK has lower ROE of 12.2, comparing to the average of 17.2.
MRK's P/E of 19.6 is higher than the industry average of 16.9 but much lower than MRK's 5 year average of 36.1. MRK's forward P/E of 11.2 is lower than S&P 500's average of 13.3.
Analysts' Calls, Earnings and Dividend
On January 22, 2013, JPMorgan Chase reiterated the "overweight" rating on MRK with a $52.00 target price. Analysts at Sanford C. Bernstein also reiterated an "outperform" rating on MRK with a $50.00 target. On January 16, 2013, analysts at Jefferies Group cut the price target to $47.00 from $49.00 with a "Hold" rating. Overall, analysts had given MRK a consensus rating of "overweight" with a target price of $48.47.
Analysts, on average, are expecting an EPS of $0.81 and revenue of $11.47B for the current quarter ending in December, 2012. Analysts are also estimating an EPS of $3.80 with revenue of $46.99B for the fiscal 2012. MRK is expected to release its earnings on February 1, 2013.
MRK is currently paying out $0.43 dividend per quarter, yielding 4.02% per year. MRK's dividend payout ratio is 77.00%.
Technical Analysis
MRK closed at $42.82 with 0.88% loss on January 13, 2013 with a volume of 14.17M. MRK had been trading in the range of $36.91-$48.00 in the past 52 weeks. MRK has a very low beta of 0.30. The MACD (12, 26, 9) had been showing a bullish trend but the MACD difference had converged on the last trading day. The momentum indicator, RSI (14), is near neutral at 50.41. MRK is approaching its 50-day MA of $43.05 and is trading above its 200-day MA of $41.68, as seen from the chart below.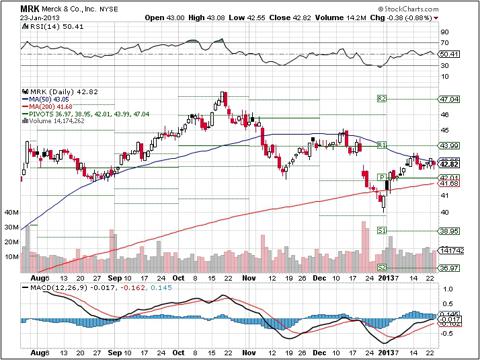 Source: StockCharts.com
Reviewing Options
The reviewed bearish debit put spread of Dec. 22, 2012 $40/$42 gained 108.7% upon expiration as MRK closed at $41.52 on December 21, 2012. The reviewed longer-term bullish credit put spread of April 20, 2013 $36/$40 put is currently yielding 11.76% return on margin.
For bullish long-term investors who have not established the position, it will not hurt to wait until the earnings release due on February 1, 2013 to analyze the result and establish the long-term position at that time. For short-term traders, MRK had unusual call activities on Wednesday with a daily volume ratio of 3.56 (26,837 call volume vs. 7,533 average call volume). Unusual option activities can be an indicator or precursor of a major movement for the underlying stock.
Note: All prices are quoted from the closing of January 23, 2013 and all calculations are before fees and expenses. Investors and traders are recommended to do their own due diligence and research before making any trading/investing decisions.
Disclosure: I am long MRK. I wrote this article myself, and it expresses my own opinions. I am not receiving compensation for it (other than from Seeking Alpha). I have no business relationship with any company whose stock is mentioned in this article.