In this article we show that hotels are positioned for outperformance, catalyzed by tremendous fundamentals and the removal of negative stimuli. Understanding its outlook requires us to first look at where the sector is now, and how it got here.
All time low interest rates have created a frenzied search for yield in which REITs have become the darling of income investors. Some have turned to mortgage REITs for the double digit yield, while others, who wanted the security of income derived from a tangible source, turned to equity REITs. Fears of the fiscal cliff and now the lack of resolve to the debt ceiling (and the budget) instill apprehension which has led investors to locked-in revenue such as triple net REITs. In this frenzy, only the hotel sector remains untouched as investors do not want day to day revenue which could disappear at the first sign of crisis. Consequently, it is undervalued while the rest of REITs are pricey.
The hotel sector has a weighted average price/FFO of 13.0, while US Equity REITs average 16.0. When translated to expected earnings return on invested capital (or EROIC) we can see that hotels produce 7.6923% annually while REITs as a whole give 6.25%. That's 23.08% more earnings than the REIT average.
Below are some very important statistics of the hotel REITs. Taken as a whole, this is an overwhelming amount of information, but in the passages below the importance of some of this specific data will become clear.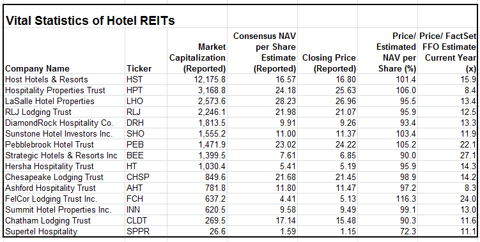 Going forward into 2013, I believe two catalysts will emerge that will vault the hotel sector to outrageous returns, improving fundamentals and fair market treatment.
Catalyst # 1 improving fundamentals
Regardless of the source you look at, analysts estimates for RevPAR in 2013 are overwhelmingly positive. Smith Travel Research is the most bullish with estimates of 7.0% RevPAR growth, PKF Hospitality Research takes the middle-ground with forecasts of a 6.0% increase and PricewaterhouseCoopers is on the bearish side with a 2013 estimated RevPAR increase of 5.4%.
For our calculations we will be using the median estimate of 6.0% to give a fair representation. It is based on RevPAP (Revenue Per Available Room) which is a composite of ADR (Average Daily Rate) and Occupancy.
What makes this growth even more effective is the nature of it. In the early parts of this upswing in the hotel cycle, much of the RevPAR growth came from occupancy, while 2013 growth should be almost entirely from ADR. Occupancy gains add to expenses which partially consume the revenue gain, while increases to ADR directly add to bottom line profits. Mark Woodworth, president of PKF Hospitality Research, provided statistics in an interview with SNL Financial demonstrating the mix of RevPAR growth. He said that "2010 gains were 100% occupancy driven. In 2011, when RevPAR climbed 8.2% about 55% was occupancy." He also mentioned that 2012 came in around 33% occupancy and 66% ADR. His forecast for 2013 has the 6.0% RevPAR growth 85% driven by ADR growth. This translates to approximately a 5.1% increase in ADR.
So a 5.1% bump in 2013 to ADR sounds nice, but what does it mean for earnings? Well, as just a price increase, it comes with no expenses so it will add about 5.1% to revenue, all of which will transfer to FFO. Thus the 5.1% is amplified by the ratio of revenue to FFO. Here is this ratio for each of the hotel REIT companies.
| | |
| --- | --- |
| | FFO/ Total Revenue MRY (%) |
| AHT | 7.85 |
| CLDT | 5.14 |
| CHSP | 15.77 |
| DRH | 14.33 |
| FCH | (1.02) |
| HT | 18.78 |
| HPT | 33.48 |
| HST | 12.48 |
| LHO | 17.14 |
| PEB | 13.57 |
| RLJ | 15.56 |
| BEE | (1.39) |
| INN | 16.22 |
| SHO | 18.45 |
| SPPR | 5.18 |
| Average | 12.77 |
The Hotel REIT average FFO/total revenue of 12.77% means that approximately $1 gets through to FFO from every $7.83 of revenue. Since the 5.1% increase from ADR is to revenue (not FFO) and virtually every dollar of it will get through, the increase to FFO will be closer to (5.1% X 7.83) or 39.94%. I don't even need to tell you how huge 39.94% FFO growth is.
Caveat: The above calculation was assuming that all revenues are from room rental. Clearly this is not the case as these companies also get revenue from food and beverage sales and other miscellaneous items. However, room rental is a very large portion of revenue so the above calculation is a decent approximation, but probably a little bit high.
Catalyst # 2 Fair treatment in the market
As previously mentioned, hotel REITs trade at a steep discount (23.08%) to their peers based on earnings. They also are discounted relative to their peers by NAV. From the table at the start of this article, we can see that the average Price to NAV among the hotel REITs is 97.4%: a slight discount to book value and a deep discount to the rest of the REITs which tend to trade well above their respective NAVs. Such statistics evince the relative undervalution of the hotel sector, but what would cause hotel REITs to get fair treatment going forward in 2013?
Well, I do not see a new stimulus coming in that makes investors love these companies, but rather the removal of contingencies that make investors fear these companies. Specifically, the debt ceiling and budget turmoil. I offer no speculation as to how or when these issues will be resolved, but rather what will happen to hotel valuations if and when they are resolved.
Despite stellar fundamental performance, hotel property values remain low. The fear of instability of profits even pervades hotelliers, creating very few transactions and the ones that have occurred were very cheap. While other sectors are experiencing significant cap-rate compression, hotels still sell for 7.9% cap-rates on average. Investors and companies remain apprehensive until political and economic stability is achieved. Once there is comfort in the continued earnings of hotels, property values will soar and market prices will likely come with them. Mark Woodworth expressed similar sentiments:
"I think it's very reasonable to expect that we might see a real spike in hotel property values sometime over the next year or two and it would be a response to dissipated levels of uncertainty, and at the same time, liquidity will become less of an issue. More lenders will have debt available for hotels. So it's a combination of reduced uncertainty and enhanced liquidity that is going to help really spike property values."
If fears are subdued I think it is quite likely to see hotel REITs trade at multiples comparable to the rest of the equity REITs.
Putting it all together
Increased FFO and a fair valuation would have a multiplicative effect on share price, creating a new share price of (139.94% X 123.08%) or a 72.24% increase.
Caveat: Clearly there is no guarantee that either of these catalysts will occur nor that they will occur to that degree. Actual capital appreciation of the hotel sector could be significantly lower or even negative, but it certainly has powerful forces working in its favor.
Investment Thesis
It falls outside the scope of this article to recommend any particular securities, but the ones this research most pertains to are as follows: Host Hotels and Resorts (NYSE:HST), Hospitality Properties Trust (NYSE:HPT) LaSalle Hotel Properties (NYSE:LHO), RLJ Lodging Trust (NYSE:RLJ), Diamond Rock Hospitality (NYSE:DRH), Sunstone Hotel Investors (NYSE:SHO), Pebblebrook Hotel Trust (NYSE:PEB), Strategic Hotels (NYSE:BEE), Hersha Hospitality Trust (NYSE:HT), Chesapeake Lodging Trust (NYSE:CHSP), Ashford Hospitality Trust (NYSE:AHT), FelCor Lodging Trust (NYSE:FCH), Summit Hotel Properties (NYSE:INN), Chatham Lodging Trust (NYSE:CLDT) and Supertel Hospitality (SPPR).
From the disclosure below you can get a snapshot of the companies we have chosen for exposure to this explosively growing sector, but I would highly advise doing your own research to ascertain which securities if any are right for your portfolio.
Disclosure: 2nd Market Capital and its affiliated accounts are long HPT, HT, AHT, SPPR, BEE-A, BEE-B, BEE-C, AHT-A, AHT-D, AHT-E, HT-B, FCH-A, FCH-C, SPPRP, and SPPRO. This article is for informational purposes only. It is not a recommendation to buy or sell any security and is strictly the opinion of the writer.
Disclosure: I am long AHT, SPPR, HPT, HT. I wrote this article myself, and it expresses my own opinions. I am not receiving compensation for it (other than from Seeking Alpha). I have no business relationship with any company whose stock is mentioned in this article.