By David Urani
Alas, jobless claims -- in normal times they are one of my favorite economic indicators, but lately I just can't bring myself to trust the numbers. I'm not trying to be a downer over what has been an encouraging reported drop in the newly unemployed, but it's my job to filter out things that I find fishy and call it how I see it.
And the way I see it, jobless claims have been virtually untrustworthy for the past two months due to seasonal factors, a hurricane, holidays, government incompetence, and taxes. That big spike at the beginning of November was Hurricane Sandy. I suppose the result may have been "real," but it's a one-time event that's probably not indicative of the underlying economy. And then of course a couple weeks after that you have Thanksgiving; not only does the Labor Department not have a complete week of data to make proper seasonal adjustments, but it also doesn't make companies feel too fuzzy to let go of people during the holiday.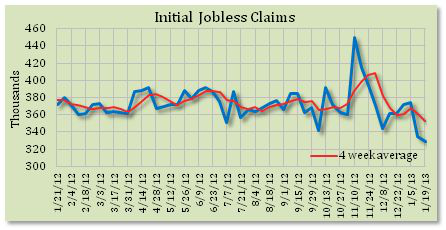 And that led straight into December. The holiday season is already different and possibly hard to adjust to for the Labor Department analysts because of businesses loading up on employees temporarily to gear up for holiday spending. But add to that the uber-hyped fears of the Fiscal Cliff and the ensuing tax changes, and businesses may have been left unsure what to do with their employee headcount heading into the new year. Obviously there's the Christmas week itself as well, which is another holiday-shortened week that bosses don't like to fire on, followed by the New Year's holiday week.
That brings us to the latest reading, where the Department of Labor says that California, Virginia and Hawaii numbers were "estimated" due to the MLK holiday. California is quite a large state to estimate, and that reminds one that the full MLK-shortened week will be reported next Thursday and will be somewhat unreliable as well.
So there you go, with all those exceptions for the past couple of months it's hard to take this data too seriously. That is not to say that I think the reality is worse than reported, in fact given recent developments in the economy I think claims may very well be on a downtrend. But I would call the past several weeks' results ballpark figures rather than the usual solid economic indicator that is initial claims. We should be getting a more reliable run of data in February that will hopefully confirm the latest trends.