VIX - Market Sentiment:
Thursday S&P futures were up heading into the open as good employment numbers pushed the markets again overall higher. Nasdaq futures were a different story however, dragged down by the 12% drop in Apple (NASDAQ:AAPL) after issuing a disappointing forecast. AAPL actually tripped a NASDAQ circuit breaker as analysts rushed to cut price targets across the board. Interestingly enough S&P and DOW components actually were slightly up in early trading after the positive economic news mentioned earlier. Typically the market as a whole sells off with AAPL news but today this was not the case. S&P actually topped 1500 for the first time since 2007 but then futures quickly sold off leading to weakness in the overall market. A check on the NYMO reversed hard yesterday with a reading of just +37.03, a 13.93 point decrease. This was interesting in the overall up day so today I would expect this number to burn off even further.
The spot CBOE Volatility Index (VIX) and futures moved lower initially before heading north quickly as the market touched 1500 on the day. Volatility ETF (NYSEARCA:VXX), 2x ETF (NASDAQ:TVIX), and alternative 2x ETF (NYSEARCA:UVXY) were under heavy pressure early but then reversed course trading higher heading towards the close. Reported on the sonar yesterday (here) the VIX futures were trading mostly non directional. Today this was not the case by any stretch of the imagination. Today front month calls were bought in full force as one trader started around 12:41 accumulating more than 60K of the February 16 strike calls driving premiums and volatility higher. Heading into the final hour of trading the bid had moved from .45 to .65, and the ask had moved from .55 to .70 as this strike traded more than 120K contracts. The premiums confirmed this number totaling more than 2.2M in net premium paid by market takers throughout the day. This was reflected in jumps in SPX put buying which triggered the spot VIX to move higher 7% on the day before again heading back toward the 13 level.
Statistics and Screenshot Provided By LiveVol
VIX futures are below.
Yesterday
· February VIX futures 13.83
· March VIX futures 15.03
· April VIX futures 16.05
Today
· February VIX futures 14.18
· March VIX futures 15.23
· April VIX futures 16.30
Options Paper:
The market was experiencing heavy volume today trading more than 17M contracts with more than 1 hour left to trade. S&P ETF (NYSEARCA:SPY) as usual led the pack trading almost 2M contracts heading into the final hour of trading. AAPL which typically only trades 800K contracts a day had traded more than 1.31M in the same time period and appeared to be continuing to climb. Microsoft (NASDAQ:MSFT), VXX, Research in Motion (RIMM), and Retail ETF (NYSEARCA:XRT) were all heavy on the options activity side as well. One big mover from yesterday's earnings was Netflix (NASDAQ:NFLX) which soared more than 40% after reporting a surprise earnings beat. For those who follow me and my trades on Twitter I did close my NFLX short (sold my put diagonal) and will look into this trade again in the future because this time it obviously did not work. Honestly, looking back onto this trade I should have probably not went against the options sentiment as bulls have been rushing to buy calls and sell puts. Regardless the market continues to show remarkable strength but make sure you take note - volatility calls and futures appear to be beginning to turn so buyer beware.
Supporting this possible pullback thesis was 2 large bears who stepped up into the S&P Retail ETF and Russell 2000 ETF (NYSEARCA:IWM). Today large put buyers stepped in on both names buying IWM puts at the Feb 89 strike 24K times which follows a large March 85-81 put spread purchased 17K times. Net net the puts and put spreads were put on to the tune of 8.3M in net premium either protecting a large portfolio or outright bearish bet IWM will pull back in the short term. Combine this with the XRT which saw a large 100K block put spread purchase which bought the March 64-60 put spread 100K times for .50 costing the trader nearly 5M. Again regardless whether this is a hedge of a very large retail portfolio or an outright bearish bet it should be noted and kept on your radar.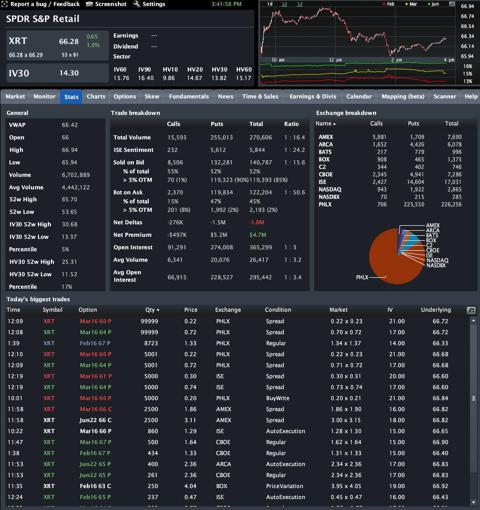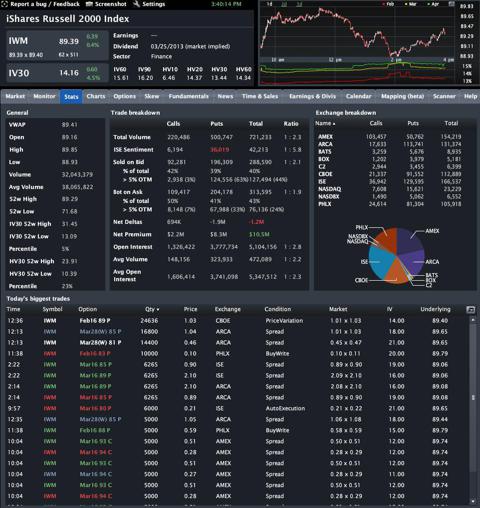 Statistics and Screenshot Provided By LiveVol
A very interesting trade went off today in Cobalt International (NYSE:CIE) where one trader went short a call diagonal spread. This is a very interesting trade as this is very much a thread the needle type of trade. Today one trader sold more than 15K April 25 strike calls for 1.60 with the largest chunk of options being a 13,607 block. At the exact same time the same trader then bought the October 27.5 strike call for the same amount of times for 2.65. The net of the trade cost the trader almost 1.4M to put on the position and holds another 2M+ in buying power. Here though is the interesting part as this trader believes CIE will be capped or run into very heavy resistance around the 25 level and does not want the stock to be above 25 prior to April expiration. Additionally the same trader believes this stock could rally towards the 27.50 level or 28.55 if you include the cost of the trade. This trade is interesting as it does get the math working for him as the April short call will decay at a very rapid rate in comparison to the October calls. Keep your eye on this stock as it could have a very interesting reaction if this trader is correct.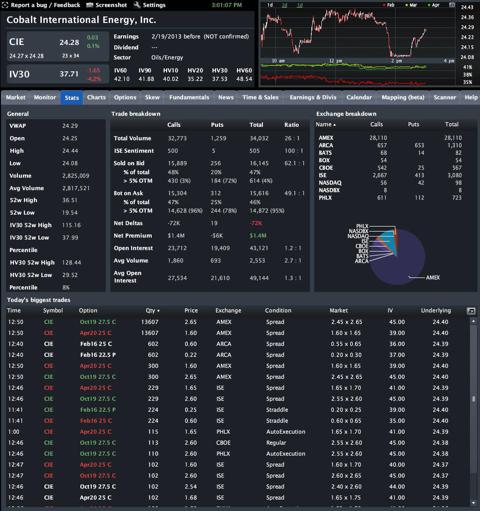 Statistics and Screenshot Provided By LiveVol
Popular ETFs and equity names with bullish/bearish paper:
Bullish Option Flows - ISE and % OTM calls bought on offer
Inergy (NRGY) 94% of this thinly traded name bought
US Gold (NYSE:MUX) 73%
Activision (NASDAQ:ATVI) 71% - Bulls betting on success of map pack release this weekend?
Barnes & Noble (NYSE:BKS) 65% of the 3.32K OTM calls bought on offer
Riverbed (NASDAQ:RVBD) 64% - Follows Fortinet (NASDAQ:FTNT) calls earlier
Bearish Option Flows - ISE and % OTM puts bought on offer
Advanced Micro (NASDAQ:AMD) 82% on nice up day
Affymax (NASDAQ:AFFY) 78% of 4K OTM puts bought on a name I've never heard of until today
MAP Pharmaceuticals (NASDAQ:MAPP) 68%
Assured Guaranty (NYSE:AGO) 67%
Michael Kors (NYSE:KORS) 66% - I still like the long side here
MBIA (NYSE:MBI) 2K OTM puts bought looking for more downside.
As always happy trading and stay hedged.
Remember equity insurance always looks expensive until you need it.
Disclosure:
I am long: AAPL, AGNC, BA, CBB, CONE, INTC, KERX, KOS, MDR, MTGE, NRG, PG, PSX, QCOM, SBUX, TUMI, VHC, VOD
I am short: CRM, DDD, EDU, SPY, VECO
Trades today: Closed NFLX short, Sold BA diagonal calls, Sold weekly SBUX calls, Closed XLK long, Bought TUMI calls, Bought QCOM calls
Follow me and my trades on twitter @Keddie
Disclaimer: The opinions in this document are for informational and educational purposes only and should not be construed as a recommendation to buy or sell the stocks mentioned or to solicit transactions or clients. Past performance of the companies discussed may not continue and the companies may not achieve the earnings growth as predicted. The information in this document is believed to be accurate, but under no circumstances should a person act upon the information contained within. I do not recommend that anyone act upon any investment information without first consulting an investment professional as to the suitability of such investments for his or her specific situation.
Disclosure: I have no positions in any stocks mentioned, and no plans to initiate any positions within the next 72 hours. I wrote this article myself, and it expresses my own opinions. I am not receiving compensation for it (other than from Seeking Alpha). I have no business relationship with any company whose stock is mentioned in this article.