In our previous reports on Nokia Corporation (NYSE:NOK), we have been amused by the vociferous support the investment community has given this company, even though its performance has been pitiful and pathetic under its CEO, Steven Elop. We were surprised that Nokia's share price shot up by 19% on January 10th, even though Nokia pre-released pedestrian financial results. We were especially surprised to see such a run-up because Nokia's Q1 2013 forecast was lackluster, to say the least. Now that Elop the Magnificent's latest act of corporate prestidigitation involves eliminating Nokia's dividend, we believe that investors are realizing that Nokia can't cut its way back to relevance in the smartphone segment.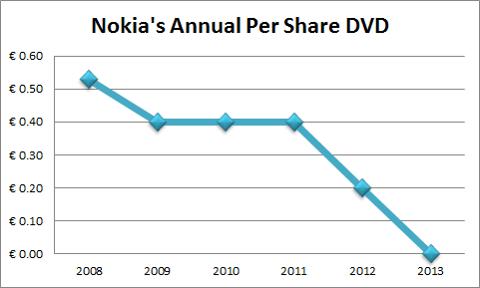 Source: Nokia's Investor Relations Website
Nokia's Devices and Services Division-Smart Devices: Nokia was courteous enough to pre-release its sales volumes for its Devices and Services Division business units on January 10th. Considering all the hype surrounding the Nokia Lumia Windows Phone 8 smartphone devices, we were expecting Nokia to have sold more than 4.4M units during the quarterly period, which was only 10% better than the 4M Lumia Windows Phone 7 smartphone devices sold in Q2 2012. Nokia's Smart Devices revenue collapsed 55% from its Q4 2011 levels, and its gross margin of 18% was less than half of Apple's (NASDAQ:AAPL) MRQ gross margin of 38.6%. Although Nokia reduced its Smart Devices operating expenses by 34%, it was not enough to forestall a negative operating margin of 21.6% for the period. We think that Nokia's stakeholders absolutely underestimated the effect of Stephen Elop's Burning Platform memo. While smartphone sales volumes increased by 130% from Q4 2010 to Q4 2012, Nokia saw its smartphone sales volumes collapse from 28.6M in Q4 2010 to 6.6M in Q4 2012. This helped take Nokia's smartphone market share from 29% in Q4 2010 to 3% in Q4 2012.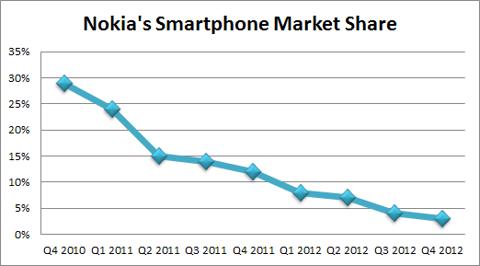 Sources: Tomi Ahonen Consulting Analysis
Nokia's Devices and Services Division-Mobile Devices: Nokia's lower end mobile phone devices generated €2.47B ($3.3B) in revenue for Q4 2012, which was a decline of €572M ($765M) versus Q4 2011 levels. We were intrigued by Nokia's Asha series sales volumes (9.3M in Q4 2012, and 6.5M in Q3 2012), however, this was not even to offset a 15% unit sales volume decline in Q4 2012 (79.6) versus Q4 2011 (93.9M). The good news for Nokia's lower end mobile device business was that its sales volumes increased sequentially for the third straight quarter from its Q1 2012 low of 70.8M, but the bad news is that its full year sales volumes of 310.7M in 2012 declined 8.6% versus the 339.8M achieved in 2011.
The good news about Nokia's Mobile Devices unit was that it was profitable, unlike the Smart Devices unit. Although its operating expenses declined by 19%, it was not enough to offset the following negative headwinds that resulted in its operating income declining by more than 50%, and its operating margin declining from 13.5% in Q4 2011 to 8.2% in Q4 2012.
Mobile Phone Volume declined by 15% from 93.9M in Q4 2011 to 79.6M in Q4 2012
Mobile Phone ASP declined 3% from €32 ($42.80) in Q4 2011 to €31 ($41.45) in Q4 2012
Gross Margin declined from 27.7% in Q4 2011 to 22.2% in Q4 2012
Nokia has also reiterated its Q1 2013 outlook for negative operating margins for the division, even though it is looking to reduce division-wide expenses to an annualized run rate of approximately €3B ($4B) by the end of 2013.
Nokia's Location & Commerce Division: We were surprised that Nokia Location & Commerce's revenue declined by €28M ($37.45M, or 9.15%) in Q4 2012 levels relative to Q4 2011 results, considering it signed widely touted deals with BMW, Oracle, Mercedes, Garmin and Amazon. At least it was able to increase its operating margin from 9.5% in Q4 2011 to 14.4% in Q4 2012. We are also pleased that it did not write-off any goodwill and intangible assets from this division in Q4 2012. We believe that Nokia's write-down of €1.1B was more than sufficient, and we were pleased that Nokia provided an estimated recoverable value of €4.1B for its Location & Commerce Division (formerly NAVTEQ) in its Q4 2011 report.
In our opinion, Nokia Location & Commerce is a puzzle, an unsolved riddle. It enjoyed strong revenue growth from €670M ($896M) in 2009 to €1.09B ($1.46B) in 2011, but the growth rate slowed to 1% in 2012. On the flip side, Nokia Location & Commerce's Non-IFRS operating income more than tripled in 2012 versus 2011 due to an increased gross margin and cost reductions for R&D and marketing activities. Another reason why we see Nokia Location & Commerce as an enigma is because it did not appear to have taken advantage of Apple's mapping problems with its new operating system. The last reason why we see Nokia Location & Commerce as a mystery is because Nokia's management is expecting it to generate a negative non-IFRS operating margin for Q1 2013, which would be a regression from the 12.9% operating margin it achieved in Q1 2012.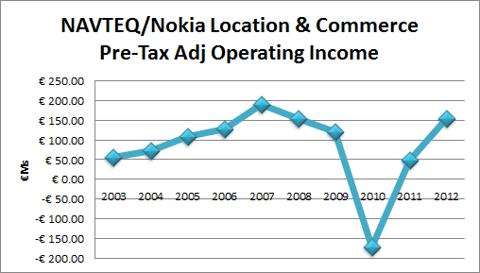 Sources: NAVTEQ's 2003-2007 Annual Reports and Nokia's 2008-2012 Annual Reports
Nokia Siemens Networks: We would like to congratulate Nokia Siemens Networks for having a profitable second half of the year. If it can keep it up ,and if Nokia Siemens Networks can avoid its recurring pattern of "non-recurring charges," next year will be Nokia Siemens Network's first profitable year since Nokia Networks merged with Siemens Communications (SI). Nokia Siemens Networks' restructuring program is starting to bear fruit for the company because its non-IFRS operating margin increased from 3.7% in Q4 2010 to 4.6% in Q4 2011 to 14.4% in Q4 2012. Nokia Siemens Networks can attribute its improved operating margin to lower expenses thanks to its restructuring program, which incurred €1.58B ($2.11B) in restructuring charges, but helped contribute to €357M ($477.45M) in reduced operating costs during the year. NSN's positive momentum in Q4 2012 from its reduced operating costs was bolstered by a 6.8% increase in its gross margin, and a 4.5% increase in Q4 2012 revenue versus Q4 2011 levels. Nokia Siemens Networks also benefited from non-recurring IPR income of €30M.
For Q1 2013, Nokia Siemens Networks is expected to generate a non-IFRS operating margin of 3%, plus or minus 4%. This outlook is based on Nokia Siemens Networks' expectations regarding a number of factors, including the competitive industry environment, product and regional mix, the global macroeconomic environment and NSN's restructuring program. At least Nokia Siemens Networks can take comfort in the fact that its projected operating margin is expected to be much better than the 0.1% achieved in Q1 2011 and the -5% in Q1 2012. Nokia Siemens Networks is looking to reduce its non-IFRS annualized expenses by more than €1B ($1.34B) relative to its 2011 levels. While we are not as optimistic about the rest of Nokia's business lines, we have to tip our hat to Nokia Siemens Networks for becoming Nokia Corporation's largest business unit in terms of employees, adjusted operating income and revenues. Nokia's Devices and Services Division has 14% more revenue than Nokia Siemens Networks, however, it is composed of two different business units that failed to generate as much revenue as Nokia Siemens Networks.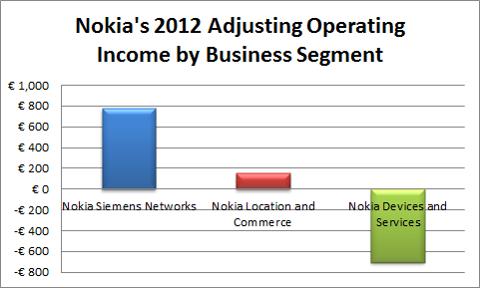 Source: Nokia's Q4 2012 Earnings Release
Corporate and Administrative: Nokia reported a profit of €.05/share ($.067/share) for Q4 2012 on an IFRS basis and €.06/share ($.08/share) on a non-IFRS basis. Revenue fell 20% due to ongoing soft sales performance in the Devices and Services Division. Despite the positive €563M ($753M) operating cash flow generated by the company in Q4 2012, it was still below 11% below Q4 2011 levels of €634M ($848M). Nokia issued a €750M ($1B) convertible bond issue with a 5% coupon and an October 2017 maturity in Q4 2012, and Nokia Siemens Networks is planning on issuing a €700M ($933M) high-yield bond in Q1 2013. It's a good thing Nokia has been active in the capital markets and that it eliminated its dividen because it burned through €530M ($708M) in negative free cash flows, even with reduced capital expenditures and harvesting €279M ($373M) from the sale of fixed assets. Nokia Nation is optimistic about Nokia's recent deal with China Mobile, and considering that Nokia Devices and Services revenue sank by 79% in Q4 2012, it will need this deal in order to get back to the €1.01B ($1.35B) achieved in Q4 2011. Compare that with Apple, which generated $6.8B in revenue from China in its most recent quarter.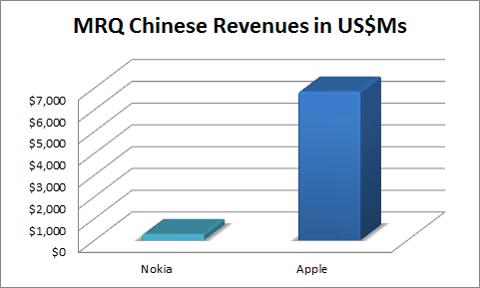 Source: MRQ Reports for Nokia and Apple
Conclusion
In conclusion, we believe that Nokia's shares were justified in pulling back because of the need to cut its dividend, and because of its unremarkable outlook in Q1 2013. Despite our initial skepticism of Nokia, we are able to make a fair and balanced assessment of its fortunes. We tip our hat to the progress that Nokia Siemens Networks has made over the last year, and we may even devote additional research to it (as opposed to researching it in conjunction with the rest of Nokia's business groups). We are disappointed in the performance of Nokia Location & Commerce, and so far it is a riddle, wrapped in a mystery, inside an enigma; but perhaps its performance in 2013 and 2014 will be the key to see if Nokia can monetize the legacy NAVTEQ, or if it will take more than 30 years for Nokia to get a payback on it. While we believe that Nokia's devices divisions can't perform any worse, we believe that investors need to see significant progress from this area since it used to be Nokia's flagship business unit. We considered investing in Nokia last year due to its (at the time) high dividend yield, but now, there is no dividend for the foreseeable future. Nokia skipped its dividend for the first time in its 143-year corporate history. We find it amusing that Nokia and its predecessors were able to pay dividends even during Finland's 20th century wars with Russia and its early 1990s recession, but had to stop paying a dividend to conserve cash after 28 months of Stephen Elop's management.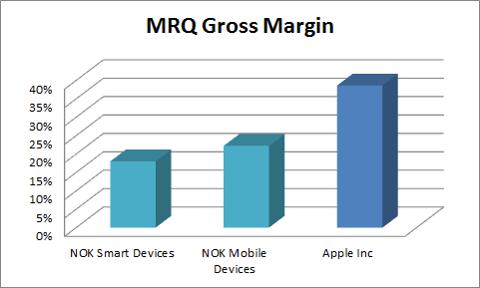 Source: MRQ Reports for Nokia and Apple
Disclosure: I am long AAPL. I wrote this article myself, and it expresses my own opinions. I am not receiving compensation for it (other than from Seeking Alpha). I have no business relationship with any company whose stock is mentioned in this article.
Additional disclosure: This article was written by an analyst at Saibus Research. Saibus Research has not received compensation directly or indirectly for expressing the recommendation in this article. We have no business relationship with any company whose stock is mentioned in this article. Under no circumstances must this report be considered an offer to buy, sell, subscribe for or trade securities or other instruments