I received a few emails regarding the high-volume spike in Hovnanian (NYSE:HOV), once a high-flying homebuilder and now a beaten down microcap with a market capitalization of only $144.51 million after yesterday's surge.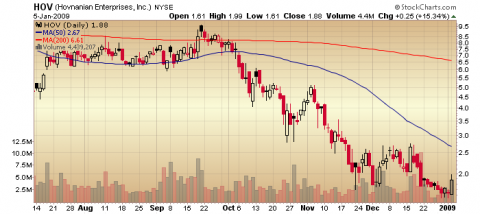 While the stock did spike more than 15% yesterday on high volume, I don't find much to like fundamentally or technically. Like most homebuilders, analysts are expecting massive losses from Hovnanian in 2009. Housing numbers are still dismal, and though many assume that the market will rebound in late 2009, nobody really knows.
Technically, HOV still trades under the 50-day moving average, and faces a lot of overhead resistance.
Bottom line: a rally here is not unthinkable, but I see no reason to jump in until it takes hold.
DISCLOSURE: No position.