Back on December 31, I wrote about several agency mortgage REITs "mREITs" and their deep discounts to book value. Since then, all three of the mentioned companies have seen their stocks soar, well above the YTD S&P return. Even with this rise in stock price, these agency mREITs still offer discounts to book value and attractive double-digit dividend yields.
YTD Performance
The best YTD performer of the bunch has been American Capital Agency Corp (NASDAQ:AGNC), rising 10.3%. Not far behind, would be CYS Investments (NYSE:CYS), rising 9.6%. Lagging behind, but still producing S&P beating results, is Annaly Capital (NYSE:NLY), rising 6.0%.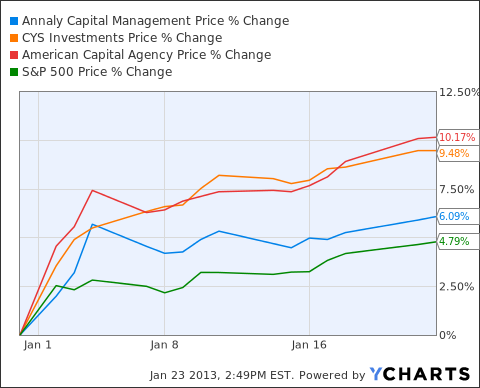 NLY data by YCharts
Discount to Book Value
The rise in share price for these companies has caused their discount to book value to narrow. Please note that for CYS, I will also be using an adjusted book value of $13.94, since it paid a large special dividend of $0.52 per share in December.
| | | | |
| --- | --- | --- | --- |
| | CYS | AGNC | NLY |
| Price as of 01/23/13 | $12.95 | $31.86 | $14.89 |
| Book Value as of 09/30/12 | $13.94 | $32.94 | $16.60 |
| Discount to Book Value | 7.1% | 3.3% | 10.3% |
Share Repurchases
A common practice for mREITs is to issue shares via secondaries when their stock prices are above book value. To combat the current discount to book value, each of these companies had announced large stock repurchase programs late last year. While some may dispute its effect on book value, I believe that these share buybacks will be accretive to book value. For example, the mere announcement that it was starting to buy back shares, caused CYS to surge 5% when it was announced. Q4 earnings should provide the information necessary to determine if these repurchase programs had an effect on book value of the companies. Below is a list of each of these announcements:
On November 15, CYS announced a $250 million share repurchase program.
On October 29, AGNC announced a $500 million share repurchase program.
On October 16, NLY announced a $1.5 billion share repurchase program.
As noted in my earlier article, the stock repurchase programs are not chump change either:
For CYS, $250 million represents 10.87% of its current market cap.
For AGNC, $500 million represents 4.59% of its current market cap.
For NLY, $1.5 billion represents 10.34% of its current market cap.
| | | | |
| --- | --- | --- | --- |
| | CYS | AGNC | NLY |
| Market Cap | $2.3 billion | $10.9 billion | $14.5 billion |
| Share Repurchase Program | $250 million | $500 million | $1.5 billion |
| Stock Repurchase as % of Market Cap | 10.87% | 4.59% | 10.34% |
Dividends
Let us not forget the main reason why investors buy into mREITs: high dividends. Each of these three companies offers a double-digit dividend yield. As noted in my previous writing, we will not know the full effect of QE3 on earnings until the companies announce Q4 earnings. Declining net interest income caused CYS and NLY to lower their Q4 dividends. AGNC was spared a dividend reduction last quarter, though this is likely due to it having undistributed gains from asset sales.
| | | | |
| --- | --- | --- | --- |
| | CYS | AGNC | NLY |
| Current Quarterly Dividend | $0.40 | $1.25 | $0.45 |
| Current Yield | 12.4% | 15.7% | 12.1% |
Widening Spread
As I noted in my recent article on Annaly, the 2-10 year spread has rebounded sharply from the lows it reached in November. After hitting a low of just 1.32% in mid-November, the spread has increased 22%, to its current level of 1.6%. This is a bullish trend for mREITs, as this spread income is the main source of their profits.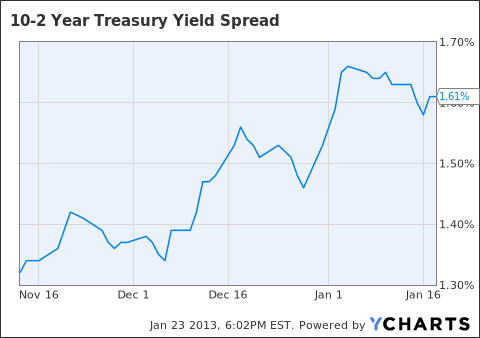 10-2 Year Treasury Yield Spread data by YCharts
Conclusion
I am currently considering locking in some profits in CYS from this increase in share price. Locking in nearly a year's worth of dividends seems very appealing. However, I question where else can one invest and find this sort of income at such a discount? Of the group, AGNC is no longer trading at much of a discount. Though it is considered the best run and managed of its peers, and probably deserves a premium. The effects of the stock repurchases programs instituted by each company should be revealed by Q4 earnings. I had previously thought that CYS is the cheapest of the group, while AGNC may be at the most risk of further declines, especially if it were to reduce its dividend. I still believe the later is true for AGNC, but with the run-up in its share price, CYS is no longer the cheapest. The most undervalued mREIT is now NLY. Please note that the full effects of quantitative easing are still not known, and that the net interest spread is still historically low. Dividend reductions for the mREITs may be needed in the future if net interest spread does improve from Q3 levels.
Disclosure: I am long CYS. I wrote this article myself, and it expresses my own opinions. I am not receiving compensation for it (other than from Seeking Alpha). I have no business relationship with any company whose stock is mentioned in this article.