InvenSense (NYSE:INVN) has remained an appealing technology firm with huge upside potential since its IPO back in 2011. Unfortunately, the company has had to continuously throttle back expectations including the guidance for Q3 2013 provided 90 days ago.
As pointed out in previous articles, the maker of motion sensing technology had tons of potential held back by the inability to correctly forecast the growth potential.
The company reported strong results Wednesday night. The stock soared 11% on Thursday after the guidance impressed investors downbeat on the stock for most of last year. The stock might finally be turning the corner with the new CEO.
Q3 2013 Highlights
The company reported the following highlights for Q3:
Net revenue for the third fiscal quarter of 2013 was $58.9 million, up from $41.2 million for the third fiscal quarter of 2012. Net revenue for the first nine months of fiscal 2013 was $153.4 million, up from $119.9 million for the first nine months of fiscal 2012.
Net income for the third fiscal quarter of 2013 was $16.8 million, up from $10.6 million for the third fiscal quarter of 2012. Net income for the first nine months of fiscal 2013 was $38.1 million, up from $31.1 million for the first nine months of fiscal 2012.
Diluted earnings per share for the third fiscal quarter of 2013 was $0.19. Diluted earnings per share for the first nine months of fiscal 2013 was $0.44. Diluted earnings per share for the third fiscal quarter of 2012 was $0.10. Diluted earnings per share for the first nine months of fiscal 2012 was $0.34.
InvenSense ended the third fiscal quarter of 2013 with $192.6 million in cash, cash equivalents and investments, compared to $157.8 million at the end of fiscal 2012.
The company reported a smashing 40% increase in revenue for Q3 along with earnings that grew 90% over last year. A good reminder of why investors should focus on the absolute numbers instead of the obsession with analyst estimates.
Q4 Guidance
The company guided to $52M to $54M for Q4 2013. While the guidance for revenue is down due to seasonal factors, the $53M midpoint equates to roughly 60% growth over last year. Net income is expected to more than double as earnings per share will hit $0.15.
While not providing any specifics, the company continues to postulate that every large smartphone maker will eventually use its chips. Clearly management is attempting to hint that Apple (NASDAQ:AAPL) is a future customer, but it remains unclear whether that is baked into future analyst estimates of 30% revenue growth.
Exciting Technology
The company has some exciting technology including the MotionTracking solution as highlighted by the CEO in the earnings call:
Our MotionTracking solution is ideally suited to address the complex architectural requirements of new mobile trends such as custom gestures, enhanced navigation, contextual awareness and optical image stabilization. This solution integrates a very efficient motion processor with advanced algorithms and calibration to enable complex motion detection, saving tremendous system level power and cost. When combined with our motion app software, we're able to hide the complexity of combining MotionTracking with other sensors and offer a seamless sensory experience to our customers.
In addition, the CEO discussed with Fox Business future barometric chips that will be capable of sensing minor changes in altitude thus providing for better indoor GPS technology.
Investors won't find technology stocks with more futuristic possibilities.
STMicroelectronics (NYSE:STM) is the world's top manufacturer in the MEMS (Micro-Electro-Mechanical Systems) sector. The company recently announced a miniature smart sensor that combines a 3-axis accelerometer with an embedded microcontroller for advanced custom motion-recognition capabilities.
As the chip provider for Apple products and a revenue base over $8B, STM is a force that InvenSense will have to contend with as growth continues to ramp.
Stock Performance
The stock performance over the roughly 14 months as a public company has been a roller coaster. The stock that started off as a mediocre IPO, quickly soared from below $9 to over $22. Any investors that held on quickly saw all those gains vanish as the stock plunged back to $9 on several occasions in 2012.
The stock is attempting another break out on the back of the strong holiday season.
14-Month Chart - InvenSense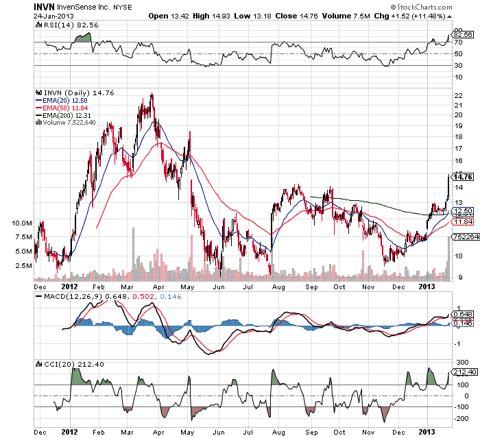 Valuation
The stock is currently one of the cheapest technology companies around. With revenue forecast to grow nearly 30% in fiscal year 2014, the company trades at an extremely low sub-20x multiple based on updated earnings estimates to the $0.80 range. With earnings growing in the 50% range, the stock has incredible potential for multiple expansion. Comparative tech growth stocks typically trade above the 5-year growth rate. The previous forecast at 25% could end up at the low end.
Conclusion
Not only is the company an exciting technology stock trading at a low multiple, but it also has the potential to land the iPhone/iPad business from Apple. The company already obtains up to 30% of its business from Samsung (OTC:SSNLF), suggesting an extremely meaningful bump to revenue with such a deal.
STM won't let Apple go without a fight, so investors will need to keep a keen eye on margins. A major slippage might suggest the large smartphone players are squeezing pricing leaving both InvenSense and STM out in the cold. Unless that happens, this stock might provide investors with huge rewards as the market catches on to the growth potential.
Disclosure: I am long INVN. I wrote this article myself, and it expresses my own opinions. I am not receiving compensation for it (other than from Seeking Alpha). I have no business relationship with any company whose stock is mentioned in this article.
Additional disclosure: Please consult your financial advisor before making any investment decisions.