Wall Street currently values Zynga (NASDAQ:ZNGA) at $1.94 billion. For those of you who are new to this process you simply take the closing price times the number of shares outstanding ($2.47 x 783 million shares = $1.94 billion).
Of the many questions asked about Zynga, one of the more common questions I hear is, "Is Zynga priced right?" Some people will tell you yes while others will tell you no, hence it is at these levels. Personally, I feel that Zynga is currently undervalued at these levels. Why do I think this? Because of Zynga's value per user. Let me explain.
Since its IPO back in December of 2011, Zynga's shares have been going in the wrong direction. Last year, shares finished over 70% in the red and became one of the most shorted stocks in 2012. However, because of the sharp selloff which I thought was overdone, I feel that Zynga has a lot of gains ahead of itself.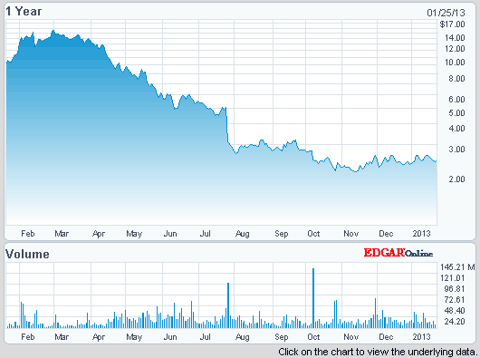 Zynga has over 311 million active users that use its gaming platform on web and mobile. Although that is nothing compared to Facebook's (NASDAQ:FB) one billion total users, it is still way ahead of LinkedIn (LNKD) which has just 187 million total users.
So how much are Zynga's users worth? Lets take a look.
Zynga's User Worth:
| | |
| --- | --- |
| December 16, 2011 (ZNGA IPO) | January 24, 2013 |
| 227 Million Active Users | 311 Million Active Users |
| Zynga IPO At: $10.00 | Zynga Closed At: $2.47 |
| Zynga Mkt Cap: $7.83 Billion | Zynga Mkt Cap: $1.94 Billion |
| User Worth: $34.49 | User Worth: $6.23 |
So how did I come up with these numbers? I simply divided Zynga's market cap by the number of active monthly users it has. Some of the big differences that you will see for Zynga as compared to its IPO is the number of active users has increased while user worth has dramatically decreased.
Let's take a look at some other social media companies and see how Zynga stacks up.
| | | |
| --- | --- | --- |
| Facebook | LinkedIn | Zynga |
| 1 Billion Users | 187 Million Users | 311 Million Users |
| Closed At: $31.08 | Closed At: $121.22 | Closed At: $2.47 |
| Mkt Cap: $67.33 Billion | Mkt Cap: $12.82 Billion | Mkt Cap: $1.94 Billion |
| User Worth: $67.33 | User Worth: $68.55 | User Worth: $6.23 |
Looking at the table you can see that Zynga's users are valued at less than 11x then that of FB and LNKD. Why is this so?
First off, we must remember that Zynga cut its full year 2012 outlook while Facebook and LinkedIn did not. After cutting its outlook, shares of Zynga haven't quite recovered. So it makes sense that Zynga's users are valued lower than FB and LNKD. However, being valued at 11x less than FB and LNKD is a little extreme in my opinion. With a user base of over 311 million active users, I believe Wall Street is overlooking a big part of Zynga's business which is the world's leading provider of social game services.
Zynga The Cash King
According to Zynga's Third Quarter 2012 Financial Results, as of September 30, 2012, Zynga has cash, cash equivalents and marketable securities worth approximately $1.6 billion. With $1.6 billion in cash and cash equivalents divided by 783 million shares outstanding, this gives Zynga's cash per share value around $2.05. With Thursday's closing price of $2.47 Zynga is trading barley over cash value.
This means that nearly 85% of Zynga's stock value can be explained by the company's cash on hand. Meanwhile its games, users, trademarks, contracts and intellectual property are currently being valued at about 15% of the stock price. So lets get this straight. Zynga is currently being valued at 15% even though it has over 311 million monthly active users and is the largest player network on web and mobile? Yes, and this is why I feel that Zynga is undervalued and is a steal of a price at these levels. I also feel that investors are not putting enough emphasis on Zynga's large user base and the potential to monetize its growing user base.
Zynga's users are currently being valued at 6x less ($6.23) than what they were during Zynga's IPO ($34.49). Does this seem right to you? If so then you probably won't be buying anytime soon. However, if you disagree then this is probably a good opportunity to get in.
With a closing price of $2.47 on Thursday, the reward in my opinion greatly outweighs the risks. I hope this article was helpful to you. I look forward to all of your helpful comments and insight.
Disclosure: I am long ZNGA. I wrote this article myself, and it expresses my own opinions. I am not receiving compensation for it (other than from Seeking Alpha). I have no business relationship with any company whose stock is mentioned in this article.
Additional disclosure: Investors are always reminded that before making any investment, you should do your own proper diligence on any name directly or indirectly mentioned in this article. Any material in this article should be considered general information, and not relied on as a formal investment recommendation.