With a management team promising growth and social good, McEwen Mining is a play for junior gold gamblers and socially responsible investors alike.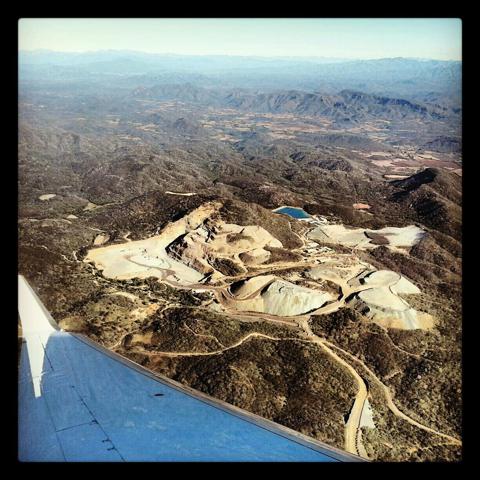 I recently had the unique privilege of touring McEwen Mining's El Gallo Complex located in Mexico's Sinaloa State to witness firsthand the economic impact this project is having on McEwen Mining and the communities surrounding it.
The State of Sinaloa
For some background on the region, Sinaloa is an interesting place to invest for those able to look beyond the media reports of widespread violence. With 55% of its population less than 29 years of age, Sinaloa is a "young" state that's taking great strides to secure its economic future and ensure each generation experiences a better quality of life.
To do this, Sinaloa's State Government is making substantial investments in its infrastructure, including port and railway expansion, inter-coastal highway development, and major energy pipelines and projects, amongst other things. The State Government is also investing heavily in forging lasting relationships with regional and international leaders in industry, miners especially.
While Sinaloa is coined the farm state of Mexico (it's accountable for 30% of the food produced in the country), it's aiming to be the gold state of Mexico. The State Government is eager to support its mining investors with financing and tax incentives, mining data, specialized security, and advisory support. This bodes especially well for McEwen Mining (NYSE:MUX) [CA:MUX], along with more than 50 other foreign companies exploring and exploiting mines in the region, including the likes of Endeavor Silver (NYSE:EXK) [CA:EDR], Marlin Gold Mining Ltd. (OTC:OMRGF) [CA:MLN] (formerly Oro Mining Ltd.), and Scorpio Mining Corp. (SMNPF.PK) [CA:SPM].
These incentives, combined with low labor costs and rich deposits of gold, silver, copper, and other minerals throughout the region are driving waves of investments into a booming mining industry. And, while maximizing profits and shareholder returns is at the forefront of every business leader's and investor's mind, it's clear that Corporate Social Responsibility [CSR] plays a crucial role in succeeding as a foreign investor in the country, and that's also top-of-mind for Rob McEwen and the management team behind McEwen Mining, making it an intriguing target for the Socially Responsible Investor seeking exposure to the junior gold sector.
Investing in People to Profit
It's not uncommon for mining companies viewed negatively by local communities and governments to fall victim to obstacles and delays, significantly higher operating costs, and even entirely derailed projects. McEwen Mining, however, has managed to earn its "social license" to operate in its target regions by staying dear to a simple mission statement: "To develop profitable mineral deposits and enhance the community where we work." It's a statement that has clearly led to strong bonds with the communities and governments surrounding the company's projects.
During the inauguration of El Gallo Phase 1 in Sinaloa, Governor Mario Lopez Valdez explicitly stated his support for McEwen Mining, expressed his sincere gratitude to Rob McEwen and the company for their efforts and contributions to the development of the surrounding communities, and asserted his support for future investment and development.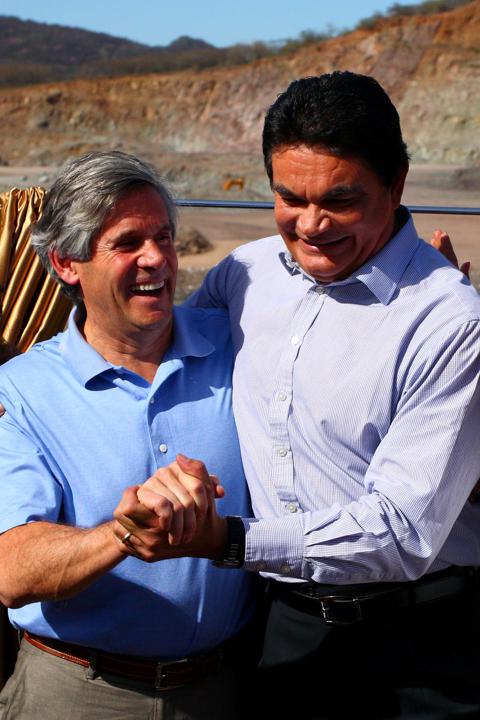 During the trip, investors and analysts were presented with details on the company's CSR efforts in the region. The El Gallo project has or will create 250 direct jobs and a further 450 indirect jobs through partnerships with regional and international contractors and businesses. Since acquiring the project in 2007, McEwen Mining has invested $3 million dollars in the surrounding communities through a variety of initiatives led largely by McEwen Mining's Head of Human Resources in Mexico. With a go-to person on the ground, the company is aiming to maximize the benefits of its CSR initiatives by aligning them with each community's specific social needs.
During the presentation, McEwen Mining pointed out that their investments in the region have gone towards building and paving roads, developing water wells, building community courts, improving healthcare services, rehabilitating schools and providing them with educational materials and supplies, including air conditioners and fans, water coolers, construction materials and sports equipment. They also sponsor traditional holiday celebrations for Child's Day, Mother's Day, Teacher's Day and Christmas.
Some 600 people turned out to celebrate the inauguration of El Gallo Phase 1; a sign that the locals appreciate the opportunities and investments that the company -- and mining -- is bringing to their communities. McEwen Mining apparently isn't viewed as a foreigner operating within Sinaloa; rather, it seems it's now a welcome member of the community.
Alas, you can't invest on good feelings or a good story alone, and while I think it is safe to say that Sinaloa State and its people won't create any obstacles for McEwen Mining and it's expansion plans, the numbers behind the company still need to make sense.
Figuring Out the Financials
Taking a look at McEwen Mining's financials, at $3.63 per common share, McEwen Mining has a market cap of approximately $772 million. With $0 debt and $68 million in the bank its enterprise value is around $704 million, yet it trades just over 17x 2013 Cash Flow Per Share estimates. Cash Flow Per Share was a preferred valuation metric amongst the analysts I was traveling with; actually, "Cash Flow" was the buzzword for every miner and stock discussed. This is where the hang-up is for many; McEwen Mining is trading at a premium valuation compared to a junior producer peer group (avg. is approximately 6x 2013 CFPS estimates).
A large portion of this premium is attributable to Rob McEwen's name being attached to the company. As I pointed out in "Getting Bullish on McEwen Mining," Rob McEwen is notably the visionary behind the founding of Goldcorp Inc. (NYSE:GG), and it's transformation from a $50 million investment company to a multi-billion dollar senior gold producer during his 13 years with the company. With many betting that he will repeat his past successes, McEwen Mining has become a speculative (i.e. volatile) play.
Still, I don't think the premium should be the be-all-end-all for considering this stock for a long position (think 2-5 years out) or an active trade candidate. Rob McEwen's track record speaks for itself, but he has also assembled a management team with substantial experience in the regions that they're targeting. He also doesn't seem to back down from investing in exploration or innovation when it's needed most and a payoff is near. Simply, I would caution for a little bit of patience with this stock if you believe in its story, because the long-term outlook promises plenty of positives.
Accelerating Growth Ahead
The most recent of those positives is the declaration of commercial production at the El Gallo Phase 1 facility and the 2012 year-end summary showing encouraging production results. Per a recent press release, "For the full-year 2012, the Company produced 105,050 gold eq. oz (48,876 gold oz and 2,921,242 silver oz) … based on a 52:1 ratio."
Keep in mind that 2012 was a transformation year in which U.S. Gold (NYSE:UXG) and Minera Andes (OTCPK:MCEEF) [CA:MAI] merged to form McEwen Mining, and El Gallo Phase 1 construction was completed and production ramped up. In 2013, El Gallo Phase 1 is expected to produce approximately 27,310 oz. gold alone, for a total of approximately 130,000 oz. gold equivalent between El Gallo Phase 1 and the 49% owned San Jose Mine in Argentina (24% production growth over 2012). El Gallo Phase 1 is currently forecast to produce approximately 30,000 oz. gold annually for eight years at $800/oz.
McEwen Mining also has an exciting portfolio of properties that should accelerate their production growth in the coming years. The Phase 2 expansion of El Gallo is scheduled to come online in mid-2014, resulting in annual average production of around 5.2 million oz. silver for at least 6.5 years at a cost of $10/oz. This should equate into approximately 180,000 oz. gold equivalent combined from all producing facilities in 2014, or about 39% production growth over 2013 estimates.
Following in 2015, Gold Bar (Nevada, USA) is slated to come into production. Gold Bar is forecast to produce 55,000 oz. gold annually at a cash cost of $700/oz. All in all, McEwen Mining should be annually producing somewhere between 290,000 and 305,000 oz. of gold equivalent by the end of 2015, around 61% production growth over 2014 estimates.
McEwen Mining - Gold Equivalent Production Estimates
| Production Year | Gold Eq. Ounces | YOY Estimated Growth |
| --- | --- | --- |
| 2012 | 105,050 (actual) | -- |
| 2013 | 130,000 (est.) | 24% |
| 2014 | 180,000 (est.) | 39% |
| 2015 | 290,000 (est.) | 61% |
Based on these estimates, you can see production growth is forecast to strongly accelerate each consecutive year. There's also a fair amount of exploration drilling taking place across their properties that continue to expand known resources and make new discoveries.
For those wondering about CapEx for building out El Gallo Phase 2 and Gold Bar, McEwen Mining is estimating $180 million for El Gallo Phase 2 and $55 million for gold bar. Management is confident that the estimates are realistic since they're based on actual costs of similarly sized builds in comparable locales. With only $68 million in the bank now, McEwen Mining is likely to need additional funds to support its working capital needs. However, McEwen Mining may be able to fund these projects with a sale of its properties in Argentina.
Assessing Argentina
There's no question that the conditions in Argentina have cast a shadow over McEwen Mining (Who knew that the political and economic conditions in Argentina would disintegrate so quickly?). That doesn't mean the properties in Argentina should be written off completely as some have done.
For starters, the San Jose Mine (49% owned) has been performing well. This mine is producing ~100,000 oz. gold equivalent annually for McEwen Mining at $755/oz., and it's expected to have a mine life of 13 years (producing since 2007).
McEwen Mining also 100% owns exploration property that borders the San Jose Mine and surrounds Goldcorp's [CA:G] Cerro Negro property. If McEwen Mining wants to fully exit Argentina, this could be a potential sale item.
Next, the real wildcard and thorn in McEwen Mining's side, the Los Azules Copper Project in San Juan Province, will be sold. When and for how much is yet to be seen, but this should be a relief for current shareholders and those who have been avoiding the stock because of uncertainty surrounding this property. What's more, McEwen Mining announced on January 17 that its exploration efforts at Los Azules continue to show significant potential to increase the size of the resource. The company expects to release an updated resource estimate accounting for all new drilling in mid-February, and this should help BMO Capital Markets with its sale efforts.
Providing the timing works out right and a reasonable deal emerges as McEwen Mining management anticipates, those proceeds would likely go towards funding the El Gallo Phase 2 and Gold Bar builds or a future acquisition. After parting ways with Argentina, McEwen Mining will be free to focus its exploration, development and acquisition efforts in its preferred target regions of Mexico, the United States and Canada -- a win for McEwen Mining and its shareholders.
As always, I encourage you to do your own due diligence and invest based on your own risk tolerance and financial situation. And, of course, please join in the discussion.
I'd like to give a special thanks to Sylvia Palka for her contributions to the "Investing in People to Profit" section of this article.
Disclosure: I am long MUX. I wrote this article myself, and it expresses my own opinions. I am not receiving compensation for it (other than from Seeking Alpha). I have no business relationship with any company whose stock is mentioned in this article.