I recently wrote an article covering General Electric (NYSE:GE) and particularly GE Oil & Gas, a fast growing industrial segment buried within this industrial conglomerate. I mentioned how GE was successfully shrinking its subsidiary, GE Capital, to deploy more cash for the dividend and to inject into GE Industrial, a higher margin business.
A commenter and reader of this piece seemed to doubt GE was effectively and meaningfully reducing the GE Capital aspect of the business, and his comment sparked my interest in this topic:

The recent buyout of a MetLife Inc. (NYSE:MET) online banking operation by GE Capital, which had $7 billion in deposits, was a primary concern for this reader. However, this online-based retail portfolio, composed mainly of consumer deposits, which includes products like CDs, for example, is very low risk. Despite this buyout, CEO Jeff Immelt still intends to reduce GE Capital on a net basis gradually and wisely.
During the recent Q4 2012 conference call, Mr. Immelt said:
We said we want to get cash out of GE Capital and we received $6.4 billion dividend to the parent. We said we would make GE Capital smaller and our ENI ended the year at $419 billion down 6%, even while we grew income by 12%.
In addition, Keith Sherin, GE Vice Chairman and CFO, said:
We ended the year with $419 billion of ending net investment, that's down $26 billion from 2011 driven by the shrinkage of non-core platforms and over $20 billion lower than our $440 billion goal that we set back in 2009.
It seems Mr. Sherin and Mr. Immelt were fairly clear during the conference call, and GE Capital was in fact reduced in size while profit was simultaneously increased within the segment. Despite their sincerity, as a shareholder, I did some digging. As per slide 3 of the 4Q investor presentation, we can see the 8% total reduction of assets.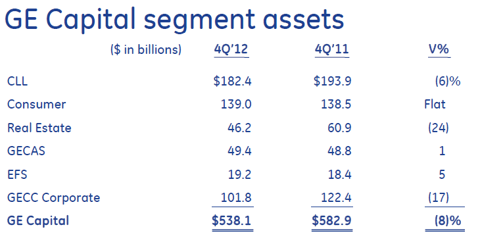 Despite this 8% reduction over the course of 2012, GE Capital still grew profits by 12% year over year as Mr. Immelt mentioned, and 9% quarter over quarter -- impressive statistics, in my opinion: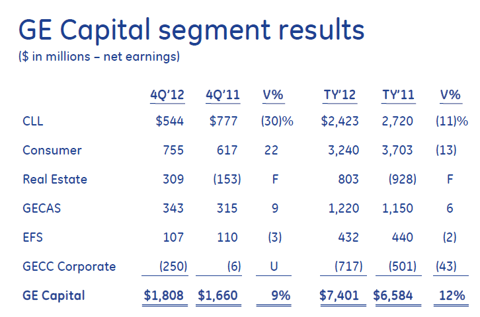 Most notable to me was the 24% reduction in Real Estate assets over the year. Trimming the fat off of this division, which performed miserably in 2011, was probably the most responsible reduction that could have been done by management, in my opinion.
In addition to pawning off real estate, GE Capital cleaned up the balance sheet by reducing the leverage ratio from 4.2 in 2011 to 3.7 currently. These actions should hopefully reduce risk for investors, as additional loans continue to be cut going forward.
Sometimes You Can't Please Everyone:
Management's consistent move to grow GE Industrial while reducing GE Capital, and therefore risk, may still not be enough to please investors. Back in April, Moody's downgraded GE. Despite this dated action, I still chose to mention it because Moody's lead analyst for GE and Senior Vice President Russell Solomon's opinion still rings true today in the minds of investors:
"We believe that GE's industrial operations continue to have many Aaa-like credit characteristics... The downgrade reflects Moody's view of the heightened risk profile inherent to finance companies like GECC, which has strategic importance to GE, rather than any deemed incremental risk related to GE's industrial business lines... GECC will continue to be a source of somewhat higher long-term risk."
Clearly, Mr. Solomon is not alone in his opinion of GE, as investors and GE management seem to agree with his concerns.
Judging from Mr. Immelt and Mr. Sherin's focus of winding down GE Capital while expanding and growing GE Industrial, I feel they are doing what's best for shareholders. GE does have a clear, long-term plan, which originated following the financial crisis. Most importantly, Immelt and Sherin have delivered thus far, and have been reducing GE Capital's portfolio, albeit slower than desired by the investment community.
As long as GE Capital continues to be reduced and GE Industrial continues to grow profits and is secured by a record backlog of projects, GE is looking like a great investment going forward.
Disclosure: I am long GE. I wrote this article myself, and it expresses my own opinions. I am not receiving compensation for it (other than from Seeking Alpha). I have no business relationship with any company whose stock is mentioned in this article.