Yesterday, I wrote an article explaining that the incremental restaurants being added to the OpenTable (OPEN) network were in lower-price tiers. Thus, the marginal restaurants being added to the network did not produce as good of economics for OPEN, and that is a threat to the model, especially at its sky-high valuation.
Today, I will show just how inferior the lower-tier restaurants are for OPEN's business. OPEN classifies its restaurants in three buckets: $$, $$$, and $$$$. These price buckets roughly equate to Under $30, $31-$50 and $50+ for a meal per person. Currently, in OPEN's top 15 markets, OPEN's business breaks down as follows: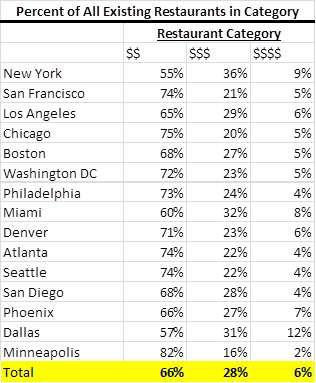 We also noted yesterday that OPEN's new adds were very skewed to the lowest price tier.
So, what effect will that have on the business? Doing more research and looking back at data of OPEN's new restaurants at certain dates on which we have data, we can analyze the monthly churn of OPEN's platform categories. In other words, we have dates with the corresponding new restaurants OPEN signed up for the Top 5 markets (New York, San Francisco, Los Angeles, Chicago, and Boston). Using this info, and seeing what restaurants are still on the network today, we can calculate a monthly churn percent. For example, if OPEN had four new restaurants exactly one year ago, and three are still around, it lost 25% of its restaurants in one year's time and has about 2.1% monthly churn (25% / 12 months). We again look at the Top 5 markets, which is what we have data for. We use monthly cohorts in this study, (ie, for the Top 5 markets' collective data in May 2011, what is the monthly churn for that class of restaurants from May 2011). For clarity, I combined OPEN's upper price tiers ($$$ and $$$$) because in some cases for individual cities, n=0 for $$$$ restaurants. In no cases did n=0 for combined $$$ & $$$$.) The average number of $$ restaurants per monthly cohort data point is 150, and 45 for $$$-$$$$ restaurants (ie, on average we track the results from 150 new $$ restaurants and 45 new $$$-$$$$ restaurants for each cohort). Also, we only have data ending May 2012, which is acceptable as it gives the restaurants enough time to develop on the OPEN platform (ie, using data from yesterday would be meaningless).
I have tabulated these data and here is the summary: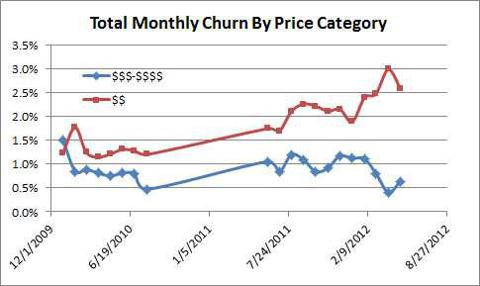 Here is what the data look like for OPEN's largest market, New York City: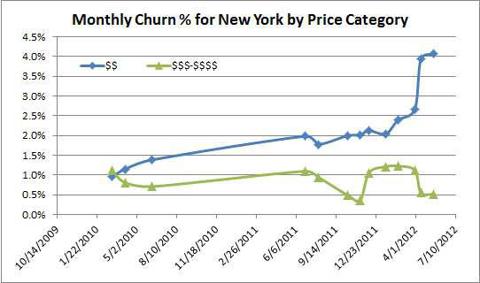 I think this data are very disturbing and the trends are clearly in the wrong direction. The churn rates for $$ restaurants -- which were 82% of net additions in OPEN's biggest markets as of yesterday -- are running 4X higher than the rates for OPEN's $$$ and $$$$ categories. Churn rates of 2.5% per month, if sustained, means that in three years' time, 90% of the $$ restaurants will be gone and have to be replaced with new restaurants. This adds costs and it adds opportunities for competitors to make inroads. A new restaurant is a much tougher sell to bring onto the platform than an existing customer re-upping their contract. Also of note, this trend really started accelerating in 2012, which is probably a large part of the reason OPEN is seeing a deceleration in its net adds. Every restaurant it brings onto the platform is more and more just going to replace another restaurant that is leaving, versus adding to the platform depth.
Also, some may say that this data is effected by "seasoning," or the effect that some customers leave quickly and thus impact the churn levels. This is not likely to be heavily skewing the data. First, ERB customers all have to sign a 1-year contract. Second, if there was a big seasoning effect, it would impact both $$ and $$$-$$$$ restaurants to some degree. That does not seem to be the case. Rather, what it is likely showing is that a disproportionate number of new restaurants coming on in the last year were of lower quality, and went out of business; were Connect customers and didn't find value in the service; or found no value for the cost in the ERB product. All of these outcomes are troubling. Moreover, the rise in the churn rate is another point indicating that OPEN is coming closer to reaching saturation than many believe!
While churn has a big impact on the business it is quite telling that management refuses to provide data and instead always says it's about 1%. For instance at a recent Credit Suisse conference, the CFO stated "We do track and we talk about churn of our restaurant base, which has been pretty consistent at about 1% per month" (Bloomberg Transcript). The data I have presented shows a different story, though the effect is likely somewhat muted when looking at the total population of restaurants. Again, the trends are not going in the right direction, and point to a change in the structure of the business.
In addition to seeing that $$ restaurants leave the OPEN platform more often, they also bring in less revenue. OPEN shows the number of reviews for restaurants going back four months. If one makes the logical assumption that the number of reviews in four months correlates to the number of reservations OPEN has placed at the restaurant (you can only review a restaurant if you made a reservation there through OPEN and were confirmed to have dined there), we can estimate the relative traffic for OPEN at restaurants. Statistics says that if we aggregate by price category, that correlation should grow even stronger. So, if we tabulate the number of reviews by category, we can probably get a good estimate of the relative revenue generation of restaurants by category.
Here are the data for the categories since June, 2011.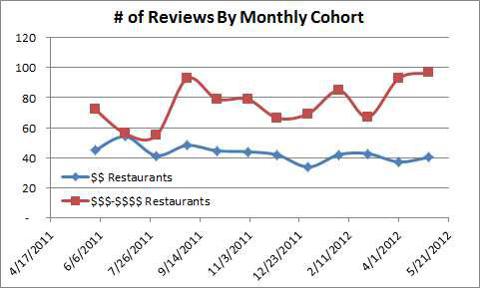 So, over this time period, the average delta is 76%. So, $$$ and $$$$ restaurants likely do about 75% more reservations for OPEN than $$ restaurants. Since we showed yesterday that 82% of current adds to the OPEN platform are $$ restaurants, one can conclude that OPEN is going to have a harder time growing seated diners per restaurant.
Of note, the data previous to this time show a similar trend, but show a 52% outperformance by $$$-$$$$ restaurants. This is likely caused by the huge survivorship bias inherent in the older data. After all, we can only track the restaurants that are still on the platform (restaurants no longer with OPEN don't get OPEN reviews). So, the $$ category restaurants still in the database are likely very high quality and garner many reviews. [For instance, to show the survivorship bias, if you look back to the 2/2010 cohort, only 35% (15 of 42) of the $$ restaurants are still with OPEN (yowsers)! But, 69% (9 of 13) of the $$$-$$$$ restaurants are still with OPEN.]
So, from this data, we can see that $$ restaurants provide much worse economics than $$$-$$$$ restaurants. Churn is currently running 4X as high, and bookings could be up to 40% less than the upper tier restaurants. This is not a positive thing considering most of the adds now on the OPEN platform are $ restaurants!
Finally, to show that churn is having an impact on the business, note that in New York City, OPEN currently shows 2984 restaurants on its platform. On 12/17/12, it showed 2981 restaurants. So, in 39 days, it has added on a net basis, exactly three restaurants in its biggest market. Meanwhile, in its second-biggest market, London, it has added exactly three restaurants on a net basis in the last 67 days! That's right, OPEN had 2352 restaurants on its network on 11/19/12, and it has 2355 today! And to think people are willing to pay 56X trailing twelve month GAAP EPS for such growth! OPEN is overvalued.
Disclosure: I am short OPEN. I wrote this article myself, and it expresses my own opinions. I am not receiving compensation for it. I have no business relationship with any company whose stock is mentioned in this article.
Additional disclosure: I have accumulated data from the OpenTable website and believe all data to be accurate. But, I make no warranties about its accuracy.