In July of 2012, we at T&T Capital Management (OTCQB:TTCM) profiled Regions Financial (NYSE:RF), which we believe to offer one of the best risk adjusted return opportunities in the regional bank sector. We bought the stock below $5, and combined that with selling long-term put options and call options, which fortunately expired worthless compounding a very nice overall profit. The bank's recent past was a perfect example of the excesses of the "housing bubble" exemplified by the $6 billion in goodwill impairments that Regions had to eventually take after a number of unsuccessful mergers. Huge losses on mortgages and construction loans, combined with a weak capital structure, threatened the bank's existence as a standalone entity. These problems masked one of the great low-cost deposit bases in the Southeast, and proactive management decisions to raise capital and divest businesses have put Regions on a course for enhanced growth and profitability moving forward. As high-cost deposits roll-off and when the gears of loan growth eventually ramp up on a broader basis, Regions stock has the potential to increase by about 33% before it gets to the point where we believe it would be in line with its intrinsic value.
2012 was a year of reformation for Regions. The company divested Morgan Keegan to raise capital, issued $900MM in preferred stock, and through these actions was able to redeem the preferred stock and warrants issued to the U.S. Treasury in the TARP program. For full year 2012, the company generated $1.1 billion of net income from continuing operations to common shareholders, which equates to $0.76 of earnings per share. Regions makes the majority of its money from net interest income, but the potential of this resource has been hidden through some expensive legacy time deposits and the low interest rate environment. Improved mortgage production, which gained steam throughout the year propelled non-interest income while cost-cutting efforts slightly improved adjusted expense ratios. Like other banks, Regions has benefitted from constantly improving credit metrics on its loan portfolio and due to the fact that the bank has been slower to recover than some of its peers, we are confident that Regions will see a larger percentage gain from reverses to loan loss reserves than its competitors moving forward.
In the 4th quarter, Regions had net interest income of $818MM, which was up $1MM sequentially. Adjusted non-interest revenue was $524MM and adjusted non-interest expense was $849MM, which were both improved from the 3rd quarter where the numbers were $521MM and $849MM, respectively. Adjusted pre-tax pre-provision income was up to $493MM from $469MM in the 3rd quarter. Net charge-offs of $180MM were down from $262MM in the 3rd quarter. Net income available to common shareholders was $261MM in the 4th quarter, down from $301MM in the 3rd quarter. Adjusted EPS for both the 3rd and 4th quarters were $0.22 per share, highlighting the earnings power of the bank even in less than ideal market conditions.
Like other regional banks, Regions has seen steady improvement in commercial and industrial loan balances, which on an average basis increased by 9% or by $2.1 billion year over year. The bank has expanded its 3rd party distribution foot on auto loans over the last few years, and this helped the company grow its indirect auto average loan balances by 6.7% sequentially. As the credit picture has improved, interest recoveries on non-accrual loans helped the total loan yield improve by 3 bps sequentially to 4.21%. Moving forward in 2013, management expects loan growth to be in the low single digits.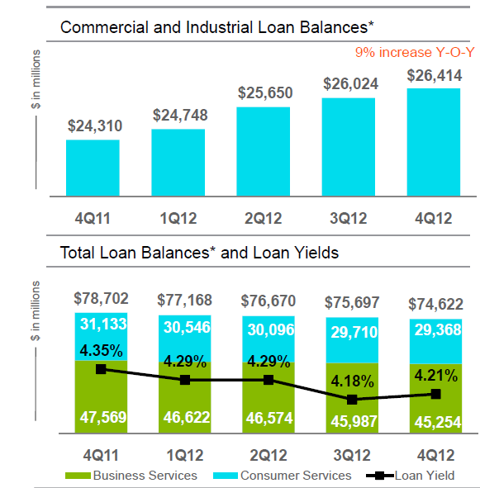 Regions Financial 4th Quarter Investor Presentation
Obscuring Regions Financial's low-cost deposit base has been an abundance of high-cost legacy time deposits, which have been and will continue to roll-off moving forward. Time deposits as a percentage of total deposits decreased to 14% in the 4th quarter of 2012 from 20% in the 4th quarter of 2011. Deposit costs declined 6 bps sequentially and are down 18% YoY. The company also recently redeemed $345MM of high-cost trust preferred securities and replaced them with $500MM of preferred stock. In the 1st half of 2013, Regions has $5.4 billion of deposits currently priced at 1.51%, and in the 2nd half $2.9 billion at 0.53%. The company will likely have the ability to re-price most of these around 20 basis points moving forward, reducing the pressure on net interest margins from lower yielding new loans and the run-off of higher-yielding existing loans. The company is also planning on retaining an increasing amount of 15 year mortgages to generate more interest income. While this reduces the gain on sale fees and hurts short-term income, it is important for Regions to find the right balance between interest income and balance sheet risk.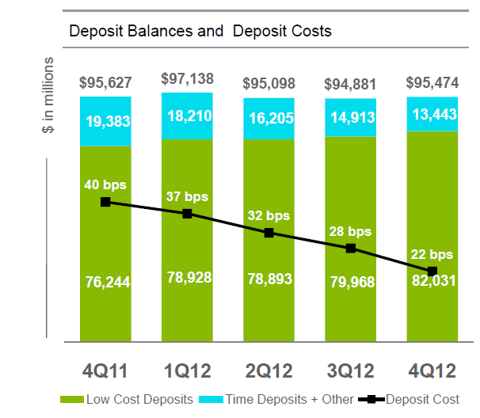 Regions Financial 4th Quarter Investor Presentation
Net interest margin actually improved by 2 bps sequentially due to lower deposit costs and interest recoveries. Regions is hopeful that net interest margins will be stable in 2013, and will offer huge upside to earnings when interest rates ultimately start to recover. I believe the company should be very conservative on the amount of mortgages it retains on the balance sheet, due to the risk of higher interest rates but at least the 15 year has a much lower duration than 30 year mortgages.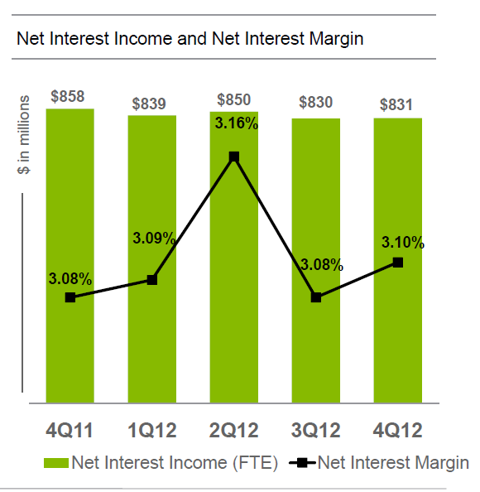 Regions Financial 4th Quarter Investor Presentation
The mortgage refinancing boom has brought life to banks across the United States and Regions is no exception with mortgage revenues up over 58% from last year. Total mortgage production for the 4th quarter was approximately $2.1 billion. HARP II has been a tremendous stimulus to all banks and Regions exceeded its goal of $1 billion of HARP II production, which actually ended up coming in at $1.6 billion for the full year. Regions estimates that less than 20% of loan eligible for HARP II refinancing have actually been refinanced so there seems to still be a long runway of growth ahead.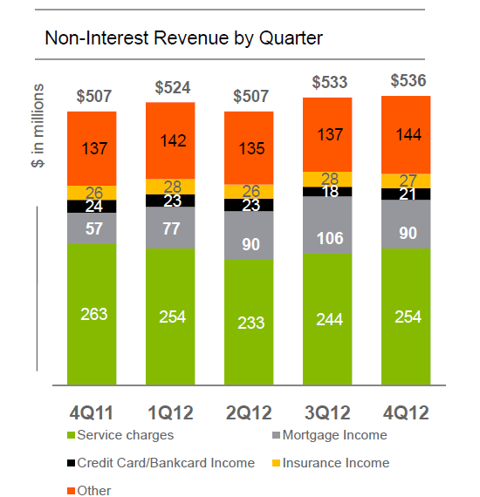 Regions Financial 4th Quarter Investor Presentation
Credit metrics continue to improve across the board for Regions. Leading indicators such as Business Services Criticized Loans and NPL Gross Migration have improved dramatically YoY, auguring well for the future.
Regions Financial 4th Quarter Investor Presentation
Regions has a loan to deposit ratio of 78%, which highlights the liquidity and the lack of overall loan demand due to a weak economy. Once loan demand picks up, which hopefully can happen in 2013, the excess deposits should be able to be loaned out providing a huge boost to earnings per share. Regions Financial estimates its Basel III Tier 1 Common ratio under the proposed rules to be 8.9%, which is amazing when you consider where Regions has come from on the capital front. At the end of the 4th quarter the Tier 1 Capital Ratio was 12% and the Tier 1 Common Ratio was 10.8%.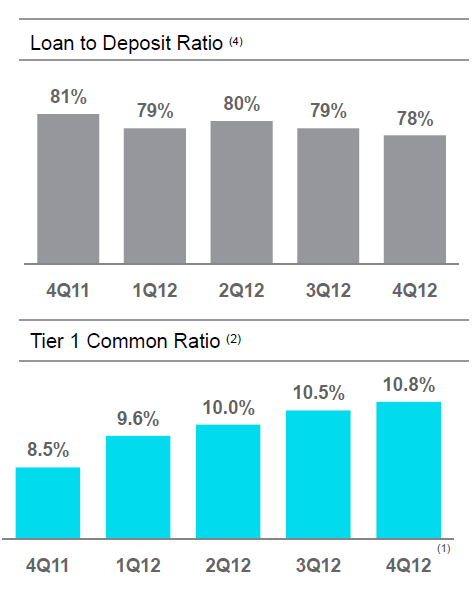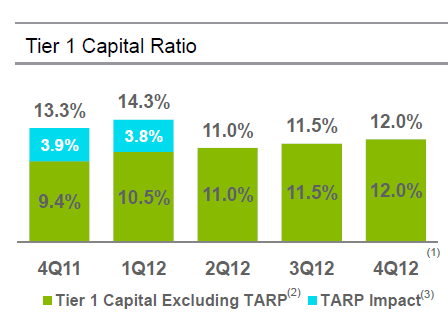 Regions Financial 4th Quarter Investor Presentation
Tangible common book value reached $7.11 per share in the 4th quarter, which was up from $7.02 in the 3rd quarter. We still believe that Regions can earn about 15% over the course of a business cycle on its tangible equity, which would put normalized earnings at $1.06. Higher interest rates, increased loan demand, and cost savings initiatives make this a very realistic goal. Assuming the stock trades at 10 times earnings would point to an intrinsic value around $10 per share. To make the trade safer and even more attractive we would recommend using the hybrid strategy.
Buy 1000 RF at $7.69.
Sell 10 January 15 $7 puts for $1.09
Sell 10 January 15 $10 calls for $0.61
3 things could happen if you were to hold the options and stock till expiration.
1) If Regions expires above $10 you will have made $2,310 on the stock, plus $1,090 from the puts and $610 from the calls. This equates to a total profit of $4,010 on a maximum risk of $12,990, or 30.9% in about 2 years.
2) If the stock were to expire below $7, you would own 2000 shares of Regions at an average price of $6.50 per share, which is about 15.4% less than the current price of Regions stock. From there you would get all of the dividends and upside or downside moving forward on 2000 shares.
3) If the stock were to expire above $7 but below $10, you would keep the $1,800 of option premium, which equates to 13.86% on the maximum risk. In addition you'd have all the upside or downside on the 1,000 shares of stock, which was acquired at $7.69.
It is important to note that Regions will likely be buying back stock and increasing its dividend over the next few years, which could add to returns considerably. Moving forward, I expect Regions to continue to be one of the best performers of the regional banks, and as the Southeast continues to grow out of the Financial Crisis, earnings and stock performance will rise alongside it.
Disclosure: I am long RF. I wrote this article myself, and it expresses my own opinions. I am not receiving compensation for it (other than from Seeking Alpha). I have no business relationship with any company whose stock is mentioned in this article.