Everyone remembers the last stages of the dotcom craze well, with every God forsaken tech name going up by multiples, no matter what its earnings or revenues were.
What not so many remember is that in the last stages of the dotcom craze, the need to get cash to inflate the bubble got so strong that regular, reasonable, cheap, stocks started suffering so that the bubbles could go on higher.
People basically came to the conclusion that earnings didn't matter, and sold those stocks that had earnings so that they could buy the ones that didn't have earnings but went higher every day. The chart below illustrates what happened over the last 3 months of the dotcom bubble. The Nasdaq 100 (NASDAQ:QQQ) continued upwards even as the S&P500 (NYSEARCA:SPY) flat-lined or fell. This is even more extraordinary, since at this time, technology constituted up to 30% of the S&P weight, so for it to fall with the technology component up strongly, the overall underperformance was massive.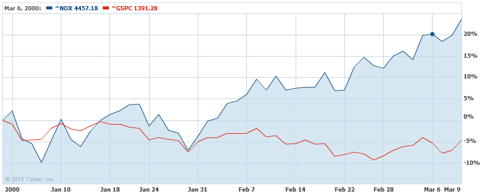 Fast Forward To Today
What does this all have to do with what we're seeing in the market today? Put simply, the same thing seems to be happening all over again. While a reasonable stock such as Apple (NASDAQ:AAPL) gets punished for merely meeting lofty earnings expectations, and guiding somewhat below also lofty estimates, other stocks continue to form their own bubbles no matter what their earnings are. For instance, below we have the earnings for Amazon.com (NASDAQ:AMZN) and Salesforce.com (NYSE:CRM), the poster boys of the new dotcom craze.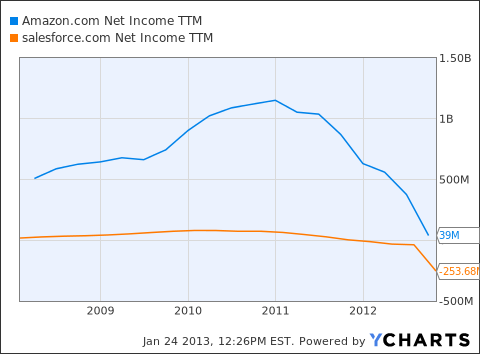 AMZN Net Income TTM data by YCharts
As we can see, both of these stocks have lost all their earnings over the course of the last 2 years, yet at the same time, the shares have kept on climbing, to the point where even with no earnings, a stock like Amazon.com actually beat Apple since the original iPhone launch or, indeed, since the product came to the market. The same goes for Salesforce.com (beats Apple's performance since the iPhone launch), despite it being another company with no earnings to speak of.
If this were hitting just one or two stocks, one could think it was just the prospects of a particular stock that were incredibly bright. However, such is not the case. There are tens, hundreds of tech stocks that are once again trading as if earnings don't matter. Other examples are easy to find: Look at Netsuite (NYSE:N), Netflix (NASDAQ:NFLX), all with falling earnings and price/earnings ratios in the hundreds. At the same time, the effect of draining liquidity from other reasonable stocks is already too visible in Apple's behavior but, at this point, not yet in the whole market.
Perhaps Not A Coincidence
It's perhaps not a coincidence that, just like during 2000, the Fed is a huge provider of liquidity here. During 2000, the Fed added liquidity through open market operations, fearing disruptions due to the Y2K bug. This time, they're pumping liquidity in through a $85 billion per month quantitative easing program. Indeed, this very action by the Fed is the reason why the overall market still seems locked in a unbeatable uptrend, and even I say that if the market dips 3-5%, it's a buy. Still, the speculative signs, along with more and more sentiment measures continue to advise caution.
American Association Of Individual Investors
The latest sign of excessive sentiment came yesterday, from AAII's survey on investor sentiment. We've now reached levels that historically demand caution, even if the AAII sentiment signs work better when generating buy signals than they do with sell signals, as is the case here. For an explanation of how the AAII survey can be used to time buys and sells, you can read my article: "Using AAII Sentiment As A Buy Signal".
Conclusion
The stock market has turned bubblicious, and there are significant signs that some form of tech bubble similar to what happened during 2000 is already forming, including the drawing of liquidity from reasonable names such as Apple, to plow it into ever more speculative names without earnings, such as Amazon.com or Salesforce.com.
This, together with the excessive sentiment measures that are cropping up everywhere -- the latest in the AAII numbers -- seems to indicate a fast-approaching dip. This dip might be buyable due to the Fed's constant spiking of the punch bowl, but for the new dotcoms, the correction might turn into a rout.
Disclosure: I am short AMZN. I wrote this article myself, and it expresses my own opinions. I am not receiving compensation for it (other than from Seeking Alpha). I have no business relationship with any company whose stock is mentioned in this article.