Serial entrepreneur and billionaire Sir Richard Branson has begun to expand the territory of the Virgin Group into the health care sector even more in both the United States and the United Kingdom. Branson, who got his start running a record business from the crypt of a church, evolved into business ventures in airlines, cellular phones, comics, and banking, among many others. Obamacare could give Branson and Virgin Healthcare the opportunity to expand its operations in the United States as the National Health Service has allowed it to in the United Kingdom.
Over the past decade, the Virgin Group has increased its portfolio of health care entities around the world. At present, these include the Virgin Health Bank in Qatar, focusing on stem cell research; Virgin HealthMiles, with an emphasis on wellness programs in the United States; and Virgin Care, which provides services for the National Health Service in the United Kingdom.
The National Health Service, a single payer system based on the Beveridge Model of care for all with the government paying for it out of taxes, has been in operation since 1948. It is very popular in the United Kingdom. Financial constrains made British Prime Minister David Cameron implement severe changes to the system. Most visible have been efforts to stimulate competition through allowing former state owned healthcare providers to become private entities. By letting employees own the former state run entities the transformation gained broad approval across party lines and faced relatively low resistance by the public.
The new competitive environment has led to many others from the private sector bidding to take over the provision of heath care services on the British Isles. In 2010, Virgin Group paid 4 million euros for 75 percent of the health care division of Assura. From across The Pond, The Blackstone Group (NYSE:BX), a private equity firm, bought Southern Cross, Britain's largest home care operator.
Neither of those ventures turned out well. Southern Cross collapsed, with a great deal of rage directed at Blackstone. Virgin Care pulled back from its polyclinic business with multiple providers operating under the same roof due to a "possible conflict of interest." But that has not stopped the private sector was moving forward to provide even more services in the United Kingdom.
In the United States, however, the private sector has begun to pull back as a result of Obamacare. For Obamacare to succeed on its goal of insuring all Americans, there must be active competition among health insurers. To coordinate the offerings of policies, there are to be Health Insurance Exchanges across the country.
These Health Insurance Exchanges, to be run either by the state, Federal Government or a hybrid, are intended to provide consumers with a wide array of health insurance plans, each competing with the other to offer the most in health care at the lowest cost.
That is what is supposed to happen.
In reality, it has been much different.
Garland Scott, Chief Executive Officer of UnitedHealth Care Carolinas, part of UnitedHealth Group, the biggest insurer in the United States, warned in a recent interview that his company would only be participating in a limited number of Health Insurance Exchanges.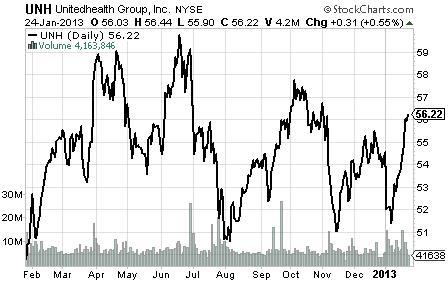 Overall, UnitedHealth Group (NYSE:UNH) only expects to participate in 10 to 25 of the 100 Health Insurance Exchanges expected. About this, Stephen Helmsley, the Chief Executive Officer of UnitedHealth Group , stated: The level of interest in exchanges is driven by how we assess each local market - how the exchange and rules are set up state by state - and our market position relative to others in a market.
It is interesting that as UnitedHealth is pulling back from the United States, it just bought 90% of AmilParticipacoes, the largest health care network in Brazil. AmilParticipacoes has 5 million consumers in its network of more than 20 hospitals.
As a result of this, there could be an expansion of health care providers such as Branson replacing the traditional firms. After all, Costco (NASDAQ:COST), the warehouse retail store, now sells health insurance policies from Aetna (NYSE:AET) to its shoppers.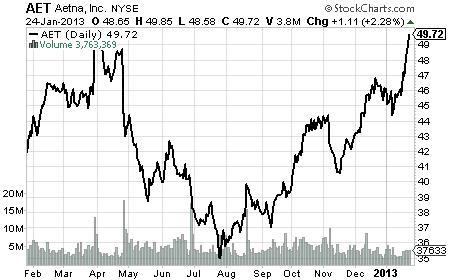 Branson has carved out the most attractive opportunities in the British health care sector. Unlike UnitedHealth Group, he can pick and choose the best business lines. While shunning locales, UnitedHealth Group still has to sell a critical mass of health insurance or it will collapse. As Branson has proved in numerous commercial ventures in health care and other sectors in the United Kingdom and abroad, he is very adept at challenging ossified entities. This should lead to even more health care revenues for the Virgin Group in both the United Kingdom and the United States.
Investors should look for companies that have been active in pursuing business with the National Health Service to look for opportunities in the United States as a result of Obamacare. Firms such as Virgin Group will leverage their experience in the United Kingdom to operate in an environment with increasing state control, as is happening in the United States. Foreign health care networks, particularly in emerging market nations, will be appealing to American firms such as UnitedHealth Group seeking to expand abroad. It is likely that more insurance companies from the United States will continue acquiring foreign entities as growth in the United States looks tepid.
Disclosure: I have no positions in any stocks mentioned, and no plans to initiate any positions within the next 72 hours. I wrote this article myself, and it expresses my own opinions. I am not receiving compensation for it (other than from Seeking Alpha). I have no business relationship with any company whose stock is mentioned in this article.