Ever since Lehman Brothers declared bankruptcy in 2008, people have become increasingly wary of big banks. Some have acted on this fear by taking to the streets and protesting, hence the Occupy Wall Street movement. The small banks have already shown that they know how to use the public's anxiety to their benefit with bumper stickers that say things like "Don't blame me, I bank locally" and ads that poke fun at Bank of America (NYSE:BAC) for their exorbitant fees and lack of personalized customer service.
An example that comes to mind is United Financial Bancorp (NASDAQ:UBNK), who, in 2009, marketed their employees as "personal bankers" to help customers feel more comfortable about banking with them. As the general public grows more and more anxious, they vote into office representatives who share their opinion and can act on it. We have already seen Bank of America and several other large banks settle huge lawsuits with the government this year, and as the 113th Congress has now begun its session, we may see greater regulations placed upon banks, specifically the biggest banks. Even with all this coming into play however, the big banks are still getting bigger. As Bank of America has just released its earnings on January 17th, it is time to take a closer look at the country's second largest bank and determine its place in our portfolios.
The first thing that most investors look at to value the stock is the price-earnings ratio. Bank of America's stock price closed at $11.78 Wednesday, January 16th, up more than 78% from $6.61 on the same date last year, certainly an excellent return. Before market open on January 17th, they reported earnings per share of $0.03 for the quarter, causing their stock price to fall 4.24% to $11.28 by the time the market had closed for the day. Earnings per share for 2012 as a whole totaled $0.25, meaning that, as of close on the seventeenth, the stock was trading with a price-earnings of 45.12.
Compared to its EPS for 2011 of $0.01 with a price of $6.96, technically giving it a P/E of 696, it looks pretty cheap this year. But compared with the other banks rounding out the top five it does not look very cheap. JPMorgan Chase (NYSE:JPM) has a P/E of 8.75, Citigroup (NYSE:C) 16.97, Wells Fargo (NYSE:WFC) 10.43, and U.S. Bancorp (NYSE:USB) 11.54. Even if Bank of America had not had those one time fees for legal issues totaling $5.2 billion, their EPS would have totaled $0.55 giving them a somewhat more reasonable P/E of 20.5.
Fortunately for Bank of America, most investors know that catchy little line that is written at the bottom of most prospectuses: "Past performance does not guarantee future results." The 2013 EPS estimate from First Call is $0.97. Dividing the after-earnings close price of $11.28 by the 2013 estimated EPS of $0.97 gives us a forward price-earnings of 11.62, on par with the other big banks.
Another helpful thing to look at is the chart pattern that Bank of America has been forming over the past month or so. As indicated by the first chart below, since early September, the stock's 15-day simple moving average has been above its 50-day which has in turn been above its 100-day moving average. It has been trading above its 100-day moving average since August, and only dipped below its 50-day moving average once. It reached its 52-week high of $12.11 on January 4th, but since then, has dropped below its 15-day moving average and is approaching its 50-day moving average. This indicates short-term bearishness; according to this measure, it should find support before it drops below its 100-day moving average.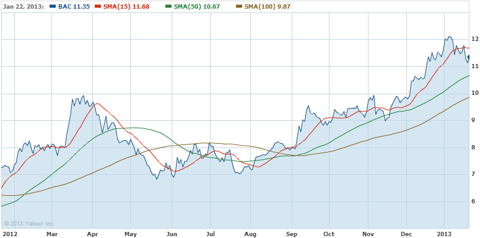 The next chart shows a pattern that may not be as well-known to investors as the moving average. It is called the head and shoulders top. It consists of a first small peak (left shoulder), a higher peak (head), and another small peak (right shoulder). A neckline is drawn to connect the two troughs between the shoulders and the head. The line is then extended out through the right shoulder, and when the stock price crosses below this line, the head and shoulders pattern is complete. The head and shoulders top is considered to signify the reversal of an uptrend. Bank of America's most recent uptrend, as indicated by the green line on the chart below, began on November 15th and continued until it was broken by a lower low on January 9th. During this two month uptrend the stock price gained twenty seven percent. The head and shoulders top began forming on December 28th with the completion of the first shoulder at a price of $11.36. The peak of the head was reached on January 4th with a closing price of $12.11 while the second trough at $11.43 was reached on unusually high volume of 336 million shares. The neckline, indicated in red, is drawn between the troughs at $11.36 and $11.43 with a slightly upward slope, implying that the drop in price after the neckline is broken will not be incredibly dramatic. On the fourteenth, the stock price dropped almost to the neckline, but it did not have the volume to break it and rose again slightly to form a second right shoulder on the sixteenth. After earnings were announced on the seventeenth, the stock gained the volume to drop below the neckline and ended the day with a price of $11.28. Sometimes when a head and shoulders top forms, the price may jump up to the neckline which then acts as resistance to stop the price from going too much higher. This may be the case over the next few days as we saw today that it closed just below the neckline which currently rests at about $11.60. Over the next couple of weeks, we may see the price drop to the support line which should be somewhere around $10.80.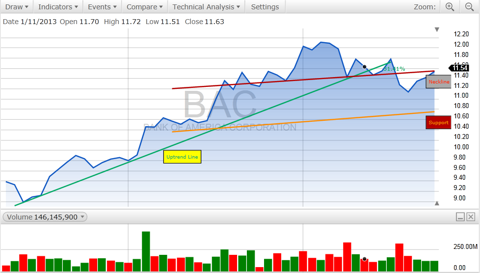 Considering Bank of America's excellent price performance over the last year, a drop from $12.11 to $10.80 is not very significant for those who are long in this stock. For those who like to profit from every price fluctuation that occurs, it may do you good to sell now and purchase again shortly when the price hits the support line at $10.80.
Ultimately though, Bank of America's balance sheets seem pretty sound according to their quarterly report and investor presentation. They have been working on paying off long term debt and their debt to equity ratio has been decreasing steadily. They now have $282 billion in long term debt, a three percent decrease from the third quarter and a fifteen percent decrease from the second quarter 2012. This means that each dollar of revenue is costing them less in interest expense, obviously meaning that they can become more profitable. According to Fidelity, their total debt to equity for the last quarter is down to 275% compared with 285% for the last year as a whole, while their total debt to assets is down to 27% for the fourth quarter compared to 28% for the year. Already the return on their assets, according to Yahoo Finance, is up to 0.19% as opposed -0.70% at the peak of the financial crisis.
The end result of this analysis shows us a company that is no longer on the brink of bankruptcy as it appeared to be a few years ago. Instead, we see a company that seems to be strengthening quickly to once again become one of the best stocks in the industry. There will be some bumps along the way, as asserted by the second chart above, but over the next few years we will see Bank of America reassert itself to its former glory. Whether the general public likes it or not, the top banks in the country are still getting bigger, and judging from Bank of America's quarterly report, it does not look to be slowing down anytime soon. As investors, we can't help but jump on the trend and take it for a ride.
Disclosure: I have no positions in any stocks mentioned, and no plans to initiate any positions within the next 72 hours. I wrote this article myself, and it expresses my own opinions. I am not receiving compensation for it (other than from Seeking Alpha). I have no business relationship with any company whose stock is mentioned in this article.