VIX - Market Sentiment:
Friday S&P futures were soaring higher as Asia and European markets continued to march higher throughout the night. This move was also helped, as two names I am long Proctor and Gamble (NYSE:PG) and Starbucks (NASDAQ:SBUX), both were seeing solid gains early after reporting numbers that pleased the Street. after a very strong market performances out of Asia and Europe. Some comments were concerning to me, however, after a report states the Federal Reserve's balance sheet has now topped $3 trillion, and shows no signs of softening anytime soon. Treasuries continue to be sold, as shown in the Treasury ETF (NYSEARCA:TLT) after news of banks' plan to repay more of the ECB's three-year loans than originally forecast. The NYMO continued to come in, following the move from Wednesday with a reading of just +32.84 a 4.19 point decrease after yesterday's trading. The market continues to price in little to no fear as investors continue to pile into equities looking for gains.
Friday, the spot CBOE Volatility Index (VIX) and futures ticked higher, heading back towards 13.00 before leveling out just under this mark. Anyone who owns volatility ETF (NYSEARCA:VXX), 2x ETF (NASDAQ:TVIX), and alternative 2x ETF (NYSEARCA:UVXY) know it has been a very painful trade over the last couple of weeks as volatility futures continue to collapse. I reported in yesterday's sonar (here) a large 2.2M contract buy in the February VIX futures, sending futures higher until sellers again stepped in, countering this move. Also in yesterday's sonar, I mentioned some large hedges, which were made in the Retail ETF (NYSEARCA:XRT) and Russell ETF (NYSEARCA:IWM) positioning for a large downside move were under heavy pressure early, but then reversed course, trading higher heading towards the close. The VIX pits were rather quiet through the first part of today's trading, but the theme was very clear. Traders were rolling VIX protection from February to March to give them protection further out in time. Large long positions appeared to be closed and new positions in the March 15 and 14 strike calls were running. One trade that stood out to me was a seller of the March 14 strike puts 5.7K times combined with an apparent call purchase of the same number just 3 minutes earlier. This "Risk Reversal" on the March 14 strike line cost the trader more than 600K in premium, betting the VIX will be above 15.20 on March expiration.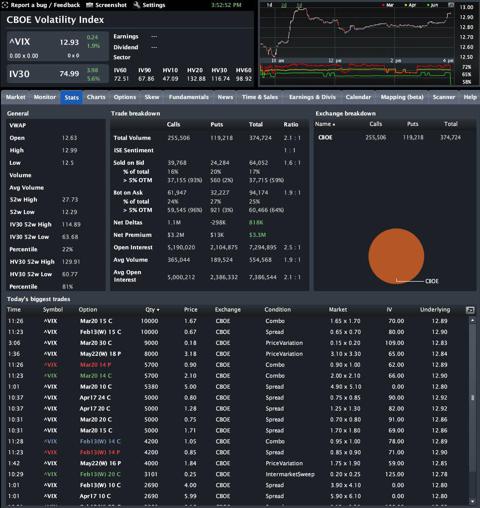 Statistics and Screenshot Provided By LiveVol
VIX futures are below.
Yesterday
· February VIX futures 14.18
· March VIX futures 15.23
· April VIX futures 16.30
Today
· February VIX futures 14.05
· March VIX futures 15.03
· April VIX futures 16.00
Options Paper:
The market continued the quest to get above and close above 1500 as option paper began to taper off. More than 17M contracts traded today, but much of that was dividend steals in the form of Ford (NYSE:F), which saw more than 1M calls, and I'm sure almost none of these calls are new positions. S&P ETF (NYSEARCA:SPY) saw again heavy call buying, just like last week, when more than 300K of the 150 strike weekly calls were purchased. Apple (NASDAQ:AAPL) continued the earnings fallout and options continued to be bearish overall. Facebook (NASDAQ:FB) continued to see call buying strength as bulls position for the upcoming earnings release. Netflix (NASDAQ:NFLX) has just went parabolic, now 68% higher than it was just 2 short days ago. After spending some time diving deeper into the options activity, one trader in NFLX made a ton of money this week, buying the Weekly 125 strike calls. The trader or traders were able to accumulate almost 1,000 of the January 125 weekly strike calls, driving premiums from .12 to finish just 2 minutes before the close at .33. The average of the buys was .25, so between all the trades, it was a very small 2.5K bet NFLX would move above 125. Well, this move turned out to be crazy profitable, as those calls can be sold today for an amazing 43.00+ each or 430K if sold right now. This didn't cross my radar because the dollar amount was too small, but again, this is exactly the reason investors need to keep options in mind when putting on positions.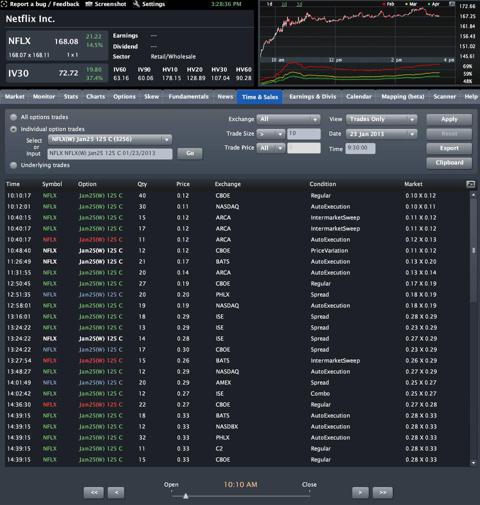 Statistics and Screenshot Provided By LiveVol
A healthcare and medical name that has been showing up on the OTM call section in recent weeks today saw bulls really step up in force. Today, Hologic (NASDAQ:HOLX) saw a large June 24 strike call buyer step in, buying the options more than 5K times driving premiums and volatility higher. To begin the day, these calls were bought across the board between 1.25 and 1.30, driving the ask to now sit near the 1.40 level. This name has seen more than 6K options trade today in comparison to the typical 637 contracts, which is almost 10x average daily volume. Calls today outnumbered puts 22 to 1, and the activity is clearly buying pressure, so this is a name you should keep on your radar. HOLX has earnings after market close on February 4th, so this could be positioning for a run-up into earnings.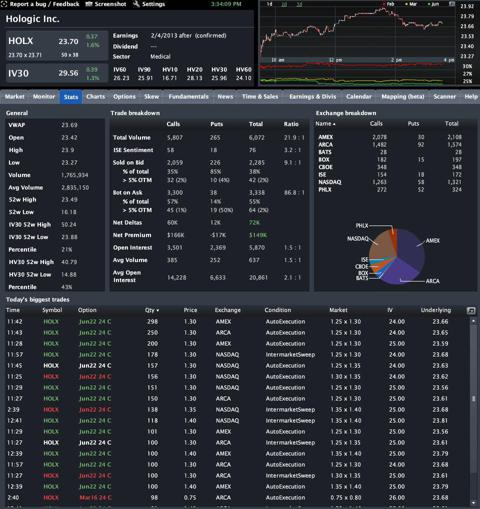 Statistics and Screenshot Provided By LiveVol
Popular ETFs and equity names with bullish/bearish paper:
Bullish Option Flows - ISE & % OTM calls bought on offer
Delphi Automotive (NYSE:DLPH) 81% or almost 5K OTM calls bought
MetroPCS (PCS) 81% or 10.8K OTM calls bought on offer
Pilgrims Pride (NYSE:PPC) 80%
Clearwire (CLWR) 74%
Monster Beverage (NASDAQ:MNST) 74%
Sequenom (NASDAQ:SQNM) 71% of the 5K OTM calls bought on offer.
Bearish Option Flows - ISE & % OTM puts bought on offer
Cemex (NYSE:CX) 98% - Big 10K buyer of the January 10 strike puts
Fusion-io (NYSE:FIO) 9K block puts bought appears to be tied to stock
MannKind (NASDAQ:MNKD) 84%
Blucora (NASDAQ:BCOR) 70%
Disclosure: I am long AGNC, BA, CBB, CONE, INTC, KERX, KOS, MDR, MTGE, NRG, PG, PSX, QCOM, TUMI, VHC, VOD, and I am short CRM, DDD, EDU, SPY, VECO.
Trades today: Closed AAPL long, closed SBUX long.
I wrote this article myself, and it expresses my own opinions. I am not receiving compensation for it (other than from Seeking Alpha). I have no business relationship with any company whose stock is mentioned in this article.
Disclaimer: The opinions in this document are for informational and educational purposes only and should not be construed as a recommendation to buy or sell the stocks mentioned or to solicit transactions or clients. Past performance of the companies discussed may not continue and the companies may not achieve the earnings growth as predicted. The information in this document is believed to be accurate, but under no circumstances should a person act upon the information contained within. I do not recommend that anyone act upon any investment information without first consulting an investment professional as to the suitability of such investments for his or her specific situation.