Perhaps not as big as the Eagle Ford or Bakken. And certainly less tested with horizontal drilling than many other established shales. But even at its current early stage of evaluation, this new "hot" horizontal oil play already is real enough and has the promise of becoming impactful enough to warrant a closer look by investors.
The following is an excerpt from the October 31, 2012 press release by Crimson Exploration (NASDAQ:CXPO), a small E&P independent involved in the play:
In Grimes County, TX, the Covington-Upchurch #1H well (67.8% WI), targeting the Woodbine formation, has been drilled to a total measured depth of 15,228 feet, including a 5,190 foot lateral. In preparation for completion operations, Crimson perforated only the toe stage of the lateral section which, during a 24-hr period, produced naturally (i.e. without fracture stimulation) at a rate of approximately 6.9 MMcfe/d, or 179 barrels of condensate, 205 barrels of natural gas liquids and 4.6 MMcf of natural gas. The well has yet to be fracture stimulated and the above rate represents production from only one of the fifteen (14 + toe) planned perforation stages. The production rate for the well is anticipated to improve upon conducting fracture stimulation operations along the entire lateral; however, it is not possible to estimate at this time what total production rate will be achieved from the full lateral section.
It is hard to disagree with the press release that the initial unstimulated flow indicates a potentially very productive and highly economic well, particularly in the context of relatively low well costs in the area (several operators have suggested that drill & complete cost per well in the $6-$7 million range -- similar to the Eagle Ford -- is achievable, even for the longer laterals).
The condensate-rich Covington-Upchurch is Crimson Exploration's seventh horizontal test targeting the Woodbine formation. On July 21, 2012, the company placed online its Payne #1H well in Madison County, less than 20 miles north from the Covington-Upchurch (and further into the oil window). The Payne tested at a gross initial production rate of 1,332 Boe/d, including 1,128 barrels of oil, 112 barrels of NGLs and 554 Mcf of natural gas, on a 40/64th choke and 328 psi of tubing pressure. The well was drilled to a total measured depth of 16,130 feet, including a 7,460 foot lateral, and was completed using 26 stages of fracture stimulation. The well averaged in its first 100 days approximately 1,014 Boe/d and has cumulatively produced approximately 101,430 Boe. Including the Payne well, Crimson Exploration has successfully completed three operated and one non-operated Woodbine wells in its Force Area with an average IP rate over 1,300 Boe/d, and an initial oil rate of over 1,140 bo/d.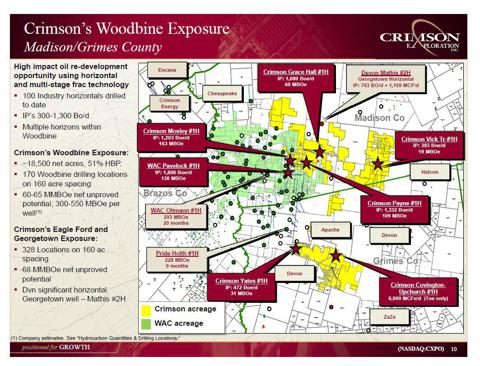 (Source: Crimson Exploration November 28, 2012 Presentation)
Clearly, Crimson Exploration's wells in the Force Area do not represent average well productivity in the play to date: the 1,140 bo/d average for Crimson's wells is significantly higher than the industry average, which the company estimates at 600 bo/d in the area. However, even at 600 bo/d, the rate is quite impressive, and should translate into very compelling economics.
The Woodbine is just one of several stratigraphic zones and play concepts targeted with horizontal drilling within the geologically thick and geographically extensive stack of formations referred to by the industry as the Eaglebine play.
What Is The Eaglebine?
As many of the readers know, it is a large emerging oil play in the East Texas Basin (current drilling is most active in the area about 100 miles northwest of Houston). The play is focused on the thick, organically rich section located below the Austin Chalk formation and above the Buda formation that combines the lower laminated Eagle Ford shale and the Woodbine group (hence the name: the Eaglebine). Optimum depths are between 7,500 ft. and 13,500 ft. The remarkable thickness of the interval (which reaches 1,000 ft.), high total organic content (4-12%) and high silica content (~40%) of the shale zone provide a favorable geological setting for a high-potential resource play that may be unlocked with horizontal frac technology. Lower Cretaceous zones below the Eaglebine -- the Buda, Georgetown, Edwards and Glen Rose -- are also known to have significant oil potential in the area, and represent another intriguing oil play in its own right.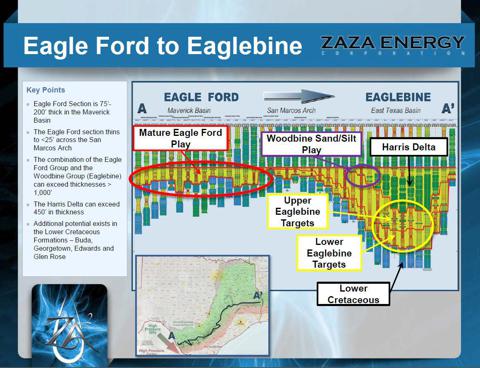 (Source: ZaZa Energy DUG 2012 Presentation)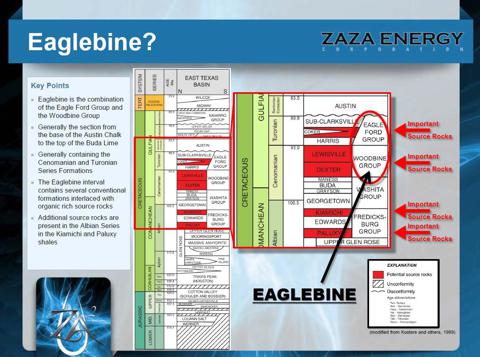 (Source: ZaZa Energy DUG 2012 Presentation)
For many years, various formations that the area is prospective for, including conventional Woodbine sands, have been targeted with vertical drilling. More recently -- since approximately 2007 -- horizontal drilling has been introduced to test various conventional and unconventional play concepts, with over 100 horizontal wells drilled to date.
Geology
The Eaglebine is a truly impressive, albeit technologically challenging, oil resource. The 1,000-foot thickness of the interval, presence of several highly potent source rocks in the stack and excellent porosity characteristics of the reservoirs result in a very high estimated amount of oil in place. Encana's resource estimate for its lands is in the range of 40 million to 50 million barrels of oil equivalent per section. By comparison, the Tuscaloosa Marine Shale -- which is similar geologically and is viewed as an oil-rich reservoir -- contains about 20 million barrels per section, according to Encana.
The Woodbine sandstones are of marine-shelf origin and consist of large, lenticular bodies with an average thickness of 30-50 feet. The use of horizontal drilling and advancements in completion techniques have expanded development of the Woodbine formation in Brazos and surrounding counties with impressive production results.
The Eagle Ford shale is Cretaceous in age, and is considered the source rock for much of the regional production. In Brazos County, for example, the Eagle Ford shale interval has a gross thickness of 500-600 feet with 85 net feet of interval in the Upper Eagle Ford and 125 net feet of interval in the Lower Eagle Ford.
A recent presentation at an industry conference by Thomas Bowman of ZaZa Energy (NASDAQ:ZAZA) (ZaZa is an independent operator with a significant acreage position in the play) provides an excellent, comprehensive overview of the Eaglebine's geology and stratigraphy. The presentation highlights the presence of several conventional and unconventional targets in the East Texas Eaglebine area, which include, from top to bottom, the Woodbine Sand/Silt play; the Eaglebine/Lower Eagle Ford Play; and the Lower Cretaceous stack, demonstrating that acreage in the area often yields multi-target opportunities.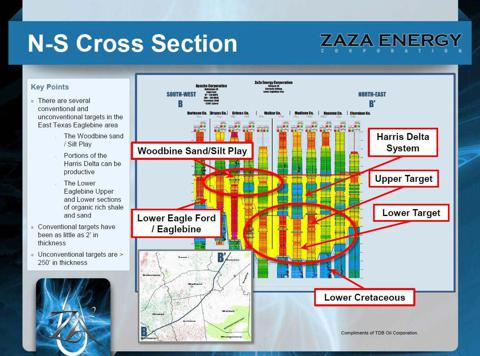 (Source: ZaZa Energy DUG 2012 Presentation)
Within the Eaglebine (narrowly defined), there are two principal plays:
The Upper Eaglebine is comprised of a series of conventional sandstones inter-bedded with organic rich shales. Conventional targets vary in thickness from just a few feet to several dozen feet.
The Lower Eaglebine is predominantly an unconventional shale play. Permeability is low, but several horizontal tests using multi-stage fracs drilled by the industry to date have already demonstrated encouraging (and possibly commercial) flow rates. Unconventional targets can be several hundred feet thick. The Lower Eaglebine play seems to be receiving significant attention recently from larger E&P operators.
The play is more shallow and oily to the northwest, and becomes deeper and gassier to the southeast.
In terms of areal extent, the play is quite large, with its thickest portion spanning several counties. ZaZa Energy's presentation highlights the presence of a restricted "sub-basin" in the area between the Angelina-Caldwell Flexure to the north and the Sligo/Edwards shelf edges to the south. Several formations become considerably thicker and deeper in the sub-basin.
Historical mudlogs across the area have significant oil and gas shows in both the upper and lower Eaglebine sections.
ZaZa Energy's presentation also highlights the attractive brittleness characteristics of the lower shale that make it comparable to the Barnett and Woodford shales: silica concentrations are high, in the 20-60% range, while the clays are mostly illite (low expanding).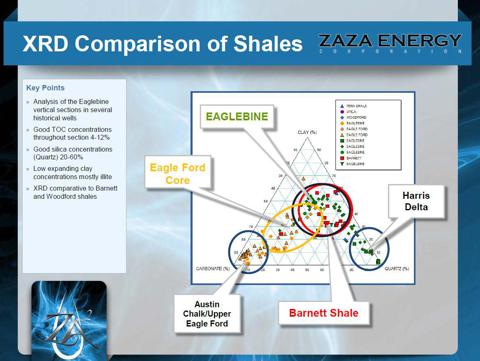 (Source: ZaZa Energy DUG 2012 Presentation)
Drilling Activity
Leon, Madison, Grimes, Brazos and Walker Counties have seen the majority of horizontal drilling activity in the play to date.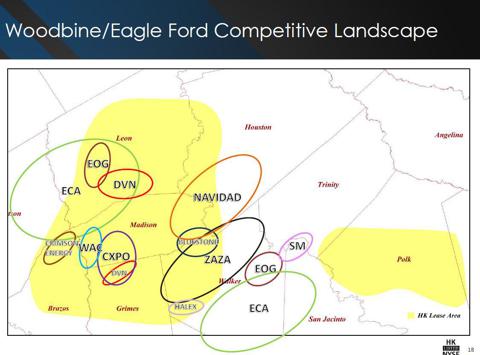 (Source: Halcon Resources January 8, 2013 Presentation)
This is also the area where a significant number of vertical wells exist, providing valuable "well control" for new drilling and de-risking the play.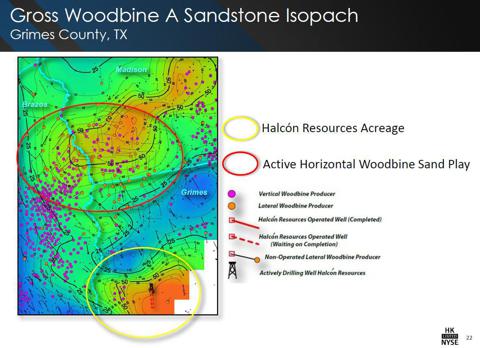 (Source: Halcon Resources January 8, 2013 Presentation)
The horizontal drilling activity in the area to date has targeted mostly the Woodbine sands, with many highly productive wells reported. More recently, the activity has turned its focus towards the Lower Eaglebine unconventional laminated shale targets. The lower laminated play is at a very early stage of evaluation. However, the assessment activity in this zone is quickly increasing as several operators target this zone. Two successful wells -- Crimson Energy Partners' (private) Jackie Robinson 4H and Weber Energy's (private) Lewis 1H -- have been often quoted in the industry. Both wells IP'ed at around 600 bo/d and validated the thesis regarding potential producibility of this oil shale.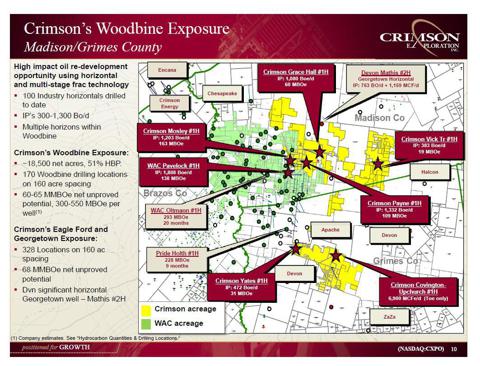 (Source: Crimson Exploration November 28, 2012 Presentation)
Encana Corporation (NYSE:ECA) is among the large cap E&Ps zooming in on the Lower Eaglebine, with one dedicated rig running since July 2012. In its presentations, Encana has mentioned "very good" rock quality in terms of porosity and permeability characteristics. According to Encana, results from the three horizontal wells drilled in the Lower Eaglebine show promising rates and significant progression, consistent with early-stage resource development. Evolution of completion design is expected to further improve performance. According to Encana, wells are being produced at a conservative restricted rate to ensure minimal loss of frac conductivity and typically reach peak rates after installation of a pumping unit. During its analyst day presentation last summer, the company reported that two of its three wells, when scaled up for lateral length, are performing "at or near type curve rates" with significant remaining improvement potential if unrestricted (Encana's oil window target performance appears to be in the 400+ Mboe). Encana is focusing its efforts on completion design optimization and longer laterals, which are expected to be drilled up to 9,000 feet.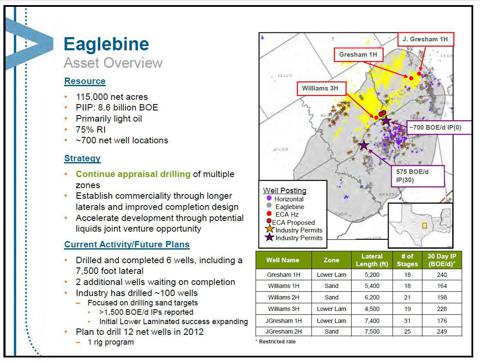 (Source: Encana Corporation January 2013 Investor Presentation)
As several operators are actively marketing joint venture interests on their acreage, the play may see an injection of outside capital in the near future.
Beyond The Eaglebine
In addition to the Woodbine Sand/Silt play and the Upper and Lower Eaglebine, the area is prospective for several potentially highly productive Lower Cretaceous oil-bearing formations, which include the Buda, Georgetown, Edwards, Glen Rose and possibly others. Rock types in the Lower Cretaceous stack are different from the Eaglebine (the Buda-Georgetown, for example, is a fractured carbonate reservoir). The play concepts include both vertical and horizontal development options. In addition, the area has seen activity in the Deep Bossier and Cotton Valley plays. The geology in the Deep Bossier and Cotton Valley contains a shelf environment with a capping sequence of shoal water deltas and fluvial channel deposits with high constructive deltas.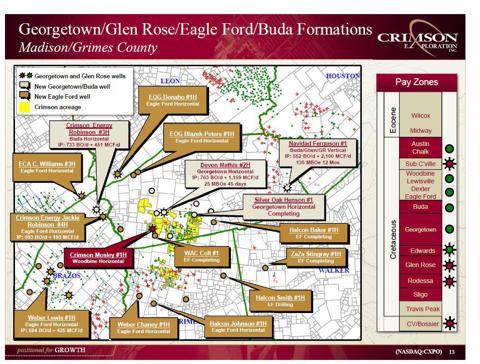 (Source: Crimson Exploration November 28, 2012 Presentation)
Several recent wells illustrate the potential of the Lower Cretaceous stack in the Eaglebine play area:
According to Crimson Exploration's presentation, Navidad Resources' (private) Ferguson #1 vertical well, a commingled Lower Cretaceous completion in the Buda, Georgetown and Glen Rose zones, IP'ed 552 bo/d and 2.1 MMcf/d and cumulatively produced a very strong 135 Mboe over the first year on production. The result indicates little decline in the flow rate during the first year. (ZaZa Energy's presentation suggests that cumulative first year production was in fact 240 Mboe, which would be a staggering amount for a vertical well).
Also notable is Devon Energy's (NYSE:DVN) Mathis #2H Georgetown horizontal, which IP'ed 763 bo/d and 1.2 MMcf/d and produced cumulatively 25 Mboe in the first 45 days, a very impressive result.
Crimson Energy Partners, a private operator with funding from private equity firm SW Capital, has drilled several Buda/Georgetown horizontals, including a notable Robinson #3H well, which flowed 733 bo/d and 0.5 MMcf/d in the 24-hour test.
Silver Oak, another private operator with funding from an energy-focused private equity firm EnCap Investments, has recently drilled a Georgetown horizontal in Madison County.
Play Participants
The number of industry participants actively involved in the Woodbine, Eaglebine and Lower Cretaceous plays is quite significant. Among the large caps are Encana, Halcon Resources (NYSE:HK), Devon Energy, Chesapeake Energy (NYSE:CHK), EOG Resources (NYSE:EOG), and XTO/Exxon (NYSE:XOM). In addition, over two dozen small size privates and publicly traded independents are aggressively pursuing the play, including Woodbine Acquisition (private), Crimson Exploration, ZaZa Energy, CML Exploration, Crimson Energy Partners (private), Weber Energy Corporation (private), Navidad Resources, and many others. The high fragmentation of the play and presence of many small private and public operators provides potential opportunity for entry for larger entities should the play prove strategically compelling.
Below are brief activity summaries for several operators in the area.
Halcon Resources - Halcon is one of the leading leasehold owners in the play with ~210,000 net acres (100% operated, 91% WI) and over 40 Woodbine and Eagle Ford operated wells (Halcon more than doubled its acreage in the area as a result of its $1.0 billion acquisition of GeoResources, announced in April 2012). Halcon is planning to operate 5-6 rigs in 2013, and expects to spud 60-70 gross operated wells. Drilling and completion budget is expected to be in the $450 million range. Drilling will be focused on the Woodbine sands in the northern portion of the acreage and the Eagle Ford in the western portion of the acreage.
Encana Corporation - Has 115,000 net acres in the play, primarily in the oil window in Leon and Robertson Counties. Encana is running one dedicated rig with a primary focus on the Lower Eaglebine tight oil shale play. Has disclosed results for three horizontal tests in the lower Eaglebine, with IP rates averaging at around 200 Boe/d. 2012 operating plan calls for a total of 12 net operated wells on the company's acreage. Encana is in the process of marketing a JV on its acreage.
Crimson Exploration - Crimson Exploration has accumulated 18,500 net acres in Madison and Grimes counties and has drilled several highly productive Woodbine horizontals. Crimson Exploration sees 170 Woodbine and 328 Eagle Ford and Georgetown locations on its acreage, assuming 160-acre spacing, and estimates Woodbine EUR in the 300-550 MBoe per well range.
Woodbine Acquisition Corporation (private) - WAC has a total of ~16,000 net acres in Madison, Brazos, and Grimes Counties. The company is among the most active drillers in the area with over 40 operated wells drilled to date (more than half horizontal). Example of a well: The #1H Hopper, a horizontal Woodbine producer brought to sales in August 2012, tested at 800 b/d of 41-degree-gravity crude, 0.6 MMcf/d of gas and 589 b/d of water per day through fractured perforations at 8,780-14,908 ft.
Crimson Energy Partners (private) - Crimson Energy has over 27,000 contiguous acres near the Brazos/Robertson County line. The company originally formed its acreage position for a dual-stacked, horizontal Buda-Georgetown play, which the Crimson Energy believes can average 180 Mboe per well, sufficient to yield a "significant return on investment." Crimson has drilled five Buda-Georgetown wells and six horizontal and two vertical Woodbine wells to date.
ZaZa Energy - The company has a total of 88,000 net acres in Walker, Madison and Grimes Counties, and drilled its first operated well in the play in the second half of 2012. A JV option is being considered.
Gastar Exploration (NYSEMKT:GST) - Gastar has a meaningful 20,000+ net acre position in Leon County, but appears to be taking a wait and see approach with no drilling currently underway.
Weber Energy Corporation (private) - The company has approximately 22,000 acres under lease in the play (12,000 acres in Brazos County, 6,000 acres in Grimes County and 3,500 acres in Madison County).
In the follow-up note, I will focus on the Eaglebine economics and the outlook for 2013.
Disclaimer: This article is not an investment recommendation. Any analysis presented in this article is illustrative in nature, is based on an incomplete set of information and has limitations to its accuracy, and is not meant to be relied upon for investment decisions. Please consult a qualified investment advisor.
Disclosure: I have no positions in any stocks mentioned, and no plans to initiate any positions within the next 72 hours. I wrote this article myself, and it expresses my own opinions. I am not receiving compensation for it (other than from Seeking Alpha). I have no business relationship with any company whose stock is mentioned in this article.