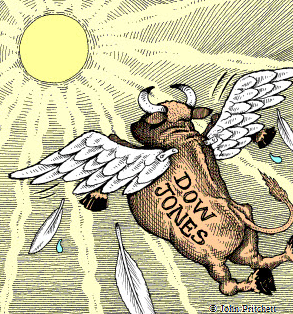 Bulls and portfolio managers often feel peer pressure to not be left out of any major market moves and thus, will start chasing certain target levels to achieve market performance. We're not immune to the pressure either, but as disciplined trend followers, we're aligned with the bulls for now. Many normally effective and reliable technical indicators can be easily steamrolled by the Fed and other central bank liquidity. Investors don't know where to invest beyond stocks presently, as alternatives don't produce enough alpha (performance) than equity markets.
The chart below clearly displays the effect of ZIRP and QE on the most sensitive stock sector and others: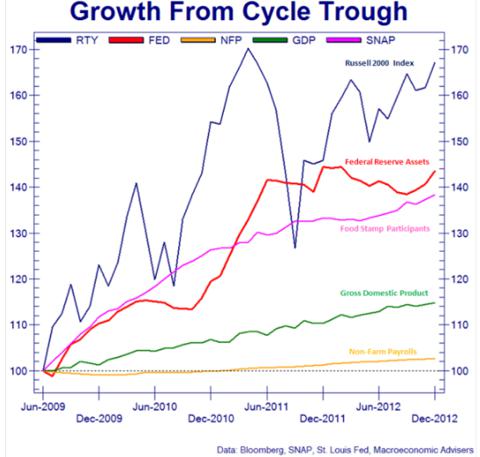 When the music (money printing) stops, things could get quite ugly. Until then, even reluctant investors must steel themselves up and go. Most portfolio managers, including us, are expecting some correction, but thus far none seems likely, as every dip is bought. And not much investing is being done unhurriedly, as frenetic episodes of trading continue, as with Apple (NASDAQ:AAPL) and Netflix (NASDAQ:NFLX).
We're starting to see interest rates rise along with stocks, which could feed on itself. Imagine what would happen to interest payments on U.S. debt if this should happen abruptly, not to mention stock markets. Well, that's for another day. For now, the Fed is feeding bulls.
In the UK, GDP growth fell to -0.3% vs. 0.9% previously as the Olympic Games' stimulus faded. This is why the Bank of England restarted its money printers to forestall the possibility of a recession. Business confidence in Germany rose once again. The ECB reported that LTRO loans are being repaid early, mostly from Spanish banks, to the tune of $184 billion. Asian shares were weaker first as South Korea and Samsung shares fell due to the strong won currency. China stocks (Shanghai Index) fell to a one week low as some investors there fretted about valuations.
In the U.S., New Home Sales fell (369K vs. 388K expected and prior revised higher to 398K vs. 377K), which didn't seem to faze homebuilders (BATS:ITB) too much.
Earnings news from Procter & Gamble (NYSE:PG) was well-received, and Halliburton (NYSE:HAL) beat lowered expectations even as profits fell 26%. That's the old Wall Street game -- CFOs downgrade expectations, analysts comply, then earnings beats become ubiquitous and stocks rise.
There is a good bit of rotation still taking place, as U.S. shares are more in play at the expense of Asia and emerging markets, for example. Risk assets, commodities (NYSEARCA:DBC) and precious metals (NYSEARCA:GLD) are less attractive if only currently as the drive toward stocks is primary. The dollar (NYSEARCA:UUP) was weaker, as were bonds (NYSEARCA:TLT).
Volume is still substantially below the prior three-month average, which was also lighter than the previous three-month average. Breadth per the WSJ was positive.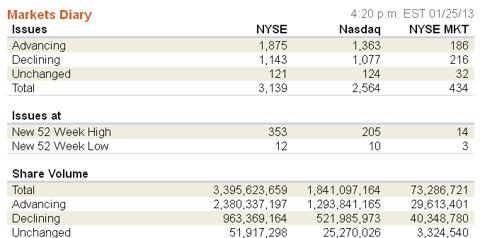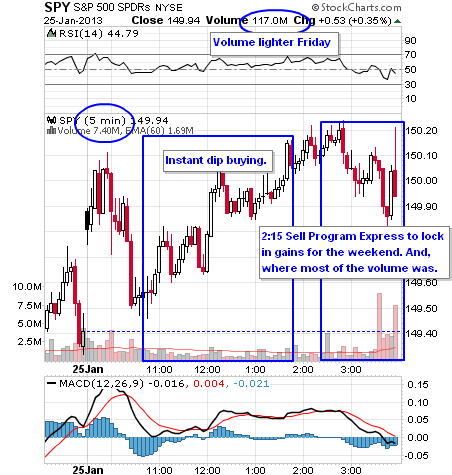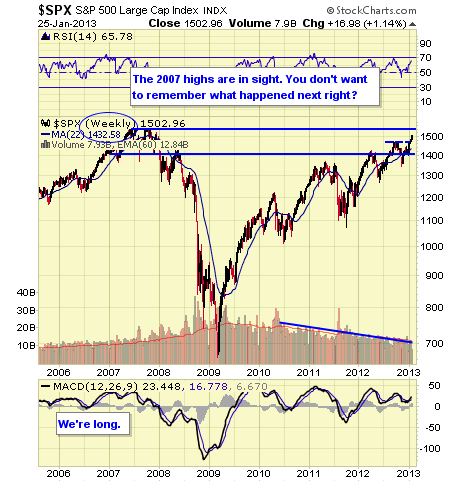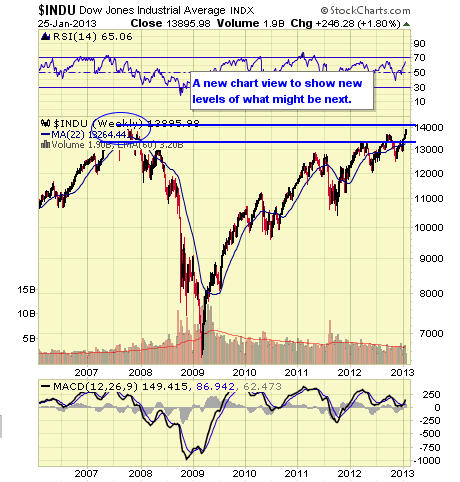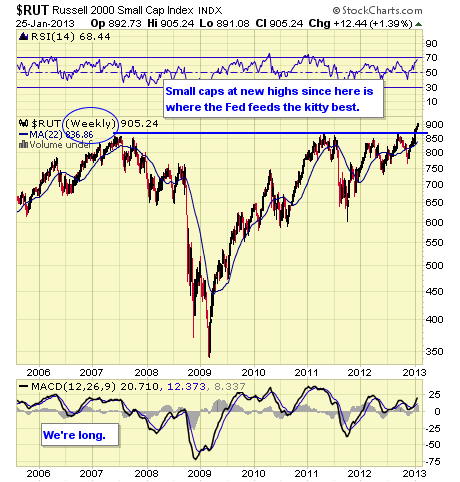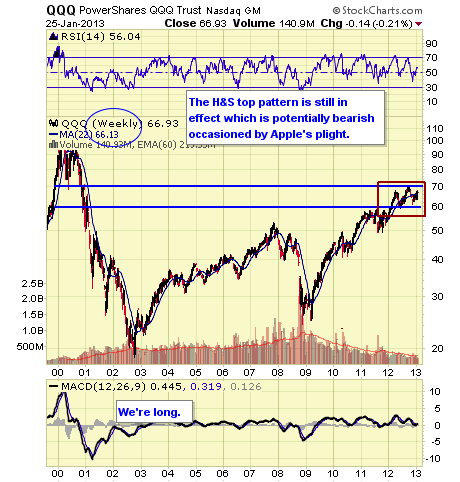 Continue to U.S. Sector, Stocks & Bond ETFs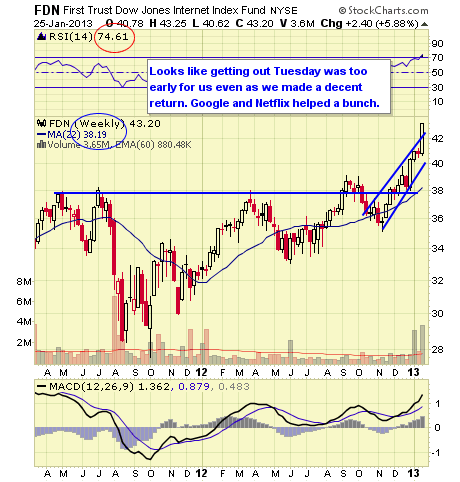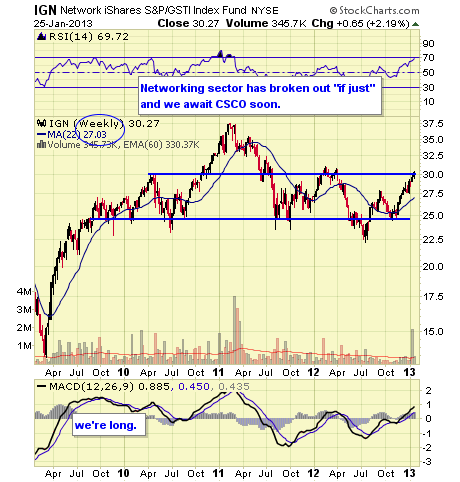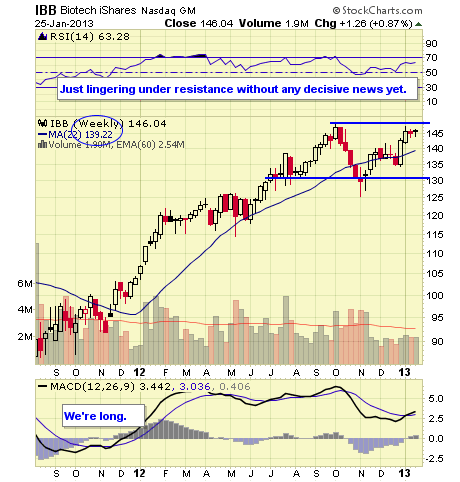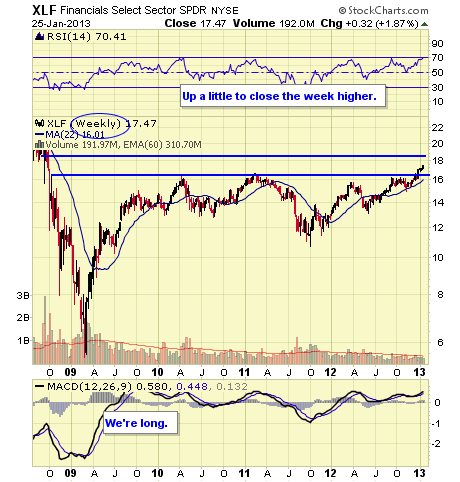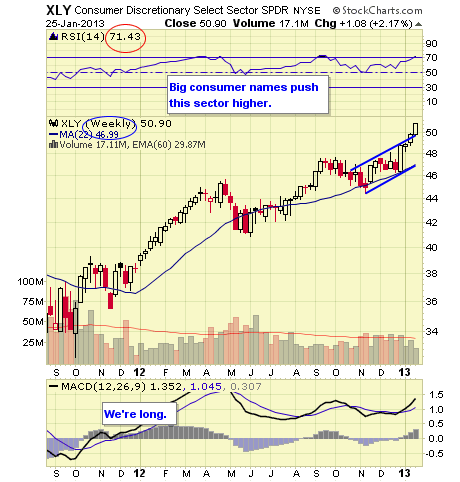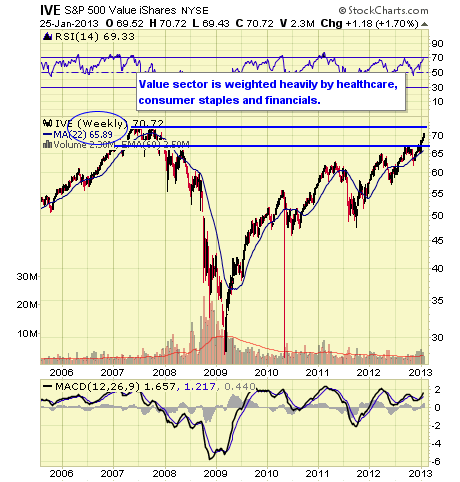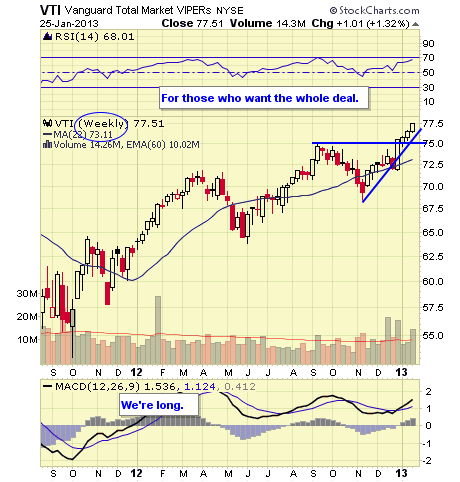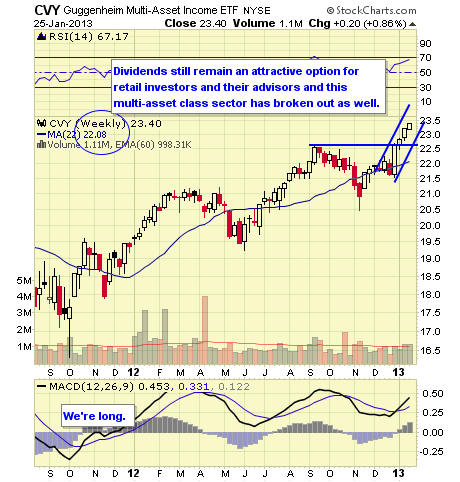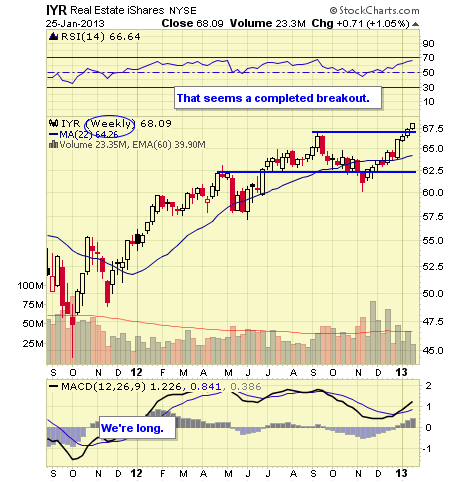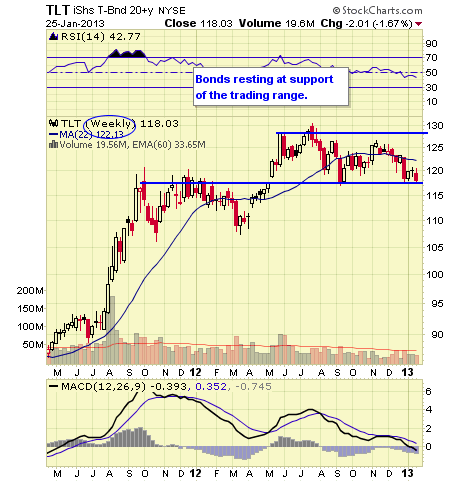 Continue to Currency & Commodity Market ETFs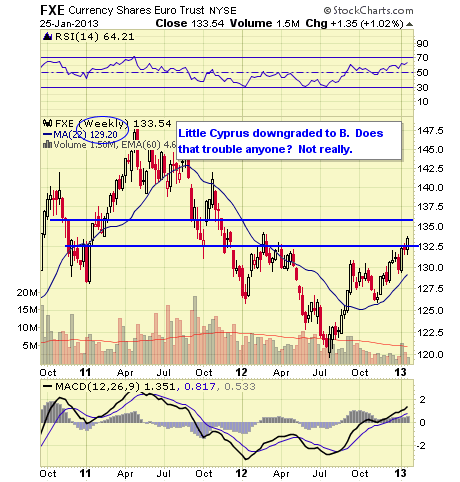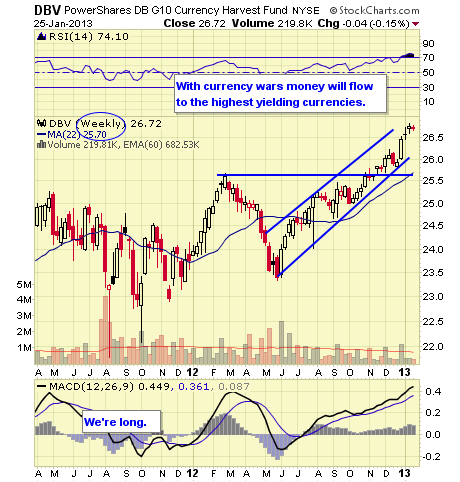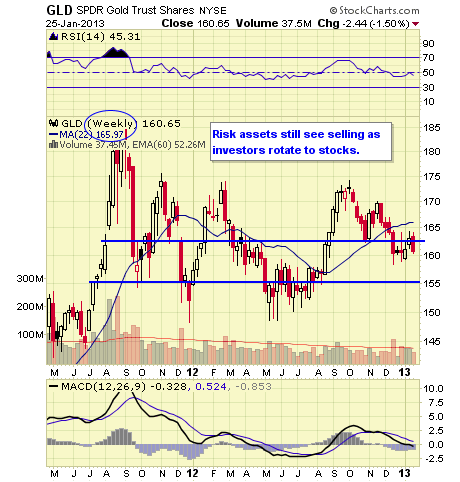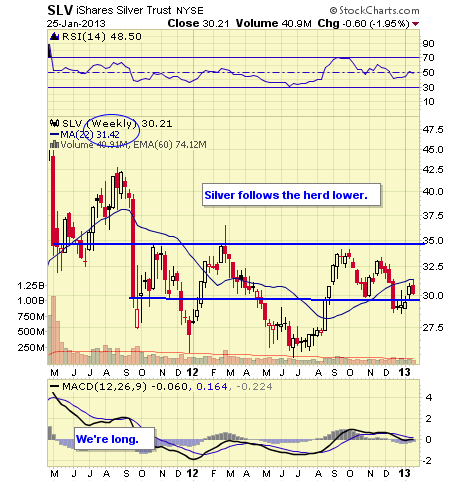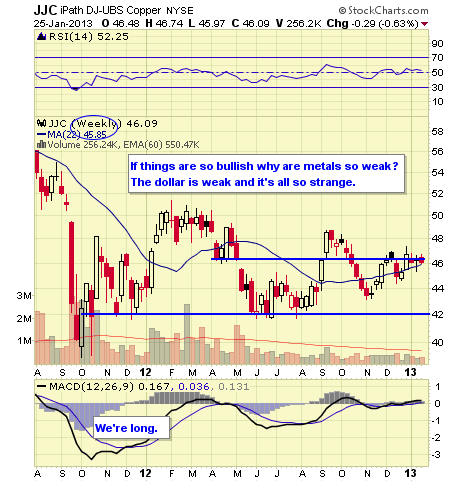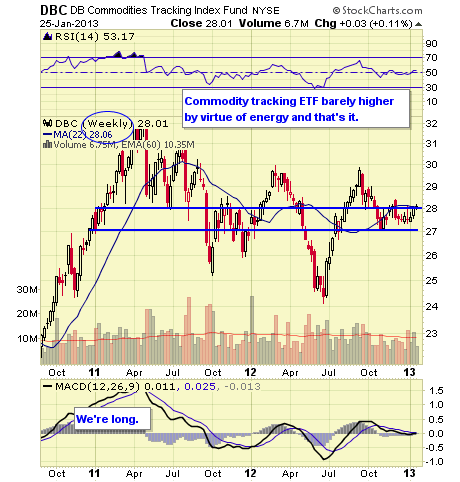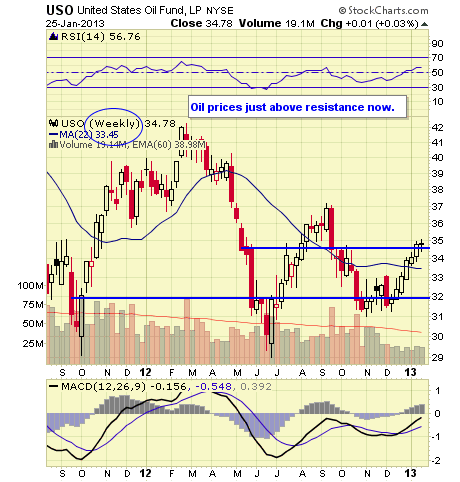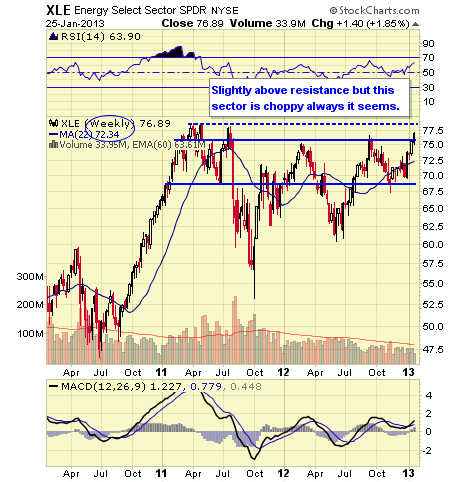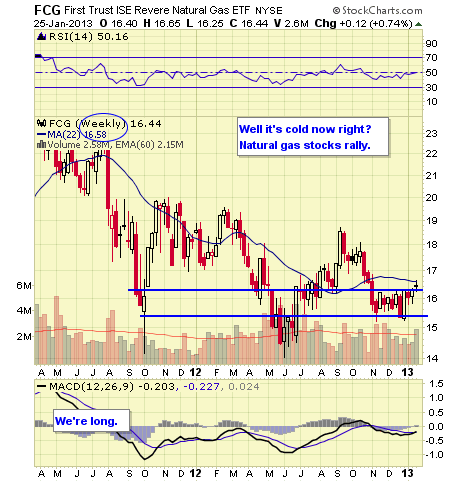 Continue to Overseas Sectors & ETFs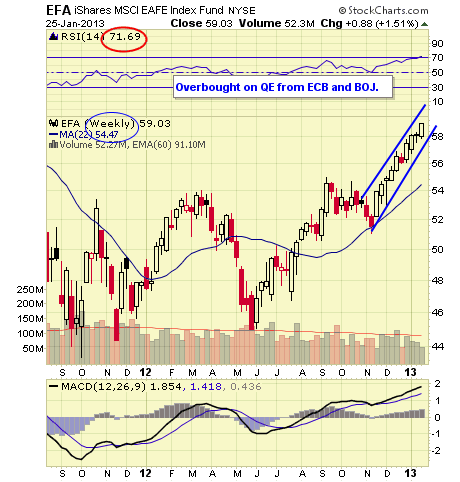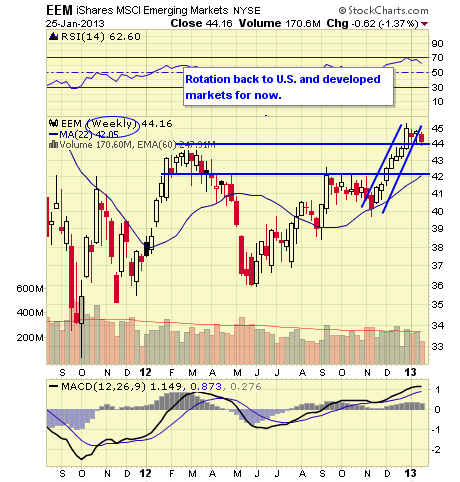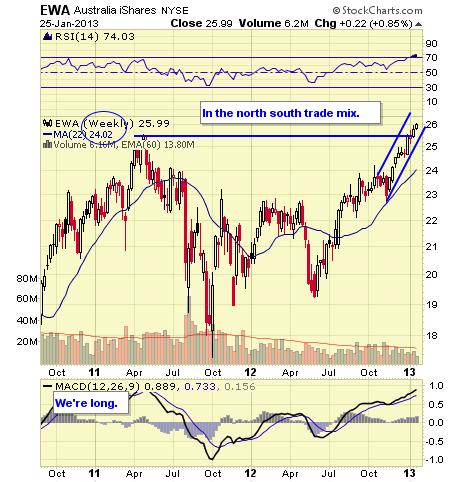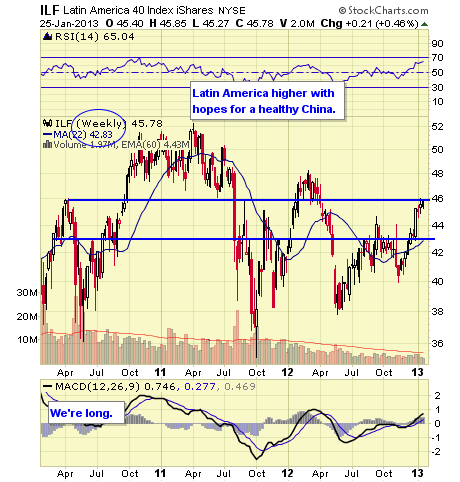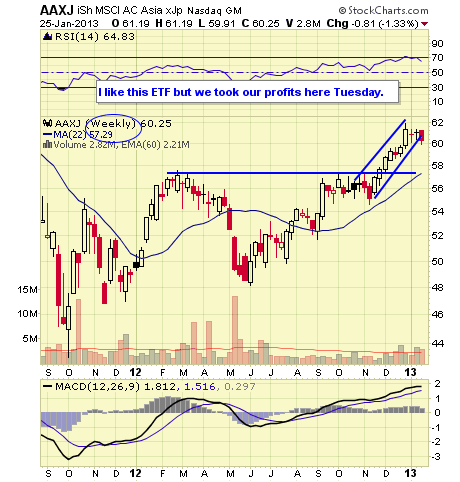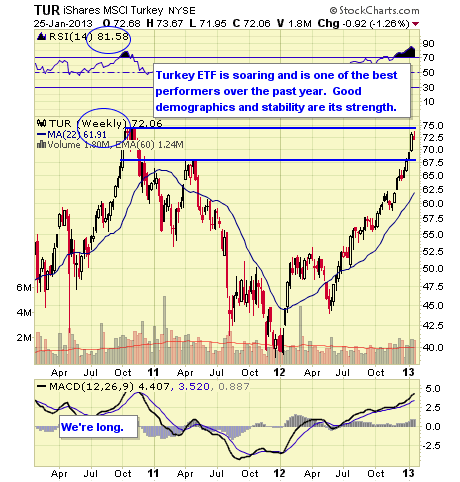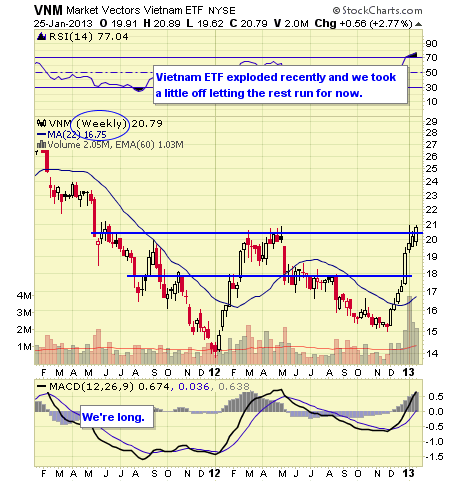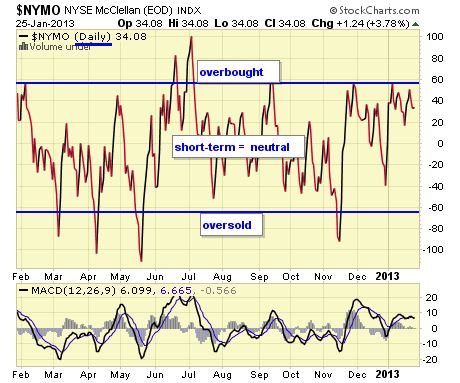 The NYMO is a market breadth indicator that is based on the difference between the number of advancing and declining issues on the NYSE. When readings are +60/-60, markets are extended short term.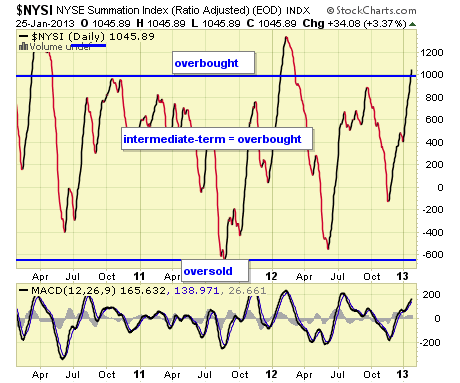 The McClellan Summation Index is a long-term version of the McClellan Oscillator. It is a market breadth indicator, and interpretation is similar to that of the McClellan Oscillator, except that it is more suited to major trends. I believe readings of +1000/-1000 reveal markets as much extended.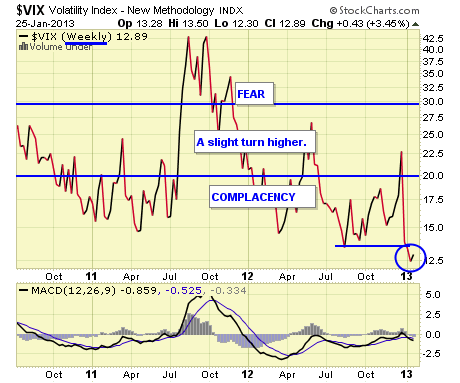 The VIX is a widely used measure of market risk, and is often referred to as the "investor fear gauge." Our own interpretation is highlighted in the chart above. The VIX measures the level of put option activity over a 30-day period. Greater buying of put options (protection) causes the index to rise.
Concluding Remarks
Just add water, or in this case, a heavy dose of liquidity from central banks, and the result is higher stock prices. For many large companies, this has allowed them to do their best financial engineering to buy stock back financed by cheap debt. This shrinks float, making PEs look great. Unfortunately, it hasn't translated much to overall economic growth or much improved employment data. As to the latter, so many have fallen off the unemployment rolls, it has created a phantom level of unemployed and record levels of food stamps.
January ends next week, and the old maxim: "as goes January, so goes the year" will be much trumpeted.
More earnings will be featured next week, along with the unemployment data on Friday.
Have a great weekend!
Disclaimer: The ETF Digest maintains an active ETF trading portfolio and a wide selection of ETFs away from portfolios in an independent listing. Current "trading" positions in active portfolios, if any, are embedded within charts: Lazy & Hedged Lazy Portfolios maintain the follow positions: VT, MGV, BND, BSV, VGT, VWO, VNO, IAU, DJCI, DJP, VMBS, VIG, ILF, EWA, IEV, EWC, EWJ, EWG, & EWU.
The charts and comments are only the author's view of market activity and aren't recommendations to buy or sell any security. Market sectors and related ETFs are selected based on his opinion as to their importance in providing the viewer a comprehensive summary of market conditions for the featured period. Chart annotations aren't predictive of any future market action rather, they only demonstrate the author's opinion as to a range of possibilities going forward.
Disclosure: I have no positions in any stocks mentioned, and no plans to initiate any positions within the next 72 hours. I wrote this article myself, and it expresses my own opinions. I am not receiving compensation for it. I have no business relationship with any company whose stock is mentioned in this article.