One area I've identified as yet another "Obama hope" sector is medical IT - the two stocks I've been looking at are Cerner (NASDAQ:CERN) and Quality Systems (QSII).

Two other names of interest are Athenahealth (NASDAQ:ATHN) and AllScripts Healthcare (NASDAQ:MDRX).

This is really just like the solar and infrastructure areas - buys because Obama promises to shovel money down the throat of a sector or "likes" the sector. Even if very little money will show up anytime soon, that doesn't matter to HAL9000 and crowd. They buy thesis, not reality. An analyst tried to warn about this in infrastructure a few weeks ago [Dec 19: Citi Analyst Frowns on Obamamania; ABB Gives Reality Check] - the stocks fell for a day or two before hope returned.

So we have a quandry very similar to solar or infrastructure; buy on reality? Or buy on Obama hope and hedge fund thesis? I've been targeting Quality Systems which is up about 80% since early December on 'thesis', and I'm waiting for it to pullback to a major support area. It is doing a textbook move today to the 50 day moving average (upper $38s).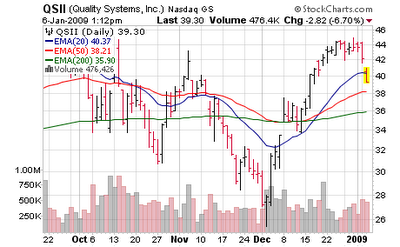 Tough call this one... I am going to watch it closely here and I'd like to see a bounce before getting in, even if I have to pay up a bit; it is now in the low $39s.It could bounce here or fall further to the 200 day moving average near $36, or simply fall more on "reality". But IF this follows the infrastructure call from mid December, after today's reality check the lemmings will run right back into the name ... on hope. I'd much rather buy stocks on fundamentals rather than "HOPE," but almost all the big movers of late are hope stocks; the entire commodity space is flying on hopes of the global recovery that is "coming soon".

So in the next 2 sessions or so we should see if hope (thesis) once again overpowers reality.

I'll have to look closer at ATHN as it has a quite good chart as well.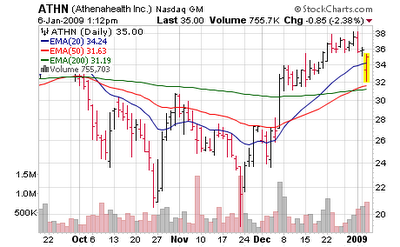 Here is the "reality"
Health care information technology stocks slid Tuesday after a Leerink Swann analyst said the electronic medical records portion of President-elect Barack Obama's economic stimulus package will not help the sector right away.
"Our best guess as to the time line for federal money to work through state grant and loan programs in any material way is

at least 12-18 months," Bret Jones said in a client note. The climate for health care IT companies is still very difficult, Jones wrote, and investors may be disappointed as they wait for the stimulus package to take effect.
In his presidential campaign, Obama proposed greater funding for electronic medical records as part of a plan to save money for patients and reduce health care premiums. That funding is expected to be tied to an impending economic stimulus plan.
Jones downgraded shares of Cerner Corp., AthenaHealth Inc., Allscripts-Misys Healthcare Solutions Inc. and Quality Systems Inc. to "Market Perform" from "Outperform." Each of those stocks has climbed at least 20 percent since Dec. 1, with shares of Allscripts and Quality Systems rising more than 50 percent. (hope! thesis!)
He said the stocks may decline when the companies begin to report their fourth quarter results. As the reports come in, Jones said,

i

nvestors will see the results of cutbacks in hospital spending as the hospitals work through the damaged credit market, lower admissions at hospitals and increased bad debt. (no, not facts! stop the facts! the market is about thesis!)
He added that Watertown, Mass.-based AthenaHealth may not benefit very much from the stimulus plan because its AthenaClinics is not a leading emergency medical records product yet.
During the expected sector retreat, Jones recommended shares of companies that do business with ambulatory clinics like AthenaHealth, Quality Systems and Allscripts. His secondary recommendation was inpatient vendors like Cerner and Eclipsys Corp.
This is my favorite part of the report
Based on contact with a lobbyist, Jones said Obama's health care staff plans to direct $5 billion to $10 billion to health care IT funding. However, not all of that funding will be used for electronic medical records, he said: Some will be used on infrastructure and setting up a national health information network.
Why is that my favorite? Because when you want to know how a pork barrel ladden $800 Billion stimulus will be allocated, you go to the best source - a lobbyist. And that kids, sums up our system better than I ever could.


Disclosure:No positions; just shaking my head at what the market has become